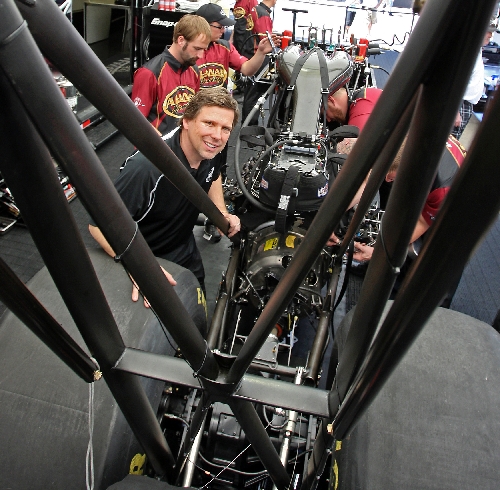 Del Worsham didn't complain when his team owner suggested he leave the Funny Car division to join teammate Larry Dixon in another Top Fuel dragster.
Worsham, a consummate team player, was all for the switch.
It was a bonus that he is driving the Al-Anabi Racing dragster that Dixon used last year to win 12 titles and his third NHRA season championship.
"Pretty lucky, huh? Worsham said.
Worsham, 41, ranks first in season points through two events heading into today's final two qualifying rounds in the SummitRacing.com NHRA Nationals at Las Vegas Motor Speedway's dragstrip. He won his first Top Fuel title three weeks ago in Gainesville, Fla.
Worsham, of Chino Hills, Calif., was quickest in the first session Friday with a 1,000-foot run of 3.938 seconds at 305.42 mph, but Dixon topped him in the second session in 3.904 seconds (312.78) to win the provisional pole. If Dixon's time holds up, it will be his second pole of the year and 50th of his career.
Other top pro qualifiers after Friday's two sessions are Cruz Pedregon (4.145 seconds, 306.19 mph) in Funny Car and reigning Pro Stock event champion Mike Edwards (6.709, 205.63).
The last two qualifying sessions are at 11 a.m. and 2 p.m. today to set 16-car pro fields for Sunday's championship eliminations.
Dixon's goal is that he and Worsham battle for the championship all season, and Friday's results show it's not just one teammate schmoozing another.
"I was waiting for Del to take (the fastest time) from me," said Dixon, who has been the quickest after five of nine sessions this season.
Worsham followed Dixon with a solid run, and both were pleased with their performances considering the hot weather. Las Vegas hit 92 degrees, tying the record high for April 1 and leading to temperatures on the racing surface of 120 to 134 degrees — not conducive to ideal traction and maximum horsepower.
Dixon said he is impressed with Worsham's transition to the dragster from the Funny Car division, where he raced exclusively the past 15 years. Worsham isn't a complete newcomer to Top Fuel, having run 22 events in 1993 and 1995.
"If you're a racer, you're a racer, and Del is a racer," said Dixon, who had Worsham sign his NHRA license application in 1994.
Dixon, 40, a native Southern Californian living in Indianapolis, has won five Las Vegas titles, including last April when Worsham won the Funny Car pole and advanced to the semifinals.
Worsham raced a Funny Car with his father, Chuck Worsham, for all but a few of the 17 years he has raced professionally. Together, they won 19 national event titles, and Del added three more in 2009 during his first season with Al-Anabi.
As much as Worsham enjoyed racing with his father, he could not decline the opportunity offered by Al-Anabi team manager Alan Johnson and owner Sheik Khalid Al-Thani of Qatar.
"I enjoy signing the back of a paycheck more than I enjoyed signing the front of one," Del Worsham said.
A bigger factor was a chance to join Johnson, who has compiled 13 NHRA season champions as a manager, crew chief and owner.
"Alan really thinks things through," Worsham said. "Watching how he does things, I can see a lot of things my dad and I didn't do right. There is so much more attention to detail, and the financial support is much better.
"I don't know what I can bring to this team other than experience."
Worsham gives Al-Anabi a two-car team with a driver who has the mechanical knowledge to provide worthwhile feedback.
"Our goal is for both of us to enter the last race of the year fighting for the championship," Dixon said. "Then we can go out and have some fun."
They were both smiling Friday.
Contact reporter Jeff Wolf at jwolf@reviewjournal.com or 702-383-0247.