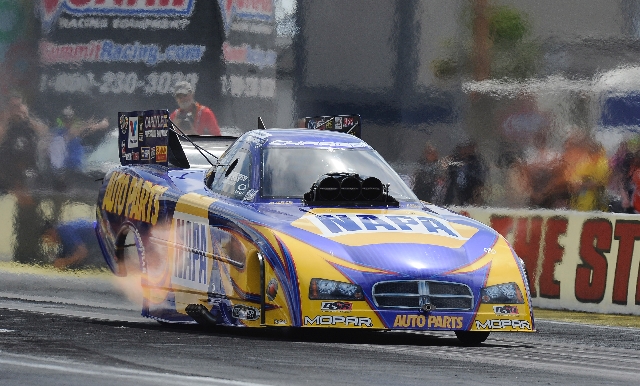 The weekend already was a near disaster for Ron Capps.
He hadn't come close to qualifying for the eliminations in last year's SummitRacing.com Nationals, finishing 21st in trying to make the field of 16.
Then when Capps returned to the pit area, his Las Vegas weekend got even worse.
Crew chief Tim Richards was packing his belongings and heading out of town, having shockingly resigned. Richards handed Capps an expensive bottle of wine, said he enjoyed working together and then drove away.
"I was stunned," Capps said. "He's a world-renowned crew chief … and just a great guy. I sat down by myself for a while till (owner) Don (Schumacher) came in, and I didn't know what was going to happen. I went to bed that night, and couldn't sleep much."
Now back in Las Vegas a year later, the situation is remarkably different for Capps.
Capps and crew chief Rahn Tobler have forged a successful partnership, nearly taking the championship last season. Capps entered this weekend's event tied with teammate Johnny Gray for first in the points standings, having won Feb. 24 at Phoenix.
He qualified seventh for today's Funny Car eliminations at The Strip at Las Vegas Motor Speedway, posting a top time of 4.133 seconds.
Capps, 47, was struggling to get anything going at this time last year. The Las Vegas spring race was the second time in seven events he failed to qualify for eliminations, and Schumacher wanted Capps and his team to stay over for testing that following Monday.
Richards didn't think it was necessary, and the crew chief and owner went back and forth. So Richards, knowing the boss wouldn't change his mind, walked away.
Schumacher then moved Jack Beckman's crew chief, Tobler, to Capps' team. It was a risky move to take a three-time champion crew chief from one contending team and put it with one that was struggling.
"When owners make changes like that, whether it's NASCAR or drag races, sometimes you step back and go, 'That doesn't seem like a smart move,'" Capps said. "Really, you start to second-guess it in your head, but lo and behold, (Schumacher) made a great decision. We hit it off just right, and Jack and his crew chief hit it off just right and won the championship. So it worked out pretty good."
Capps' season took off. He won five races, including the Las Vegas fall event, and finished second three other times.
But it was a painful ending to the season. Capps lost in the semifinals of the season finale at Pomona, Calif., to Courtney Force, and finished two points behind champion Beckman.
"To get beat by two points is hard, especially with a car that was identical to ours," Capps said.
The close call is incentive for Capps, whose brother, Jon, lives in Las Vegas and is a part-time NHRA Funny Car driver, to capture his first career title. Capps has been the series runner-up four times.
"A lot of times, I have to sit back and realize I've won a lot of races," Capps said. "Even if I don't win a championship, I've had a great career."
He then joked maybe not worrying about winning the championship will lead to that elusive title.
Capps also has a different perspective. He spoke fondly of taking his 16-year-old daughter, Taylor, with him on the circuit last year. Capps won every time she was in attendance.
"She was my good-luck charm," he said. "It was a fun year for me, even though I lost the championship. It turned out to be OK. It didn't bother me as much as in years past."
■ NOTES — The top qualifiers for the eliminations were Antron Brown in Top Fuel (3.780 seconds), Robert Hight in Funny Car (4.053) and Mike Edwards in Pro Stock (6.642). … Allen Johnson defeated Erica Enders-Stevens to win the K&N Horsepower Challenge on Saturday with a time of 7.188 seconds, earning $50,000. Enders-Stevens finished in 9.602 seconds. Eight Pro Stock teams took part in this side event to the main brackets.
Contact reporter Mark Anderson at manderson@reviewjournal.com or 702-387-2914. Follow him on Twitter: @markanderson65.