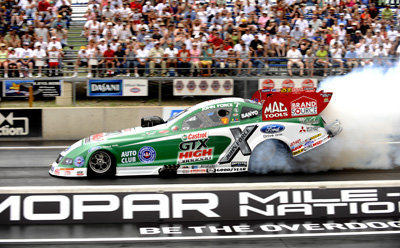 MORRISON, Colo. (AP) — For 30 years, Kenny Bernstein, the king of speed, has operated a dragster sponsored by Budweiser, the self-proclaimed king of beers.
All the king's horsepower is now in jeopardy after this season, when the longtime NHRA driver and team owner loses his primary sponsor.
The 64-year-old, who retired from driving after the 2007 season, is scrambling for another benefactor, speaking to his buddies in the business to see if they have any promising leads.
So far, nothing. Finding a deep-pocketed sponsor in this economic climate hasn't been easy.
"I will not come back (next year) without a major sponsor," said Bernstein, who was dropped when Anheuser-Busch was taken over by InBev. "We will be parked."
Bernstein may not be the only drag racer facing this predicament.
With the economy still reeling, sponsorship money is hard to find. That's why many NHRA teams are tightening their belts now while they still have deals and dollars.
Step into Funny Car driver John Force's trailer and he'll talk for hours about the topic. He's become very frugal these days, carving the fat out of his nearly $20 million annual budget for his four nitro teams and two alcohol dragsters.
"I don't think the world is ever going to be the same … where money falls out of the sky," Force said. "We live within a budget, but there's ways to cut."
Force has already sliced nearly $1.5 million this season by eliminating the little things.
A big chunk was saved when the NHRA limited the amount of testing in the nitro divisions. No longer can cash-flush teams test whenever they want, which has the added benefit of evening the track for smaller outfits. Force estimates that move alone saved him close to $1 million.
His teams are also staying fewer nights in hotels — flying in the night before races — and carpooling in rental cars. They've switched their fleet of travel vehicles to the gas-saving Ford Flex and are warming up their Funny Cars using alcohol fuel ($150 a drum) instead of nitro ($960).
The Force team also is moving its operations out of Yorba Linda, Calif., and consolidating them in its headquarters in Brownsburg, Indiana.
"Easier to get everywhere," Force explained.
To keep track of parts, Force has hired Danny Hood — daughter Ashley Force Hood's husband. One of Hood's jobs is to decide which components can be reused.
"Just to make sure we're not wasting," Force said.
In his lessening of overhead, Force hasn't let go of one employee.
He won't, either, if he has his way.
Force wanted his workers' thoughts on ways to curtail costs and recently gave them a list of items where the company could cut back. It included such things as 10 percent pay reductions, giving back bonuses after wins to help pay bills, racing one of the teams on a shortened schedule or layoffs.
The overwhelming response was to give back bonuses.
"I was so proud," Force said. "The last thing you need to lose are the people who got you here. When you start letting them go, you'll find the whole machine will collapse."
Bernstein took similar steps to shave money from his budget, even before the March announcement that Budweiser was terminating the longest active running sponsorship deal in motorsports after 2009.
He reduced travel to essential personnel and adjusted health care coverage from 100 percent to 85 percent. He's also cut back on contributions to employee 401k plans.
"You take it for granted when everything is going good. You say, 'Well, we're making a little bit of money and everything's cool, so let's go on,'" said Bernstein, who was the first to break drag racing's 300 mph barrier. "You should do it every year, and we will. It (expenses) can get out of hand."
So much so that some drivers can't afford to race a full schedule. Tom Hammonds is trying to make it in the Pro Stock division after a 12-year NBA career. He was on hand at the Mile-High Nationals over the weekend, but his car was idle. Like Bernstein and many others, Hammonds is scouring for a primary sponsor.
"If we've got to sacrifice four races this year to make sure our program is solid sponsorship-wise, we'll do that," said Hammonds, who played five seasons for the Denver Nuggets. "I think the NHRA has that type of atmosphere where we can entice companies to be involved."
Or even a sheik from Qatar.
Last summer, Alan Johnson was approached by Sheik Khalid bin Hamad Al-Thani about starting a new racing team on the prince's bottomless budget.
Suspicious? Very.
That kind of offer just doesn't happen these days.
"You had to walk into it being a little skeptical," said Johnson, who was serving as Tony Schumacher's crew chief before getting the call from Al-Thani to partner up.
The sheik was serious.
Al-Thani, the son of the emir of Qatar, wanted to get involved in NHRA to try to raise awareness of motorsports in his oil-rich country.
And he's sparing no expense.
Everything at Alan Johnson Al-Anabi Racing is sparkling new. Al-Thani doled out close to $7 million on trailers, nitro cars and equipment before the team even hit the track.
"It's like our own little private stimulus package from Qatar," Johnson said, smiling.
Al-Thani is the ideal sponsor. The 22-year-old loves racing, has very deep pockets and doesn't micromanage, flying in for just a handful of events.
Could foreign backers be the next wave of sponsors?
"It's probably a unique situation — unless NHRA gets more international," Johnson said. "Khalid is just a big drag racing fan, has been since he was (young). I don't see any slow down in him."
Nor in drag racing, despite the leaner times.
"The world economy is in the toilet," Johnson said. "But (NHRA) is going to be around until that turns around. We're surviving, and we're all still here. We still have a quality sport and the fans still love to come watch it. We're going to put on the best show we can."
Copyright 2009 The Associated Press.