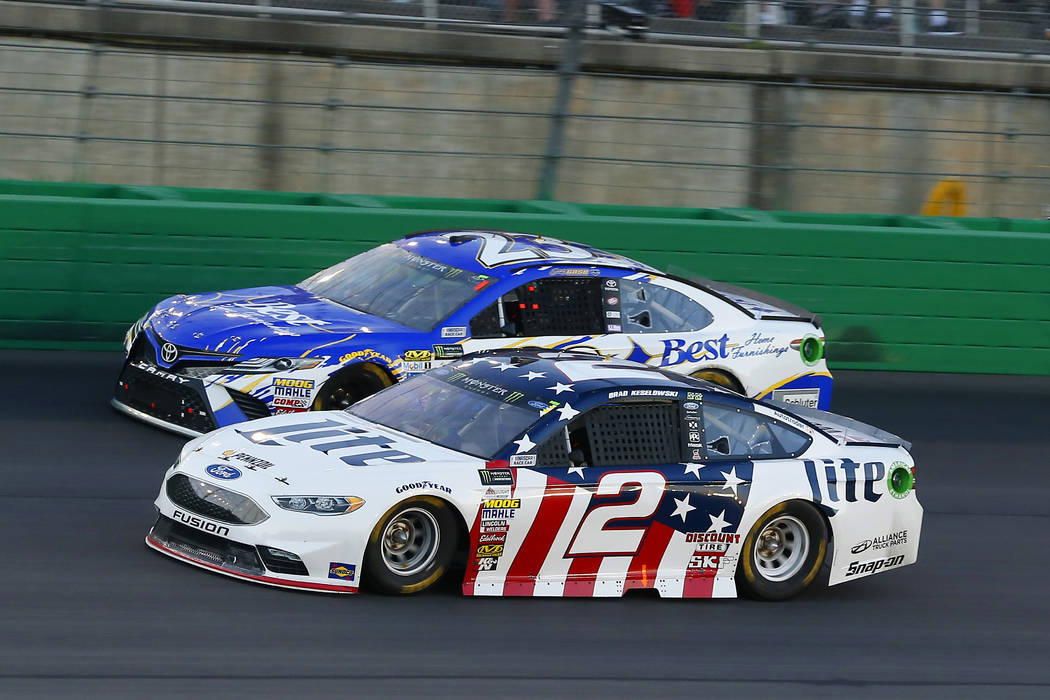 A documentary about Billy Joel aired on Sling the other night, during which the album cover to "Glass Houses" was displayed.
It showed a man sporting a frizzy hairstyle and leather jacket, presumed to be the singer, about to toss a sizable stone through a glass abode.
This was a day after Brad Keselowski crashed out of the NASCAR race at Kentucky and immediately blamed the sanctioning body.
The always engaging and sometimes controversial 2013 Cup Series champion said the current spec of NASCAR racer is a "poorly designed race car, and it makes racing on tracks like this very difficult to put on a show. It is time for the sport to design a new car that is worthy of where this sport deserves to be."
These words were spoken out of frustration. It happens, especially in auto racing, where there are no cooling off periods before a pit road reporter sticks a microphone in one's face, after one crashes out or finishes second.
But when Kyle Busch recently lost a race that he had dominated and gave a contentious interview, Keselowski was a most vocal critic.
People who live in glass houses should not throw stones. Unless that person is Billy Joel.
@JeremyClarkson 's style is always Billy Joel in the Glass Houses album cover pic.twitter.com/PxrItEuaDT

— Carter West (@Carter__West) July 1, 2017
To review, here's what Keselowski said about Busch's surly demeanor during the press debriefing: "The way (the media) portrayed it is the hunger to win. That's one way of expressing it, but it's not the only way to win. So when the media comes out and says that's a reflection of him having the most desire to win, it makes me want to throw up.
"Not only is that a terrible message to send to anyone who's aspiring to be a part of the sport, it's a terrible message to send to anybody in general."
Here's what Busch said after he cooled off: "Different people show their emotions in different ways. Unfortunately for me, mine has never been very gracious — I don't know that it ever will be. I'm sorry, it's just who I am."
Here's what Keselowski said after chilling in the bluegrass: "I hate wrecking, especially when the wreck is my fault. Like anyone else, bad days suck for me and sometimes I lose my cool … so please don't take my comments about the car and think any differently about my passion for this sport and belief that it remains the best in the world."
This is what Billy Joel said after the sizable stone crashed through the glass house: "Friday night I crashed your party. Saturday I said I'm sorry. Sunday came and trashed me out again."
Who knew Billy Joel was a NASCAR fan?
I lost "Truth and Grace" after wrecking out today so I wrote a Follow up on my post wreck comments- pic.twitter.com/LmORJArdjp

— Brad Keselowski (@keselowski) July 9, 2017
Green, white, checker
— It has been said the only man (or woman) a racing driver must beat is his teammate, because he (or she) is the only one who has the same equipment. By finishing fifth while fellow Kyle Busch Motorsports employee Christopher Bell won last week's Truck Series race at Kentucky, Noah Gragson came up a little short. But the Las Vegas teenager won his first stage of 2017, and he finished one spot ahead of his truck owner, Kyle Busch, which should keep him in good standing at the race shop.
— More on Gragson, who spun during a third stage restart but was able to rally from 18th place to grab his second top five of the season. "I just made a rookie mistake down there running the apron. I didn't know there was a big bump there … and spun out. It was just a mistake by me, and it cost us the race. But I'm going to learn from it and move forward."
Replay: This could have been so much worse. Here's what happened to @NoahGragson at @KySpeedway.#NASCARonFS1 https://t.co/SIp3vzkHMG

— FOX: NASCAR (@NASCARONFOX) July 7, 2017
— Kurt Busch's contract at Stewart-Haas Racing is up at the end of the season, and it remains unclear if he'll be back in the No. 41 Ford. But at last report, the reigning Daytona 500 champion from Las Vegas didn't seem worried about his future. "I don't feel any fear whatsoever," he said. "I actually feel really confident on the sponsorship (Monster Energy) that I bring, Ford Performance's involvement with Stewart-Haas and how I blended in with this team. I feel great."
Contact Ron Kantowski at rkantowski@reviewjournal.com or 702-383-0352. Follow @ronkantowski on Twitter.
Pro schedule
NASCAR Monster Cup
What: Overton's 301.
When: Friday, practice, 8:30 a.m. (NBCSN), qualifying, 1:45 p.m. (NBCSN). Saturday, practice, 7 a.m., practice, 9:30 a.m. (NBCSN). Sunday, race, noon (NBCSN).
Where: New Hampshire Motor Speedway (oval, 1.06 miles), Loudon, New Hampshire.
Distance: 318.46 miles (301 laps).
Last year: Matt Kenseth won his second straight race in New Hampshire.
Last week: Martin Truex Jr. took first for the third time in 2017 in Kentucky.
Next race: Brickyard 400, July 23, Indianapolis Motor Speedway, Indianapolis.
NASCAR Xfinity
What: Overton's 200.
When: Friday, practice, 10 a.m. (NBCSN), practice, noon (NBCSN). Saturday, qualifying, 8:05 a.m. (CNBC), race, 1 p.m. (NBCSN).
Where: New Hampshire Motor Speedway (oval, 1.06 miles), Loudon, New Hampshire.
Distance: 211.6 miles (200 laps).
Last year: Kyle Busch took his second consecutive series event.
Last race: Busch won from the pole in Kentucky.
Next race: Lilly Diabetes 250, July 22, Indianapolis Motor Speedway.
NASCAR Camping World Truck
Last race: Christopher Bell won his third race of the season in Kentucky.
Next race: July 19, Eldora Speedway, Rossburg, Ohio.
IndyCar
What: Honda Indy Toronto.
When: Friday, practice, 7:40 a.m., 11:15 a.m. Saturday, practice, 7 a.m., qualifying, 11:15 a.m. Sunday, race, 12:47 p.m. (CNBC).
Where: Exhibition Place (street, 1.786 miles), Toronto.
Distance: 151.8 miles (85 laps).
Last year: Will Power won after turning a record-setting lap in qualifying.
Last race: Helio Castroneves won his first race in three years in Iowa.
Next race: Honda Indy 200, July 30, Mid-Ohio Sports Car Course, Lexington, Ohio.
Formula One
What: British Grand Prix.
When: Saturday, qualifying 5 a.m. Sunday, race, 5 a.m. (CNBC).
Where: Silverstone Circuit (circuit, 3.66 miles), Silverstone, England.
Distance: 190.3 miles (52 laps).
Last year: Lewis Hamilton won the second of four consecutive races.
Last race: Valtteri Bottas dominated in Austria for his second victory of 2017.
Next race: Hungarian Grand Prix, July 30, Hungaroring, Budapest.
NHRA
Last race: Steve Torrence (Top Fuel), Ron Capps (Funny Car), Drew Skillman (Pro Stock) and LE Tonglet (Pro Stock Motorcycle) won their divisions outside of Chicago.
Next race: Mile High NHRA Nationals, July 21-23, Bandimere Speedway, Morrison, Colorado.
The Associated Press