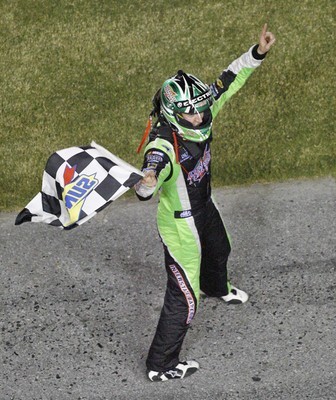 DAYTONA BEACH, Fla. — Kyle Busch fell a lap down at Talladega and came back to win. So when a steering problem dropped him to the back of the field in the Coke Zero 400 at Daytona International Speedway, he didn't panic.
The Las Vegas native simply settled in for the long drive back to the front.
And back to Victory Lane.
Busch bested Carl Edwards in a door-to-door drag race Saturday night that ended under caution with Busch earning his Sprint Cup Series-best sixth victory of the season.
"That's him," crew chief Steve Addington shrugged.
Say what you want about Busch, the driver NASCAR fans love to hate. But the kid doesn't quit, not when a checkered flag is on the line.
"It's me who has to stay a little calm and get back in the rhythm of what was going on," Busch said of his knack for overcoming adversity at restrictor-plate tracks. "I just made sure I drove a smart race and finished it out, and whatever came to us would come to us."
What he got was his 12th victory of the season spanning all three of NASCAR's top series.
But he had to wait several anxious moments for this one, which wasn't decided until NASCAR reviewed the running order at the moment the final caution came out.
Busch and Edwards were drag racing with a little over a lap remaining when a multi-car accident brought out the caution behind them. The field was frozen, and while Edwards was pretty sure Busch was a nose ahead, no one was 100 percent certain.
"I can't believe that we're here right now," Busch said in Victory Lane. "We didn't have the best car. Luckily we were leading there when it mattered most."
Edwards finished second and was disappointed not to have one last lap to finish his race with Busch.
"Man, I hate to lose the thing like that," Edwards said. "I wish we could have raced a little longer."
Matt Kenseth, Edwards' teammate at Roush Fenway Racing, was third. He was followed by Kurt Busch, Roush driver David Ragan and Robby Gordon. Kasey Kahne, Dale Earnhardt Jr., Clint Bowyer and Mark Martin rounded out the top 10.
It seemed for a bit that Jeff Gordon was headed to his first win of the season as he led 46 laps late and was handily holding off Busch as the race wound down. But with four laps to go, Busch pulled inside of Gordon and claimed the lead seconds before a multicar accident brought out a caution.
It set up an overtime sprint to the finish, and Busch was slow on the restart. It stacked up the traffic behind him, and Edwards ran into the back of Gordon, sending him spinning through the grass.
Edwards darted to the outside to move around the action and, with a push from Kenseth, pulled alongside Busch to set up a thrilling drag race. But they didn't get a chance to race to the checkered flag because of contact between Travis Kvapil and Sam Hornish Jr. that triggered a multicar accident that froze the field.
"I think it's ours," spotter Jeff Dickerson radioed to Busch. "We were out front. Is it ours?"
"I don't know," Addington replied. "They are looking at it. I don't know."
Busch's team watched the scoring tower and then jumped over the pit road wall in celebration when Busch's No. 18 was declared the winner.
Busch celebrated with his customary sarcastic bow to the crowd. But with every victory, the fans who have loved to hate him are slowly warming up to NASCAR's newest star. He was cheered this time, just like he was two weeks ago after winning on the road course in Sonoma.
Gordon, who seemed poised to end his 22-race winless streak, wound up 30th and was disappointed with the way the final restart played out.
"Everybody was laying back and trying to get a run on the last restart," Gordon said. "They got the jump on me. I tried to block him. Maybe I came across (Edwards') nose. Hard to say. It's unfortunate."
But Gordon was more upset he allowed Busch to pass him with four to go.
"I should have stayed on the bottom," he said. "I'm probably more mad at myself than anything else."
Tony Stewart, winner of this race in 2005 and 2006, fell ill before the start and had J.J. Yeley on standby in case he couldn't make it to the finish. Stewart drove his car as high as third but gave up the seat right before the halfway point, and Yeley took the car to a 20th-place finish.