Sam Schmidt says full-speed ahead for new IndyCar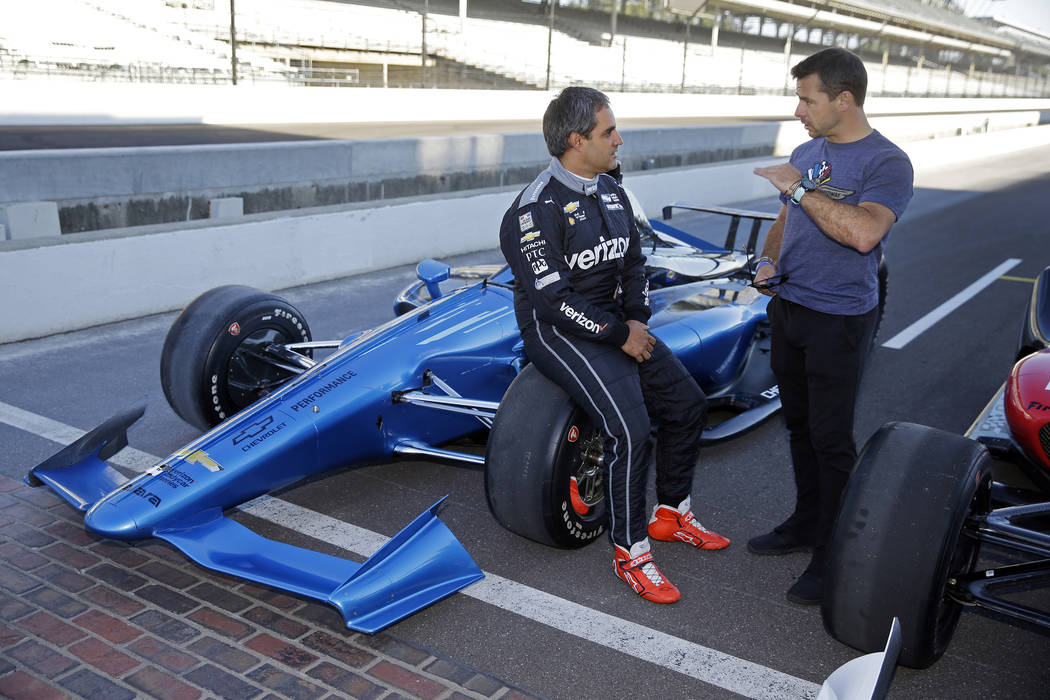 Sam Schmidt said the new IndyCar unveiled this week is sleeker and cheaper than the current one.
In time, he thinks it also will be faster.
"The idea is to break Arie's record," the Henderson team owner said in citing two-time Indianapolis 500 winner Arie Luyendyk's four-lap qualifying record of 236.986 mph set in 1996.
Luyendyk set the speed standard in a year-old Championship Auto Racing Teams machine — the same style of car that inspired the new design.
Two 2018 cars — one Honda powered, one Chevrolet — were taken on shakedown cruises at Indianapolis Motor Speedway this week. Schmidt Peterson Motorsports was selected to oversee the Honda prototype, which Schmidt called a big honor.
"I think we checked all the boxes," said Schmidt, who also was featured in last week's episode of "Jay Leno's Garage" on CNBC. "It's the look of the heyday of the 1990s without the big engine cover.
"We added a lot more downforce under the car with less bolt-on components, and that will save money for all the teams. All of it is very exciting, and the feedback from the (test) drivers (Juan Pablo Montoya and Oriol Servia) has been very exciting."
The hope is that by eliminating expensive aero kits and transferring the road-gripping downforce they produced under the tub, the cars will be able to race closer together and pass more often — not that either has been an issue at Indianapolis, which over the past few years has produced some of the most exciting racing on the planet.
Schmidt said the aero kits were a "disaster" from the day they were announced. The chief reason given for add-on wings and bodywork was to make the cars look different from one another, but, as Schmidt said, "Ninety-nine percent of fans don't notice the difference."
While the IndyCar teams will incur a one-time cost to convert their current cars to the new spec, it is hoped the cheaper, streamlined design ultimately will lead to more teams entering the sport, and maybe even new engine suppliers.
.@OriolServia strapping into the @HondaRacing_HPD machine for his first laps! #INDYCAR pic.twitter.com/CEu6mHauUb

— IndyCar Series (@IndyCar) July 25, 2017
Green, white, checkered
— Las Vegas Motor Speedway Bullring competitor Stan Mullis will attempt to run in his first NASCAR Xfinity Series race this weekend at Iowa Speedway. Mullis has been assigned to the No. 40 Motorsports Business Management car fielded by Carl Long and partner Bobby Dale Earnhardt — son of Kerry Earnhardt, oldest grandson of Dale Earnhardt Sr. — in the Heartland. Mullis has some experience working with the team, having driven one of its ARCA series cars in an open test at Daytona Speedway this year.
— If the Indianapolis Motor Speedway were a refrigerator, Kyle Busch was a giant magnet under which slips of attention kept getting stuck last weekend. In order, the Las Vegas NASCAR driver of repute said he had a ride lined up for this year's Indy 500 before one his two bosses (assumed to be NASCAR car owner Joe Gibbs) put his foot down; appeared headed for his third consecutive Brickyard 400 victory before being eliminated in a crash with points leader Martin Truex as the two raced for the lead after a restart; engaged a social media troll with fewer than 100 followers in a skirmish, referring to him as #loser.
Alright TROLL… that's enough. I did congratulate those guys. Just cause it wasn't on social doesn't mean I didn't call or text. #Loser https://t.co/APHxpbI6yn

— Kyle Busch (@KyleBusch) July 24, 2017
— As for what team Busch was going to drive in the 101st running of the Indy 500, he didn't let on. Auto racing is a fraternity of the closest knit, so it was figured Sam Schmidt, the IndyCar team owner from Henderson, would have heard something. "I have no idea," Schmidt said, adding only that it wasn't Schmidt Peterson Motorsports. Schmidt said he had talked informally with Kurt Busch (the last driver to attempt the Indy-Coca-Cola 600 Memorial Day Weekend double), but never to Kyle about such an opportunity.
.@KyleBusch was ready to run the 2016 #Indy500, but one of his 2 bosses said no.

Which boss do you think he is referring to?#NASCAR @IMS pic.twitter.com/nQpbjTUAX8

— FOX: NASCAR (@NASCARONFOX) July 21, 2017
Contact Ron Kantowski at rkantowski@reviewjournal.com or 702-383-0352. Follow @ronkantowski on Twitter.
Pro schedule
NASCAR Monster Cup
What: Overton'S 400
Where: Pocono Raceway (oval, 2.5 miles)
When: Saturday, practice, 6 a.m., CNBC, practice, 8:30 a.m., NBCSN; Sunday, qualifying, 11:30 a.m., NBCSN, race, noon, NBCSN.
Last year: Chris Buescher won his first Cup race.
Last week: Kasey Kahne snapped a nearly three-year drought with a win at Indianapolis.
Next race: I Love New York 355, Aug. 6, Watkins Glen International, Watkins Glen, New York.
NASCAR Xfinity
What: U.S. Cellular 250
Where: Iowa Speedway (oval, 0.894 miles)
When: Friday, practice, 2 p.m. and 3:30 p.m., NBCSN; Saturday, qualifying, 9:05 a.m., race, 12:30 p.m., NBC.
Last year: Erik Jones won at Iowa after starting second.
Last race: William Byron took first for the third time in five races.
Next race: Zippo 200, Aug. 5, Watkins Glen International, Watkins Glen, New York.
NASCAR Camping World Truck
What: Overton's 150
Where: Pocono Raceway
Schedule: Friday, practice, 9 and 11 a.m., FS1; Saturday, qualifying, 7 a.m., FS1, race, 10 a.m., FOX.
Track: Pocono Raceway
Last year: William Byron won from the pole.
Last race: Matt Crafton won on Eldora's dirt track, his first victory of the season.
Next race: LTI Printing 200, Aug. 12, Michigan International Speedway, Brooklyn, Michigan.
IndyCar
What: Honda Indy 200
Where: Mid-Ohio Sports Car Course (circuit, 2.3 miles)
Schedule: Friday, practice, 7 a.m. and 10:15 a.m.; Saturday, practice, 6:55 a.m., qualifying, 11 a.m., NBCSN; Sunday, race, 12:30 p.m., CNBC.
Last year: Simon Pagenaud took first on his way to the series championship.
Last race: Josef Newgarden picked up his second win of 2017 in Toronto.
Next race: ABC Supply 500, Aug. 20, Pocono Raceway, Long Pond, Pennsylvania.
Formula One
What: Hungarian Grand Prix
Where: Hungaroring (circuit, 2.72 miles)
Schedule: Friday, practice, 1 and 5 a.m.; Saturday, practice, 2 a.m., qualifying, 5 a.m.; Sunday, race, 5 a.m., NBCSN.
Last year: Lewis Hamilton won the third of four straight races in Hungary.
Last race: Hamilton won on his home track in England to move within a point of series leader Sebastian Vettel.
Next race: Belgian Grand Prix, Aug. 27, Circuit De Spa-Francorchamps, Francorchamps, Belgium.
NHRA
What: Sonoma Nationals
Where: Sonoma Raceway
Schedule: Friday, qualifying, 5 p.m. and 7 p.m.; Saturday, qualifying, 2 p.m. and 5 p.m.; Sunday, finals, 3:30 p.m., FOX.
Last year: J.R. Todd took first in California in 2016.
Last race: Antron Brown won outside of Denver.
Next race: Northwest Nationals, Aug. 6, Pacific Raceways, Kent, Washington.