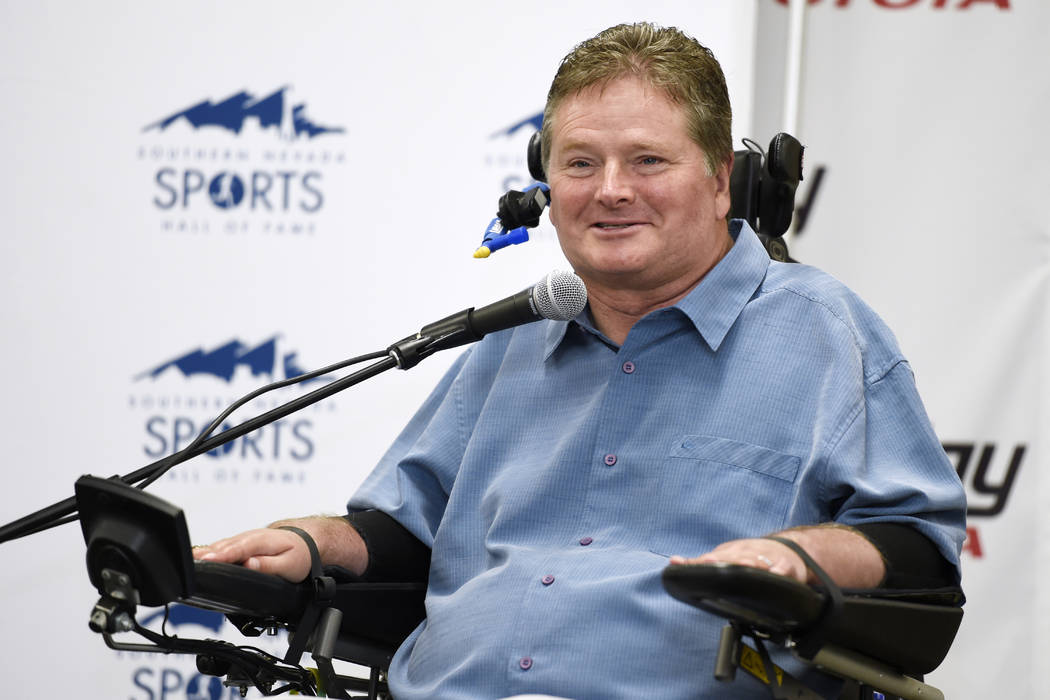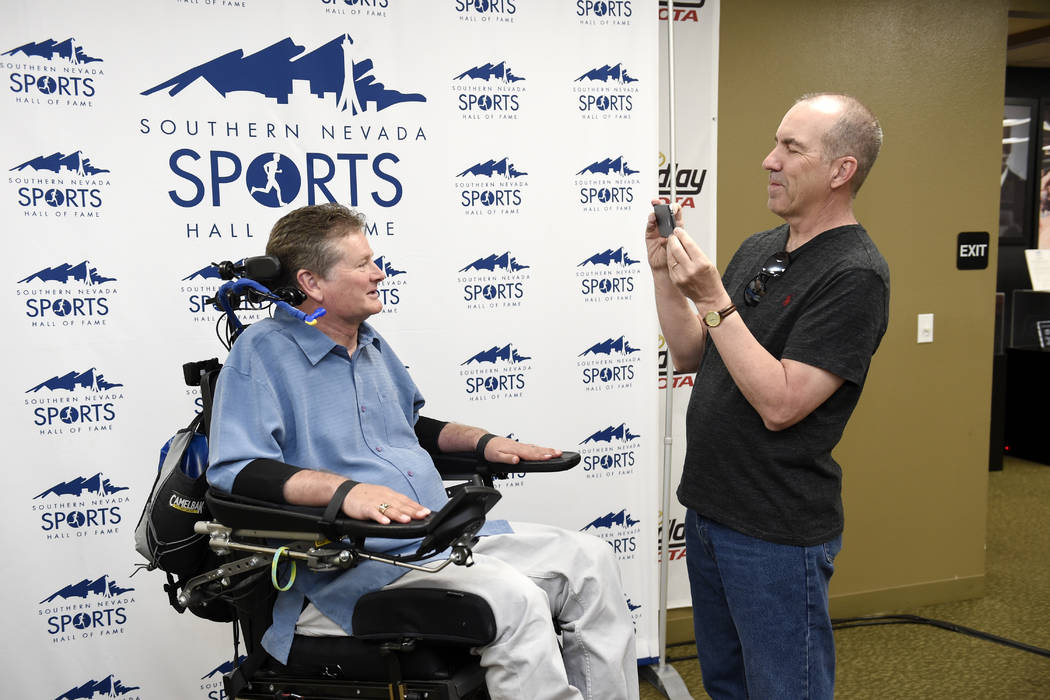 When we spoke Tuesday, Sam Schmidt said he would be getting on a plane in three hours for auto racing mecca, utopia and its holy grail. He sounded excited.
The IndyCar team owner based in Henderson has three big races in May for which to prepare at Indianapolis Motor Speedway.
On Saturday, there's the IndyCar Grand Prix on the infield road course, the inaugural version having been won by Schmidt's former driver Simon Pagenaud in 2014.
The Big Kahuna, the Indianapolis 500, is May 28. Schmidt's current driver, James Hinchcliffe of Canada, qualified on pole position for the 100th running of the world's most famous auto race in 2016.
And this year, there's a cool third race in which Schmidt will be driving again.
A 2000 testing accident ended Schmidt's driving career and left him a quadriplegic. It hasn't stopped him from helping to develop the SAM car — Semi-Autonomous Motorcar — in concert with his race team's primary sponsor, Arrow Electronics.
By using voice and vision sensors and controlling the throttle and brake by blowing and sucking through a tube, Schmidt has driven the SAM car 150 mph at the Brickyard and at the daunting Pikes Peak Hill Climb near Colorado Springs last year.
A second SAM car has been shipped to Indy, to be driven by Mario Andretti. Using the same method Schmidt uses to drive, Mario and Sam will line up in a special match race before the IndyCar Grand Prix.
"I think it's fantastic," said Schmidt, who raced in three Indy 500s but never against Andretti, who was retired by then.
Schmidt made news in 2016 when he received the nation's first restricted driver's license for a semi-autonomous vehicle during a demonstration and ceremony at Las Vegas Motor Speedway. He hopes his experience in the car, combined with Andretti's notorious tough luck at Indy — one win in 29 starts — will give him an edge.
Fans can donate $10 and pick the winner by texting Sam or Mario to 50555, with proceeds going to Cure Paralysis Now.
Andretti, 77, joked that if he won, Schmidt should agree to put him in a car for the 2018 Indy 500.
At least I think it was a joke.
Thanks to your generosity, we're now halfway to our $10,000 goal for @ConquerNow. You can help by texting to donate or retweeting this post. pic.twitter.com/jHYVz42iqL

— Arrow Electronics (@ArrowGlobal) May 8, 2017
NASCAR big on LV Supercross
The season-ending AMA Supercross races at Sam Boyd Stadium were so hair-raising at the end that NASCAR drivers were moved to comment on them on Twitter.
"Heck ya!!" wrote Ricky Stenhouse Jr., who would win his first Cup Series race the next afternoon. @elitomac tried to crash @RyanDungey and lost it for himself. Congrats on the championship!!!! #SXonFox."
"Glad I stayed up for that," wrote Michael Waltrip.
And from Kyle Larson: "How intense was that?"
Both Supercross championships were decided on final laps that featured crashes and skirmishes. Ryan Dungey held off Eli Tomac in 450SX and Zach Osborne edged Joey Savatgy and Adam Cianciarulo in the 250 class before a sellout crowd of 39,509.
Glad I stayed up for that. Awesome job @RyanDungey @elitomac Thanks @FS1 for covering all the @MonsterEnergy #SXonFOX action. @JennyTaft

— Michael Waltrip (@MW55) May 7, 2017
NASCAR drivers react to dramatic Supercross season finale – https://t.co/V2UYSr6oMZ https://t.co/tfpWuBqfpT

— Nascar show (@Nascarshow) May 7, 2017
White flag
■ Peyton Saxton took the lead on lap 17 of 50 to win a NASCAR Grand American Modifieds main event on Gaming Industry Night on Saturday at The Bullring at Las Vegas Motor Speedway. Saxton won for the third time in four races and the 20th time in his Bullring career.
■ You knew Las Vegan Kyle Busch was going to take grief for saying he was looking forward to competing at a "real racetrack" at Kansas this week after finishing third at Talladega. Kyle doesn't always choose his words carefully when he's frustrated, but I think he was editorializing on the whimsical nature of restrictor-plate racing, and not about Talladega Superspeedway itself.
Kyle Busch: After Talladega loss, going on to "a real race track" in Kansas Speedway https://t.co/Y7D1muTQjV pic.twitter.com/rf02FTuep8

— NBC Sports (@NBCSports) May 8, 2017
■ During his grid walk at Talladega, Fox analyst Michael Waltrip approached Brendan Gaughan and identified him as a Las Vegas casino owner. The NASCAR veteran quickly applied the brakes. "I think my daddy would take exception to that," he said of father Michael, who owns the South Point.
Contact Ron Kantowski at rkantowski@reviewjournal.com or 702-383-0352. Follow @ronkantowski on Twitter.
Schedules
NASCAR Monster Cup
What: Go Bowling 400.
When: Friday, practice, 8:30 a.m. (FS1), practice, 10:30 a.m. (FS1), qualifying, 3:45 p.m. (FS1). Saturday, race, 4:30 p.m. (FS1).
Where: Kansas Speedway (oval, 1.5 miles), Kansas City, Kansas.
Distance: 400.5 miles (267 laps).
Last year: Kyle Busch won for the third time in six races in the spring event in Kansas.
Last race: Ricky Stenhouse Jr. survived a massive wreck at Talladega to win from the pole.
Next race: Monster Energy All-Star Race, May 20, Charlotte Motor Speedway, Concord, North Carolina.
NASCAR Xfinity
What: No race this weekend.
Last week: Aric Almirola won in Talladega from the 23rd spot, by far the lowest of any series winner this year.
Next race: Hisense 4K TV 300, May 27, Charlotte Motor Speedway, Charlotte, North Carolina.
NASCAR Camping World Truck
What: Toyota Tundra 250.
When: Friday, qualifying, 1:35 p.m. (FS1), race, 5:30 p.m. (FS1).
Where: Kansas Speedway (oval, 1.5 miles), Kansas City, Kansas.
Distance: 250.5 miles (167 laps).
Last year: William Byron won his first career race — the first of seven victories in 2016.
Last race: Chase Elliott won in Martinsville on April 2.
Next race: North Carolina Education Lottery 200, May 19, Charlotte Motor Speedway, Charlotte, North Carolina.
IndyCar
What: IndyCar Grand Prix.
When: Friday, qualifying, 1:20 p.m. Saturday, race, 12:50 p.m. (KTNV-13).
Where: Indianapolis Motor Speedway road course (2.44 miles), Indianapolis.
Distance: 207.3 miles (85 laps).
Last year: Simon Pagenaud won the pole and the race in Indy.
Last race: Pagenaud won in Phoenix to take an 18-point lead over Scott Dixon in the point standings.
Next race: Indianapolis 500, May 28, Indianapolis Motor Speedway, Indianapolis.
Formula One
What: Spanish Grand Prix.
When: Saturday, qualifying, 4 a.m. Sunday, race, 2 a.m. (NBCSN).
Where: Barcelona Circuit-Catalunya (2.9 miles), Barcelona, Spain.
Distance: 190.8 miles (66 laps).
Last year: Max Verstappen snapped Nico Rosberg's four-race winning streak with his only F1 victory.
Last race: Valterri Bottas won for the first time in his five-year career in Russia.
Next race: Monaco Grand Prix, May 28, Monte Carlo, Monaco.
NHRA
What: No racing this weekend.
Last week: Steve Torrence (Top Fuel), Ron Capps (Funny Car), Bo Butner (Pro Stock) and LE Tonglet (Pro Stock Motorcycle) won at the Southern Nationals.
Next race: Heartland Nationals, May 19-21, Heartland Park, Topeka, Kansas.
— The Associated Press