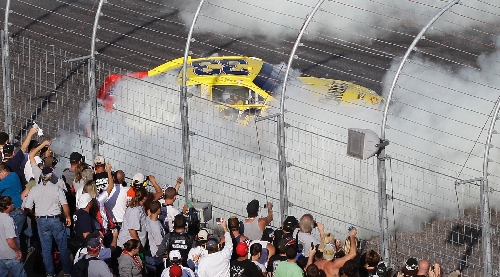 Tis the season for piling on — be it after a tackle or when addressing the woes of NASCAR's Sprint Cup Series.
If a defender gets too carried away on the football field, he'll get flagged. So I'll start by tossing a yellow handkerchief on me before going too far with some of my snarky opinions.
There are problems in the NASCAR universe, and here are solutions:
■ INSPECTION SELECTION — We're four weeks into the coveted Chase for the Cup championship, and headlines have focused on recent penalties against Clint Bowyer for driving what has proven — if you accept the rulings of NASCAR's politburo appeals system — to be illegal.
Solution: Eliminate mandatory race car inspections, but allow team owners to pay to have competing cars checked out. If Denny Hamlin thought that Bowyer and his Richard Childress Racing teammates had been cheating all year, then Hamlin could have paid NASCAR $250,000 to examine the alleged miscreant. If Hamlin was right, he would get his money back; if he was wrong, the money goes to the team he accused of wrongdoing.
■ TROUBLE NOT IN YOUR TV — What do "SpongeBob SquarePants," Snooki of "Jersey Shore" and Chumlee of "Pawn Stars" have in common?
More people have watched them than recent Cup races, according to Nielsen ratings provided by ESPN.
Granted, NASCAR gets passed by the NFL, but getting lapped by SpongeBob (six episodes) is hard to swallow.
It's embarrassing that "Jersey Shore 2" with Snooki ranked second, but that hurts the image of the Garden State and the country more than it hurts NASCAR. But I digress.
The audience for Sunday's Cup race at Kansas Speedway on ESPN was 3.7 million, about 19 percent less than the previous year when it was on ABC. Two weeks ago, the No. 1 cable telecast was the New Orleans-San Francisco NFL game with 15.1 million viewers. NASCAR and the NFL are in different leagues with regard to viewership, which could be why NASCAR head honcho Brian France has shown interest in owning a football team.
Solution No. 1: End the Cup season in mid-October by eliminating six races so the series doesn't have to contend with the NFL juggernaut.
Solution No. 2: Beginning in October, move races from Sundays to Saturday nights, and during that span do not race in Alabama, Texas or Florida, where college football is king.
Solution No. 3: Because Nos. 1 and 2 are not likely to happen, the best cure for sagging TV ratings is to award a 500-point bonus after 26 races to the driver fans vote as the most popular to ensure he makes the Chase. Also, award that driver an additional 50 horsepower for each of the 10 Chase races. Call this the Dale Earnhardt Jr. rule.
■ THE CHASE — No suggestions here. Leave it alone, especially if solution No. 3 as previously stated is adopted.
When NASCAR keeps making changes, it admits to having made mistakes. NASCAR is never wrong, and if this statement is in doubt, just ask members of its appeals commission.
Jeff Wolf's motor sports column is published Friday in the Las Vegas Review-Journal. He can be reached at jwolf@reviewjournal.com or 702-383-0247. Visit Wolf's motor sports blog at lvrj.com/blogs/heavypedal/ throughout the week.