Sponsor defections hit Sprint Cup stars
September 17, 2010 - 11:00 pm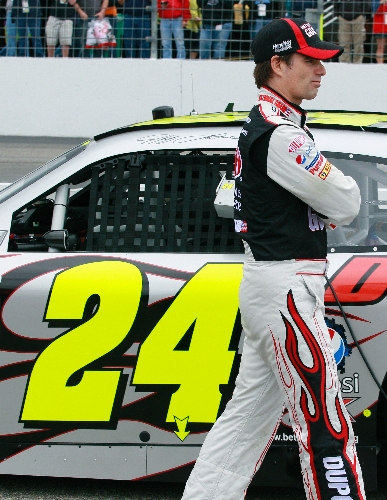 LOUDON, N.H. — For sale: Prime real estate on the hood of cars driven by former Cup champions Tony Stewart and Jeff Gordon.
All it takes to grace the made-for-TV, rolling billboard is a deep-pocketed sponsor looking to jump into NASCAR or bolster its profile by forming a partnership with one of the sports marquee stars.
Gordon and Stewart — who have six championships between them — are chasing corporate America's dollars just as much they're driving for a title over the 10-race Chase for the Sprint Cup championship.
They're not alone.
Corporate sponsors have dried up to the point that Kyle Busch said he might have to fold his truck team next season. Busch could be one-and-done in the low-budget series if a full-time sponsor can't be signed to keep it afloat.
"The people that have the money to do it, can't or don't want to do it," Busch said Friday at New Hampshire Motor Speedway. "The guys that want to do it, don't have the money."
Busch has run into circumstances in the truck series in which other teams are slicing rates and giving away sponsorships for practically nothing, leaving him scrambling to find a company willing to pay a higher price that a driver like Busch commands.
"I think it's going to be pretty detrimental to not have myself in the series," Busch said.
In a troubling sign that NASCAR and corporate America have not emerged unscathed from the economic swoon, Stewart and Gordon have done everything short of putting out a want ad to stir sponsorship interest. Gordon is nearing the end of a nearly 20-year relationship with DuPont, and Stewart needs a primary sponsor for 14 races next season.
Old Spice announced this year it would withdraw Stewart's sponsorship based on a change in marketing strategies. Gordon recently saw a potential deal with Wal-Mart collapse at the bargaining table.
"The Wal-Mart thing was a little disappointing because I feel like everybody was wanting to see that company in this sport for a long time, and we would have loved to have represented them," Gordon said.
NASCAR, easily America's top racing series, has seen TV ratings and attendance slide this season.
KESELOWSKI WINS POLE FOR CHASE OPENER
LOUDON, N.H. — Brad Keselowski crashed the party at New Hampshire Motor Speedway, winning the pole Friday for the first race in the Chase for the Sprint Cup championship.
Keselowski broke Juan Pablo Montoya's year-old qualifying record with a lap of 133.572 mph to gain the top starting spot for Sunday's race. The Penske Racing driver nudged championship contenders Clint Bowyer and Tony Stewart, who qualified second and third for the first event in the 10-race Chase.
Keselowski, mired in a rough first season at NASCAR's top level, is ranked 26th in the standings and not eligible to race for the title. Only the top 12 drivers race for the championship.
Only four Chase drivers — Bowyer, Stewart, Kyle Busch (ninth) and Carl Edwards (10th) — qualified in the top 10. Four-time defending series champ Jimmie Johnson qualified a career-worst 25th.
THE ASSOCIATED PRESS