Supercross star Villopoto enjoying the ride
October 20, 2012 - 2:07 am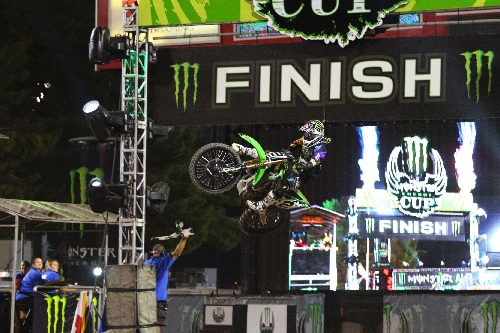 Ryan Villopoto admits it's not easy sitting atop the motorcycle racing world. That doesn't mean the two-time Supercross champion doesn't relish his lofty perch.
The defending champion of the Monster Energy Cup is back in Las Vegas, hoping history repeats itself tonight at Sam Boyd Stadium. Villopoto won all three races in the main event here last year, good for a $1 million bonus.
"There's a ton of people who have the talent to be at the top," Villopoto said. "In my case, I think it's a combination of hard work and a great team surrounding me. You can't do it on your own."
Villopoto's chances of repeating his feat largely depend on how his surgically repaired left knee responds in his first action since April, when he tore his anterior cruciate ligament in Seattle. The injury sidelined the 24-year-old for the AMA Motocross season.
He also must contend with several hot-riding challengers, namely Ryan Dungey, Mike Alessi, Chad Reed and Justin Barcia. And there's also the newly configured track designed by retired Supercross star Ricky Carmichael.
The race course features dual starting gates, a 200-foot turn built into the grandstand and a mandatory "joker lane" – essentially a rolling pit stop that each rider must take once per race.
Villopoto got his first look at the track Friday night and said, "We'll have a strategy to run the smartest race possible."
Villopoto qualified for tonight's event by winning the Supercross series. He became the first rider to repeat since Carmichael in 2006.
"I'm not trying to beat anyone's record," Villopoto said. "It's a young man's sport, and I'm 24. I'm just trying to do as well as I can, and whatever my legacy is, it is."
Villopoto, who turned pro in 2005, won four Lite 250cc national Motocross titles (2006, 2007, 2008, 2011). Then he won the two straight championships on the big 450cc bikes.
Among purses, bonuses and endorsement deals, Villopoto reportedly made close to $11 million last year. He owns a home on 50 acres outside Orlando, Fla., and also has a home in Menifee, Calif.
"My goal is to retire and be able to do what I want to do," he said. "I'm not the kind of guy who flaunts what he has. Could I drive a Ferrari? Sure. But it would probably just sit in the garage."
Instead, he tools around in a black oversized truck. He mostly wears jeans and T-shirts. He has two motocross training tracks on his Florida property.
When he married his wife, Kristen, last year before his win at the Monster Energy Cup, they stuck to their honeymoon plans of a cruise, even though $1 million would have enabled them to upgrade their trip significantly.
With all of Villopoto's success, he probably would have more titles had he not injured his left knee in 2009 at the start of the Motocross season and broke his right leg in 2010. The fact he has bounced back from those injuries gives Villopoto confidence he'll hold up well tonight.
"When you go through the rehab and you see you're OK, it definitely helps you believe you can do it," he said. "Growing up in this sport, you know you're going to get hurt at some point. You get hurt, you give yourself time for your body to heal and your mind to forget, then you start racing again."
Contact reporter Steve Carp at scarp@reviewjournal.com or 702-387-2913. Follow him on Twitter: @stevecarprj.
MONSTER ENERGY CUP
WHO: Top 22 riders in 2012 AMA Supercross and Motocross
WHEN: Main event, 7 p.m. today; qualifying, 12:30 p.m.
WHERE: Sam Boyd Stadium
PURSE: $250,000 ($100,000 to winner); $1 million bonus to rider if he wins all three main-event races
TV: Speed Channel (Cable 329)