Surprise, Hendrick Cars Fast In Practice: Bigger Surprise, Earnhardt Jr Is One Of Them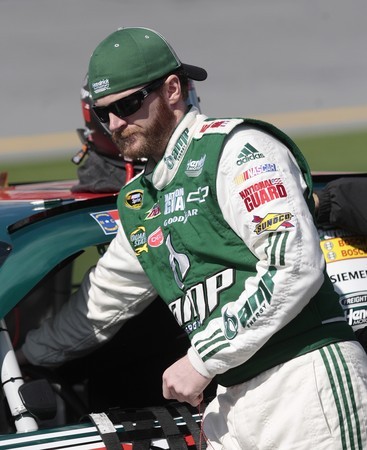 There's nothing worse most Americans hate then when the rich get richer, but this week in Atlanta some may take exception in regards to the NASCAR Nation and a certain Hendrick Motorsports car. Dale Earnhardt Jr looks like a major player in this week's Kobalt Tools 500 based on what he has done in two days of practice and qualifying. He actually looks like he's running a real bona fide Hendrick Motorsports car this week.
You wouldn't get many to argue that half of the NASCAR faithful out there are Dale Earnhardt fans. However, for the last 60 races, Junior hasn't given them much to cheer about going winless while the rest of his team, in particular Jimmie Johnson, seems to win every week.

It's a tough load for a proud driver such as Earnhardt Jr to carry each week to the track. How can he be with the best team in the world and remain several levels below what everyone else is doing going into his third year there?

The team has done just about everything possible to get Earnhardt Jr to level of his teammates by changing his crew chiefs, building completely new chassis' formatted like Mark Martin's whom he shares a garage with, but still no solid results on the tracks his teammates do well at such as all the down-force tracks like California and Las Vegas.

He started the season with a strong second-place finish at Daytona to kick off the year, but over the last two weeks he's been very mediocre while his teammates have had the strongest cars.

Daytona can't be used as a measure for any improvement because it's a restrictor-plate race. The real barometer for success and what's to become of the 2010 season is what happens on tracks like this week in Atlanta or last week in Las Vegas.

However, things are looking brighter for Earnhardt Jr. After Friday and Saturday's practice and qualifying sessions, Junior has never looked better while with the Hendrick organization. He's sitting on the pole for the first time in 68 races and his practice speeds have been up there with his teammates in both single lap and average times which is a good indicator he will be a force to reckon with in Sunday's race.

He has the car to do well this week, now he's got to have all the other intangibles come into place like pit stops, crew chief decision making, the driver himself, and maybe most of all, luck. Jimmie Johnson seems to have all those intangibles go his way week after week like clock work and there was no better example of luck than at California when he narrowly beat the pace car off pit road to secure positioning in what would eventually become a win.

Earnhardt Jr also has to figure out how hard he wants to push what looks to be a really good car. The last thing he wants to do is push too hard and smack a good car into the wall ending his day early. He wants to win more than anything, not only for himself, but all his fans, but a goal of a top-5 finish and running well until the end would seem like a more proper goal and then wait a see what happens with 20 laps to go.

For the sake of a just a really cool driver who the fans love, NASCAR needs Junior to do well. The NASCAR executives have been scratching their heads regarding the decrease in television ratings the last two seasons which is part of the reason NASCAR loosened up on some of their policies coming into the 2010 campaign.

Some of those changes dealt with seeing more personality and emotions from the drivers, things that attracted fans to the sport in the first place. Other explanations given to the ratings drop are that Jimmie Johnson wins too much which ties into another that Dale Earnhardt Jr doesn't win at all.

If over half of the audience are fans of one particular driver and he can't come close to winning on a regular basis, it might lessen a need for many fans to watch. It doesn't make them any less of fans, it just takes the priority level down a notch. New Jersey has lots of Nets fans, but when they know they are probably not going to play well and lose, what's fun about that?

If this in fact the week that Earnhardt Jr does make a splash and his crew is on to something that can translate week to week, the ratings will sky rocket to 2008 proportions. Not for NASCAR's sake, but for someone who truly needs a good run, let's hope this is the week for Junior.

Other Top Contenders
Mark Martin has been stellar in practice the last two weeks on similar types of down force tracks and in continued again this week in Atlanta. He was either first or second in the three practice sessions and starts fourth. He's be using the same chassis this week that ran at Indianapolis last year where he sat on the pole and finished second.

It's been a long time since Martin has won in Atlanta. Although he has 14 career top-5 finishes, his last win on the track came in 1994. Only there current regular drivers were in the series in 1994.

After winning the last two races, Jimmie Johnson has had to take a lot of heat for some reason. NASCAR fans don't like to see continued excellence. Never know why, but it's happened that way for as long as I can remember. They used to dislike Darrell Waltrip, Dale Earnhardt, Rusty Wallace, Jeff Gordon, and now Jimmie Johnson for simply being the best, as well as a few quotables from some of the aforementioned.

Johnson was dialed in during Saturday's sessions and why shouldn't he be. His team is so confident about their equipment that they chose not to run either of the winning cars from the last two races and are going with the chassis that won at Charlotte in the fall last year. This team is so good, they could probably take their road course chassis and take it to a top-5 this week if they wanted to.

Johnson was fastest overall in single lap speeds during Saturday's first practice and then slowed things down during happy hour with the 16th best single lap time. However, they were fourth fastest in average speeds among all drivers that ran at least 10 laps. It wouldn't be at all surprising to see Johnson win his third consecutive race and fourth overall at Atlanta this week, a place where he has the best career average finish of all current drivers.

Childress Still Strong?
Jeff Burton looked like his typical methodical self Saturday during practice. He didn't do anything special in single lap times, but he doesn't lose much speed in the long runs. He was fastest during happy hour in average speeds which puts him in similar shape to how he looked in California when he ran third. Not surprisingly, it's that exact same car he's using this week. He will be a contender to win Sunday.

Kevin Harvick might not be so happy after all practice sessions, but he's seen this before including the last two weeks where he was one of the best cars during the race. The best he could muster in three sessions was 19th fastest Saturday during the early session, which is similar to what he did in Las Vegas before finishing the actual race in second-place. Don't let the times scare too much, Harvick will be fine on race day. He's just got a lot of traffic to go through starting 35th.

Clint Bowyer brought a new chassis this week and the results of practice look consistently similar to what he's been using the last two weeks and what he's had the last three spring races in Atlanta where he's finished sixth in three straight races. A top-10 finish is a good bet this week, but you can't go wrong with sixth in Atlanta for him. If he did, it would be his fifth finish at sixth place in only nine career Atlanta starts.

Petty Motorsports Sharp?
We haven't seen multiple Petty cars look strong in practice, since….well, maybe forever. Kasey Kahne was very fast in all measures of practice and not far behind was Paul Menard who looks to have his best car ever based on practice. Menard was fourth fastest in happy hour and Kahne had the third fastest average times. Kahne is a two time winner in Atlanta including the fall race last season. Menard's best Atlanta finish was seventh in 2006 while driving for DEI. I'm still a little weary of their first year driving with Ford's, but they've had two weeks of data to compile on these type of tracks and they look like they've found something.

Busch Bothers
Las Vegan drivers Kyle and Kurt Busch have won this Atlanta race the last two years. Kurt had a strong consistent practice throughout. He would have much rather used the chassis that won this race last season in dominating fashion, but it was damaged last week in Las Vegas. Look for a top-10 run out of Kurt Busch this week.

Kyle was very strong in the first two practice sessions, but slowed during happy hour in what looked to be attempts at long runs on older tires. Kyle sits in the top-12 in points, but has yet to have a top-10 finish this year. Look for his best run of the season.

Pat Tryson Effect?
Martin Truex Jr didn't do anything real special throughout practice and qualifying until the final session where he was third fastest. His crew chief, Pat Tryson, was the crew chief for Kurt Busch last season when he won in Atlanta. It looks Tryson may have used some of that winning knowledge to get Truex's car better with each chance out and they could be a solid contender to run in the top-10.

Roush Stable
We've seen Roush drivers do well in Atlanta over the years with three wins by Carl Edwards since 2005, but none from Matt Kenseth and Greg Biffle. The top driver in Saturday's practice was native Georgian David Ragan who was fifth in happy hour. Both Kenseth and Biffle have finished within the top-10 of all three races this season, two of only four on the season to do so. Biffle had to go to a back up car during happy hour after slapping the wall, but looked faster in the few laps run with the new car. I'll look for much of the same out of the top 3 Roush drivers which is possible top-10 finishes, but not enough to win.


Roberts Weekly Driver Ratings
Each week I will provide an analysis of my top rated drivers on how well they will do in the race based on the following criteria:
• Practice sessions leading up to the weekend's Sprint Cup race
• Chassis information on what was brought to each track by each team, good or bad
• Driver tendencies at certain tracks
• Recent and overall histories for each driver at each track
• Decipher poor past results with what really happened, good car — or bad luck?
These final ratings should help assist in final betting strategies with the Las Vegas books or match-up and prop plays, as well as help in NASCAR fantasy leagues.

Roberts Top 10 Driver Ratings
Kobalt Tools 500
Atlanta Motor Speedway
Sunday, March 7, 2010 – 10:15 am (PT)

Rating Driver Odds Practice 1 Qualifying Practice 2 Practice 3
1. Mark Martin 6/1 1st 4th 2nd 1st
Blistering fast in all sessions; Same Chassis sat on pole and finished 2nd at Indy in '09
2. Jimmie Johnson 9/2 7th 16th 1st 16th
All-time leader in 1.5-mile wins; Same chassis won pole & race at Charlotte last fall
3. Dale Earnhardt Jr 18/1 10th 1st 7th 2nd
New Chassis this week; 1st pole in 68 races, Actually looks like a Hendrick car this week
4. Kasey Kahne 20/1 3rd 6th 5th 11th
2 time ATL winner, Won fall race in '09; strong throughout practice with average speeds
5. Jeff Gordon 8/1 35th 5th 6th 25th
ATL best 9.2 AVG finish last 10 years; 4 career wins, best AVG finish on 1.5 mile tracks in '09
6. Jeff Burton 18/1 24th 22nd 20th 6th
Using same Chassis that finish 3rd at Cal 2 weeks ago with similar practice progression
7. Kurt Busch 15/1 18th 11th 4th 10th
2 time ATL winner, won this race in '09; New Chassis this week, steady practice times
8. Kyle Busch 8/1 2nd 2nd 8th 23rd
Won this race in '08, Great Friday in Q-trim, slowed Sat in race trim; No top-10's this year
9. Clint Bowyer 20/1 27th 18th 18th 9th
New Chassis this week; 2nd in points, finished 6th in last 3 spring ATL races
10.Paul Menard 500/1 19th 23rd 11th 4th
Looked great in final practices, similar to teammate Kahne. He has never look as good!

Micah Roberts, a former race and sports Director, has been setting NAsCAR lines in Las Vegas since 1995. He currently writes for various outlets covering all sports. He can be reached at MM.Roberts7Gmail.com.
Odds courtesy of the Las Vegas Hilton Super Book


Odds To Win Kobalt Tools 500 Following Qualifying
Atlanta Motor Speedway
Odds courtesy of the Las Vegas Hilton Super Book

JIMMIE JOHNSON 9-2
MARK MARTIN 6
JEFF GORDON 8
KYLE BUSCH 8
DENNY HAMLIN 20
JUAN MONTOYA 10
TONY STEWART 15
CARL EDWARDS 15
GREG BIFFLE 15
KURT BUSCH 15
KASEY KAHNE 20
CLINT BOWYER 20
KEVIN HARVICK 12
JEFF BURTON 18
BRIAN VICKERS 40
MATT KENSETH 15
DALE EARNHARDT JR 18
JOEY LOGANO 40
RYAN NEWMAN 40
MARTIN TRUEX JR 75
DAVID REUTIMANN 60
JAMIE McMURRAY 100
DAVID RAGAN 100
BRAD KESELOWSKI 200
MARCOS AMBROSE 100
SAM HORNISH JR 300
AJ ALLMENDINGER 500
ELLIOTT SADLER 100
PAUL MENARD 500
BOBBY LABONTE 500
REGAN SMITH 500
SCOTT SPEED 500
TRAVIS KVAPIL 500
FIELD 300


Kobalt Tools 500 Odds & Ends
by NASCAR Media Services

At Atlanta Motor Speedway:
History
Originally called Atlanta International Raceway, the track was then a 1.5-mile paved speedway.
The first NASCAR Sprint Cup race at Atlanta was on July 31, 1960, won by Fireball Roberts from the pole.
The track was re-measured to 1.522 miles in the spring of 1970.
It was renamed Atlanta Motor Speedway in 1990.
The track layout was reversed and the track was re-configured to 1.54 miles between the two races in 1997.
Notebook
There have been 101 NASCAR Sprint Cup Series races at Atlanta Speedway, two races per year except 1961, which had three.
Fireball Roberts won the pole and race for the first NASCAR Sprint Cup race in 1960.
44 drivers have won a pole, led by Buddy Baker and Ryan Newman, each with seven.
Six of Newman's seven poles came in consecutive races between March 2003 and October 2005.
42 drivers have won a race; 22 have won more than once, including Kurt Busch, who won the first race last season. In that event, Busch scored a perfect Driver Rating of 150.0.
Dale Earnhardt scored nine victories, more than any other driver. Cale Yarborough is second with seven.
Bobby Labonte heads the list of active drivers with victories, with six. Labonte is tied with Richard Petty for third on the all-time win list at Atlanta.
The Wood Brothers are the most productive car owners with 12 victories. They last won there in 1993 with Morgan Shepherd.
14 races have been won from the pole. The last to do so was Kasey Kahne in 2006. Both races last season were won from the second starting position.
58 races at Atlanta have been won from the first five starting positions.
Bobby Labonte won the 2001 fall race from the 39th starting position, the deepest in the field that a race winner has started at Atlanta.
There have been seven season sweeps, most recently by Jimmie Johnson in 2007.

NASCAR in Georgia
There have been 160 NASCAR Sprint Cup races in Georgia.
169 NASCAR national series drivers all-time have their home state recorded as Georgia.
There have been 14 race winners from Georgia in NASCAR's three national series: Driver NSCS NNS NCWTS
Bill Elliott 44 1 0
Tim Flock 39 0 0
Jack Smith 21 0 0
Fonty Flock 19 0 0
Bob Flock 4 0 0
Frank Mundy 3 0 0
Gober Sosebee 2 0 0
Harold Kite 1 0 0
Sam McQuagg 1 0 0
Jody Ridley 1 0 0
Reed Sorenson 0 3 0
Buckshot Jones 0 2 0
David Ragan 0 2 0
Ronald Cooper 0 1 0


Atlanta Motor Speedway Data
Race # 4 of 36 (3-7-10)
Track Size: 1.54 miles
Race Length: 325 laps/500.5 miles
· Banking/Corners: 24 degrees
· Banking/Straights: 5 degrees
· Frontstretch: 2,332 feet
· Backstretch: 1,800 feet
Driver Rating at Atlanta
Jimmie Johnson 110.1
Carl Edwards 105.0
Jeff Gordon 102.2
Dale Earnhardt Jr. 99.8
Tony Stewart 98.6
Matt Kenseth 95.4
Greg Biffle 95.0
Kurt Busch 93.4
Denny Hamlin 93.2
Kyle Busch 90.3
Note: Driver Rating compiled from 2005-2009 races (10 total) at Atlanta.

Qualifying/Race Data
2009 pole winner: Mark Martin (187.045 mph, 29.640 secs.)
2009 race winner: Kurt Busch (127.573 mph, 3-8-09)
Track qualifying record: Geoffrey Bodine (197.478 mph, 28.074 secs.,
11-15-97)
Race record: Dale Earnhardt (163.633 mph, 11-16-97)

Estimated Pit Window: Every 48-52 laps, based on fuel mileage.