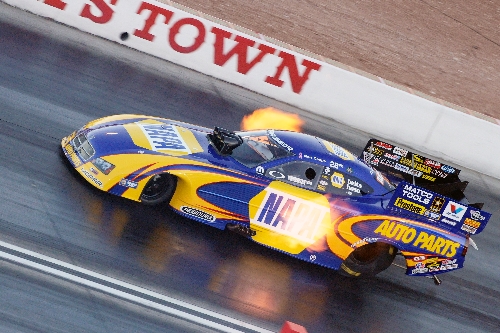 Ron Capps has compiled some impressive numbers in 15 years as a Funny Car driver in the NHRA Full Throttle Drag Racing Series.
The 47-year-old native of Carlsbad, Calif., has amassed 37 victories, 76 final-round appearances and a top speed of 320.89 mph.
Though he's regarded as a big winner in his sport, Capps will take to The Strip at Las Vegas Motor Speedway this weekend focused on the number he has failed to achieve: 1 – championship.
Qualifying for the Big O Tires Nationals begins at 1 p.m. today, when Capps will climb into his NAPA Auto Parts Dodge Charger believing he's got a legitimate shot at attaining that elusive goal.
"There's not a morning I don't wake up and think about it," said Capps, who enters the event second in points to Don Schumacher Racing teammate Jack Beckman. "I think about it in the shower, when I go to bed at night and in the gym. It would mean the world to me."
Capps, who has earned 2,414 points this season, trails Beckman by 23 points and along with Mike Neff is one of three drivers within striking range of the 2012 title. The season concludes Nov. 8-11 in Pomona, Calif.
Considering what happened during Capps' last visit to Las Vegas, he's thrilled just to be in contention. In April at the SummitRacing.com Nationals, he failed to qualify for the Sunday eliminations, a setback that caused him to seriously contemplate the future of his career.
But there was a silver lining.
"I sat in silence wondering what was going to happen," the three-time series runner-up said. "But it was almost a blessing."
By the time the event had concluded, Schumacher had reassigned Beckman's crew chief, Rahn Tobler, to Capps.
"I had always wanted to work with Rahn," said Capps, who also inherited Beckman's crew. "You hear this kind of thing all the time in NASCAR. They do it all the time over there. But it doesn't happen with us very often."
Though Tim Richards resigned as crew chief after the Las Vegas debacle, the remainder of Capps' original team went to work with Beckman. Though both drivers struggled to understand the logic of the crew switch, neither complained.
"When that change was made, I thought we might be in trouble," Beckman said. "But I don't question Don anymore. There have been too many times when he's made big changes, and they always work out."
For a while, they worked out better for Capps, who advanced to a record six consecutive final-round appearances and took over the series lead in August.
"I went from ninth after the switch to first," Capps said. "I thought, 'OK, this is the way it should be.' "
But Beckman reclaimed the lead with a strong performance in the Auto-Plus Nationals in Maple Grove, Pa., early this month to set up this weekend's showdown.
Both drivers enter with mixed emotions, as they have fond feelings for their former crews.
"I worked with those guys for eight years, and they're like family to me," Capps said. "So it's bittersweet to be fighting them for a championship."
Beckman said it's time to put the camaraderie aside.
"For 17 races this year, I always cheered for my teammates," he said. "I want them to do well, but I want to win a championship for my team. That means for the next two races, we don't root for them."
Capps and Beckman drive almost identical cars, so there's no telling what might happen this weekend.
"We have to be mistake-free and hope we don't have any bad luck or mechanical failures," Beckman said. "If all that falls our way, I think we'll be standing tall at the end of the weekend."
Though Capps said he would like to have a big points lead, he tried to assess the situation from an outsider's perspective.
"You've got to stand back and look at it as a fan," he said. "You know Sunday's going to be a fun day."
Today's Sportsman Racing begins at 8 a.m., Pro Mod qualifying at 11:30 and Pro Stock Motorcycle/Car qualifying at noon. The three-day event will culminate with the Funny Car finals at 4:30 p.m. Sunday.