Teen-age stock car racer employs homespun marketing strategy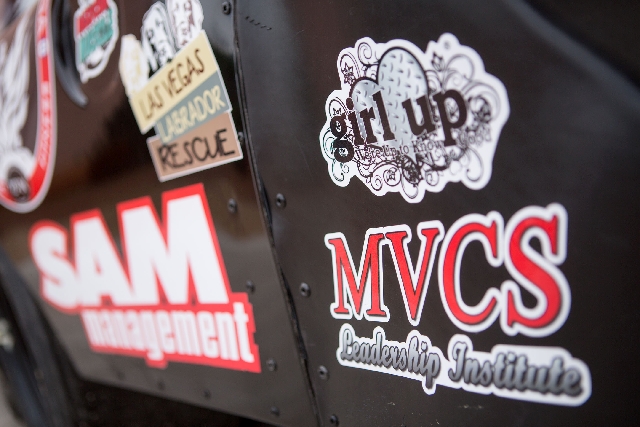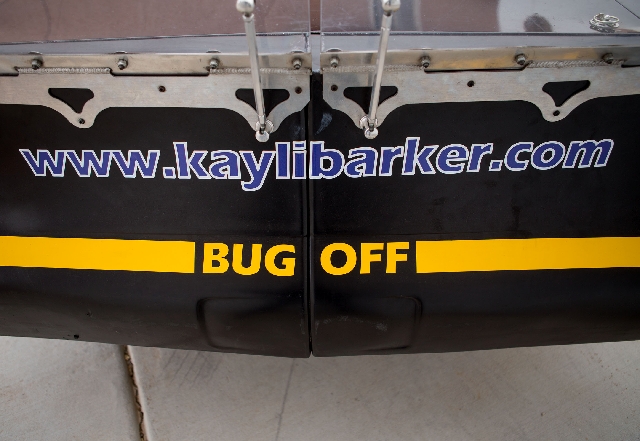 Danica Patrick's marketing machine includes bikinis and racy Go Daddy TV commercials, but 15-year-old car racer Kayli Barker of North Las Vegas is building her motorsport brand in a much more wholesome, girl-next-door way.
The Mountain View Christian School sophomore in the number 34 Plus 2 car took an online marketing class to create her own portfolio, pitched local businesses to sponsor her by stressing a work ethic that delivers straight A's and pointed out her charities that include helping homeless high school students.
Oh, by the way, the soft-spoken, blonde-haired, blue-eyed teen with braces is a killer stock car racer who last August was the youngest female to win a NASCAR All-American Series feature race.
When she's not doing her homework or racing on the Las Vegas Motor Speedway Bullring circuit, Barker is selling herself to Las Vegas area businesses in hopes of financing an annual race budget of about $50,000. The teen races from April to November, 26 weekends a year. Her Twitter handle is @kbr34plus2 — "The Next Best Female Racer." And she already has a nickname, "Crazybug."
With the economy just beginning to recover and companies still trying to re-start their marketing budgets, it's not easy to financially build the Kayli Barker Racing brand.
Barker has only two sponsors — a local janitorial service company called Execuclean (owned by her dad's friend) and a business called Krav Maga, which teaches self-defense skills. Her mother, Vicki, 46, works as a full-time surgical nurse, while her father, Ron, 48, is fleet manager for Sierra Ready Mix.
The Barkers have hired a Henderson ad agency, Imagine Communications, to beef up the racer's marketing efforts.
Before Imagine Communications was enlisted, Barker visited businesses herself, looking to drum up sponsorships. She handed out home-made spiraled "Marketing Partnership Presentation" booklets crafted from tips gleaned from the online marketing course to explain what businesses would get out of a partnership with Kayli Barker Racing.
"It's hard. If they're not into racing, they stop paying attention," Barker said.
Added her mom, Vicki Barker: "When it comes to writing a check, most of them don't pan out."
Barker's marketing presentation includes the usual sponsorship boiler-plate items such as getting a company logo on the cars and racing jumpsuit.
But she also points out in the booklet, "I am a hard-working, Straight A student, and determined to do my best."
That's what drew veteran car-racing crew chief Dana Stahl to Barker. Stahl, who drives 11 hours from northern California to Las Vegas area to serve as Barker's crew chief on weekends, is building a $50,000 race car for the teen. Stahl is a NASCAR veteran who was the crew chief for Brendan Gaughan's NASCAR Craftsman Truck Setup.
"She's a very talented little racer," Stahl said. "There's something about her. The first time I met her she was doing her homework. She's very academic. And she doesn't just think about herself. She has the drive and knows where she want to go."
Where Barker wants to go is the NASCAR Camping World Truck Series, the major leagues for truck racers. She's not impressed with Patrick's sexy marketing style, so you won't see the teen in a bathing suit.
Barker compares herself to Erica Enders-Stevens, a top female dragster and a Christian who also began racing as an 8-year-old like the North Las Vegas teen. Enders-Stevens inspired a 2003 Disney Channel Original Movie called, Right on Track, which was watched over and over by a young Kayli.
Like Enders-Stevens, Barker is public about her Christianity, noting in her marketing materials, "My mission as a racecar driver is to become the best that I can be while spreading the Word of God in everything that I do."
Barker's attraction to Enders-Stevens: "She's humble."
The Review-Journal caught up with Enders-Stevens in Tennessee last week. One of drag racing's top female performers, Enders-Stevens said she was honored that Barker looks up to her. Enders-Stevens said she can empathize with Barker's challenge to find sponsors and financial backers because she also faces the same challenge at drag racing's major-league level, noting the "cut-throat" nature of the business.
Enders-Stevens even said her season at one point was in jeopardy because she lacked sponsorships. "Funding is the most difficult thing. It's tough and you have to plow through it."
Enders-Stevens advised Barker to "dream big because anything is possible and surround yourself with the right people."
While Barker struggles to find local sponsors, one of those "right people" is NASCAR veteran Stahl, who said several car-parts companies have stepped up to donate everything from the chassis to the brakes to help build her new car. Barker already races a 1976 Camaro and a super late-model stock car, which are stored in the family garage. The family uses a former Fed Ex truck as a hauler for races.
Her signature racing color is a mixture of blues called "Bug Blue" and the number appears in a paint splat on the side of the car.
Barker's dad used to work on the pit crew for Mo Sealy, part-owner of the Execuclean janitorial service that sponsors the teen. Sealy said Barker is marketable because she's a good long-term investment.
"You have to start on the ground and get with her now and continue for years to come, Sealy said. "It's a long-run investment that someone cam benefit from."
Contact reporter Alan Snel at asnel@reviewjournal.com or 702-387-5273.