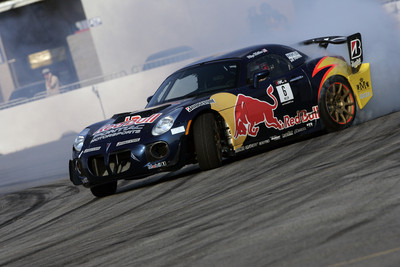 Rhys Millen will be the only racer today at Las Vegas Motor Speedway who is older than 35 and lacks facial hair, a tattoo or a piercing.
But don't think for a moment this professional racer's appearance prevents him from personifying the extreme nature of drifting, in which high-speed cars are thrown sideways through curves and turns. Car control is paramount.
The 36-year-old native of New Zealand has lived in this country since 1990 and is ranked seventh among the 46 drifters competing in the Formula Drift Series at the speedway's dragstrip.
Drifting is just one of Millen's driving exploits.
Once tonight's racing is completed around midnight, Millen and his crew will load up their Pontiac Solstice GXP and head for the Pikes Peak Hill Climb in Colorado Springs, Colo. The Climb starts at 9,402 feet and runs 12.42 miles to 14,110 feet up the mountain.
Millen, a previous Pikes Peak winner, recalls flipping a car in practice for the Hill Club in 1997. Fortunately, he said, he was turning right toward the mountain instead of left toward the drop.
"There wasn't much holding me back then," he said, "but there's not much holding me back now."
Drifting sideways at up to 100 mph between concrete barriers isn't a cruise through a school zone at the speed limit, but at least drifters don't have to worry about driving off the side of a mountain.
"Both have their limitations," Millen said. "In the sport of drifting it's the concrete barriers, and at Pikes Peak it's the edge of the road that usually is followed by a severe drop. There's respect for both elements. The risk factor is there in drifting."
He said fans respect how he and his fellow drifters can run "so fast and so sideways while maintaining control."
Millen, who lives in San Juan Capistrano, Calif., also is a stunt driver. He drove in "Fast and Furious 3: Tokyo Drift," which helped popularize the sport in this country, and soon will begin working on a sequel. He drove the General Lee car in the "Dukes of Hazzard" movie and was a stunt driver in the latest "Indiana Jones" movie.
Back to racing, he'll compete in his sixth consecutive SCORE Baja 1000 in November with co-drivers Roger Norman and Larry Roessler in a Trophy Truck.
Remember the guy who tried to complete a back flip in a truck at the Rio last year a few days before New Year's Day? That was Millen.
He completed a first-ever truck flip in practice when boxes were set up to cushion a potential crash of his modified Championship Off Road Racing Pro Lite truck.
He didn't need the "safety net" on that flip, but without the boxes on his last practice run for the scheduled nationally televised flip, his truck made it only 180 degrees before dropping onto its roof. His helmet cracked in half, and he broke three neck vertebrae and compressed two disks in his back.
"The stupid thing is we're going to attempt it again," he said of another possible New Year's Eve attempt somewhere in Las Vegas with the Red Bull Experiment exhibition. "If no one was going to support it, I was going to try it again anyway. I didn't care if TV was going to be there or not.
"I'm not looking to be a household name. It's the personal reward of doing the best I can do."
Contact reporter Jeff Wolf at jwolf@reviewjournal.com or 702-383-0247.