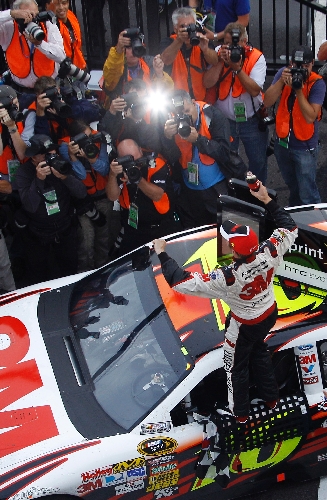 LONG POND, Pa. — As he closed in on the finish line, Greg Biffle knew the only person worthy of dedicating this victory to at Pocono Raceway.
"This one's for Jack!" he said over the radio.
Was it ever.
With team owner Jack Roush recovering in the Mayo Clinic in Minnesota from injuries he sustained in a plane crash on Tuesday, Biffle raced to victory at Pocono Raceway on Sunday to snap a 64-race winless streak in a race marred by two violent crashes.
Elliott Sadler and Las Vegan Kurt Busch both walked away from scary crashes that knocked them out of the race.
Sadler and Busch were the beneficiaries of NASCAR's safer Car of Tomorrow after the wrecks. Sadler was forced to lay down on the triangle track and suffered a sore chest and stomach after smacking the inside wall. The engine on his No. 19 Ford was ripped from the body and smoldered nearby.
Sadler called it his hardest hit ever in a race car. It came a day after he was the Trucks Series race winner here.
Busch's No. 2 Dodge was hit from behind on a bump drafting attempt by four-time defending series champion Jimmie Johnson. Busch slammed into the wall, skidded along the grass, and smashed into an infield barrier.
That brought out the first red flag, for 28 minutes, 46 seconds. The second was for rain and lasted 17:20. The start of the race was delayed 36 minutes by rain.
Biffle never doubted he would win a Cup race again even as his o-fer reached nearly two years. He hadn't won since the first two races in the 2008 Chase for the Cup championship.
"We know (Roush) was watching," Biffle said. "It's been really tough. We worked so hard."
It was also the first win of the season for both a Ford and Roush Fenway Racing.
Tony Stewart was second and Roush driver Carl Edwards was third. Kevin Harvick and Denny Hamlin, who won the last two Pocono races, rounded out the top five.
Edwards spoke with Roush on Sunday morning and said his boss sounded in good spirits.
"He was Jack," Edwards said. "Don't mess anything up. Don't wreck. He's been through a lot this last week. He really needed that victory. That's pretty cool. I'm sure he's really hard to handle for all those nurses in the hospital."
Roush released a statement calling it a "proud day" for the entire organization.
"They've done a wonderful job and this is just the beginning of the rewards that have resulted from all of their hard work," he said.
Biffle said Roush called him in Victory Lane and the owner said, "he never met somebody that had the will to win like I do."
"I'm glad he thinks of me like that," Biffle said. "No matter how grim the outcome can be, I'll still be digging."
Biffle's crew kept the same car after he drove the No. 16 Ford to a season-high third-place finish last week at Indianapolis.
That finish put Biffle in 11th place in the points standings and now he has strongly positioned himself with five races for a spot in the 12-driver field for the championship chase. He won Chase races at New Hampshire and Dover in 2008 before falling into this winless drought.
Biffle was winless last year for the first full season of his career.
He won't be shut out in back-to-back seasons.
"The whole company needed it," Biffle crew chief Greg Erwin said. "I can't really explain what this means. I know (Roush) is with us. This is a brand new car at Indianapolis and we brought it here because we liked it so much."
The start of the 500-mile race was delayed by rain, then had the wrecks and two lengthy red flag stops that totaled nearly 50 minutes.
Biffle was one of the harshest critics of the track in a recent Sports Illustrated story, saying "they're going to kill somebody there."
Track officials have promised changes — like adding more SAFER barriers along the inside wall — in time for next year's races.
The track was deemed by some unsafe after an accident in the June race involving Kasey Kahne
Jeff Gordon, who was sixth, slammed the track and said improvements can't come soon enough.
"I think there's a time when we've got to step up the technology safety at certain facilities," Gordon said. "We've seen two incidences here this year, and I think it's going to be a wake-up call for some improvement."