Travis Pastrana to replicate 3 Evel Knievel jumps in Las Vegas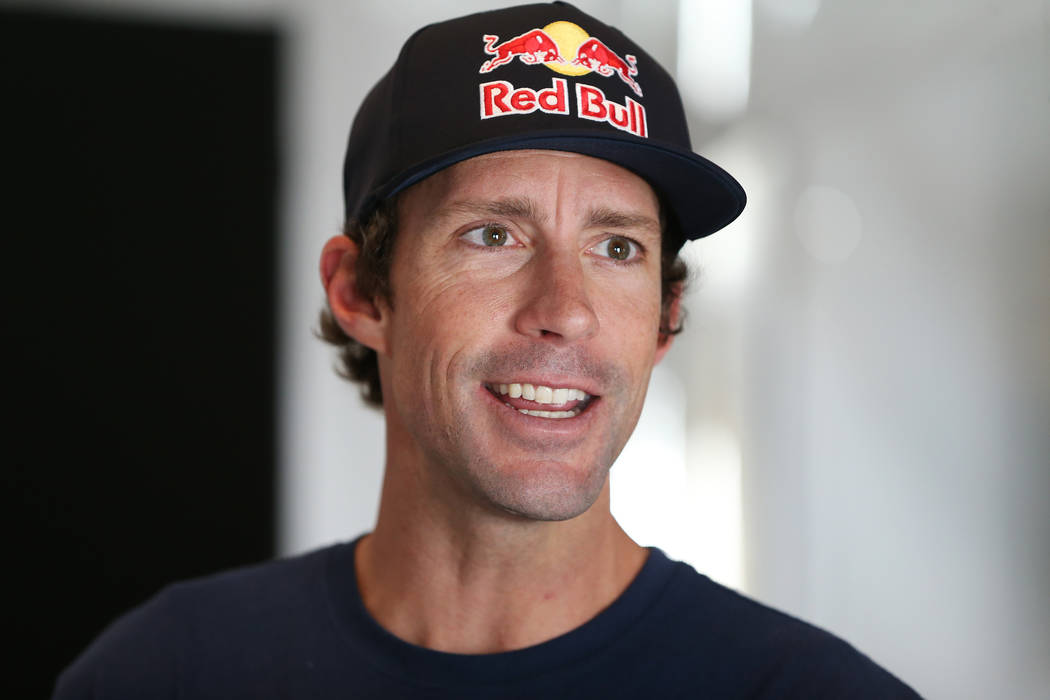 It has been roughly 50 years since Robert Craig Knievel Jr. of Butte, Montana, tried to jump the fountains at Caesars Palace on a flat track motorcycle and basically was carried away in a bag, his skeletal system resembling Humpty Dumpty's in the nursery rhyme.
Travis Alan Pastrana of Annapolis, Maryland — often referred to as the modern-day Evel Knievel — will be attempting to replicate the stunt, and two others for which his brash predecessor was known, all on the same day in Las Vegas as part of "Evel Live," a three-hour tribute to the daredevil and pop culture icon that airs live on the History Channel Sunday.
Pastrana was talking at high rpms when he paused for a moment of levity.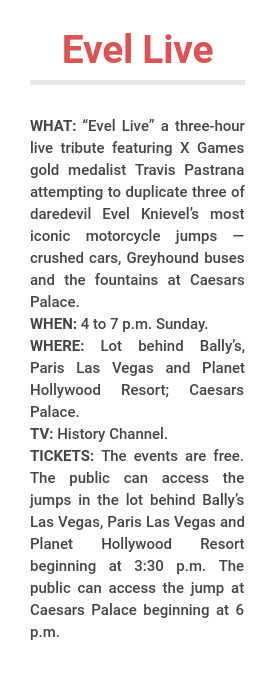 "Dude," he said, cranking back on the throttle. "I'll be wearing a cape."
Even Knievel lived in Las Vegas for many years after mending and appearing on "The Tonight Show Starring Johnny Carson" and inspiring a line of transcendent toy Skycycles. He was 69 when he died in 2007, leaving like-minded imitators such as Pastrana to carry on his legacy.
In a made-for-TV event he would have no doubt admired, 11-time X Games gold medalist Pastrana will attempt to jump at least 52 flattened cars and then 16 Greyhound buses in a parking lot behind Planet Hollywood Resort, Paris Las Vegas and Bally's on Sunday afternoon, before making the short hop over to Caesars to fly over the fountains in a style befitting the gladiators of ancient Rome.
Will it be thumbs up or down?
Pastrana's Indian Scout FTR750 will be a bit faster and lighter than Evel Knievel's rudimentary Harley Davidson for which it is modeled, thereby reducing the degree of difficulty for taking flying leaps into history. Or at least the History Channel.
But as they say on TV, one still should not try this at home.
Three jumps you're out
"Caesars Palace, the fountain jump, has got to be the most iconic stunt jump location in the world," Pastrana said as he continued practicing for the stunts, something Evel Knievel rarely did. "To have an opportunity to go there and end the night …"
The popular 34-year-old extreme sports star chuckled at his rueful choice of words.
"Hopefully not the end of the night," he said, his meaning clear.
He already has earned the respect of one who plans to be among the curious onlookers and bystanders.
"The televised event starts at 4 p.m., right in the heat of the day, and the guy's gonna have salty sweat dripping in his eyes," said Kelly Knievel, Evel's 57-year-old son and a longtime Las Vegan himself. "Seriously, the farthest my dad ever jumped was 14 buses; Travis is jumping 16 buses, and he's doing the 50-car jump, and I don't know what he's going to do at Caesars, because they've changed the way it's laid out over there so much.
"If you walk out to the top of the ramp and look out over the 16 buses, I don't care what kind of motorcycle you're on. Strap yourself in, fire it up and see if you can hang on."
Kelly Knievel, who has a licensing deal with Pastrana's Nitro Circus stunt tour, said he believes his dad would have admired Pastrana's talent and moxie.
"If you're going to be a daredevil, you've got to be smart, you've got to be skilled, you've got to be an athlete," Knievel said. "And you've got to be able to put people in the stands. Nobody cares about daredevils if you can't put people in the stands.
"Travis can put people in the stands.
"He's the first guy to do a double backflip on a motorcycle, he's won motocross championships, he is a great motorcycle extreme sports guy, he's won the X Games. He's very skilled at what he does."
Passing torches
Travis Pastrana has a phalanx of engineers and laptop technicians to deduce ramp angles and takeoff speeds, whereas Evel Knievel mostly had a walking stick and a shot of Wild Turkey and said "let's do this," provided Jim McKay and "Wide World of Sports" are interested.
Time marches on. Envelopes are pushed. Torches are passed.
Inherent risk has been replaced to some degree by interpretive flair courtesy of freewheeling artists such as Pastrana and before him, Mike Metzger, a freestyle motorcycle impresario who made a successful shorter jump over the Caesars fountains in 2006. Metzger even added an audacious midair backflip on his tricked-out dirt bike.
(Metzger's attempt was one of four fountains jumps. Gary Wells crashed in 1980; the Knievel family is batting .500 — Robbie, Evel's son and Kelly's little brother, succeeded in 1989.)
"It's 50 years later, of course there is change," Kelly Knievel said. "But you've still got to hang on to the motorcycle. (My dad) was ahead of his time and the greatest in his day, but it's a new day."
Pastrana said he must have been 12 years old when he and his parents met Evel Knievel, who was judging a Hawaiian Tropics swimsuit contest. He told the pompadour-wearing daredevil about the supercross race he had just won; he said Knievel replied 'That's great, son, now go get me a beer.'"
There's a chance the story has been embellished. But only a small chance.
"So many of the kids coming up don't understand who Evel Knievel was and what impact he had," Pastrana said. "To be able to recreate his jumps at this stage of my career is such an honor, and hopefully we can help carry on Evel's legacy to the next generation."
Contact Ron Kantowski at rkantowski@reviewjournal.com or 702-383-0352. Follow @ronkantowski on Twitter.