Victory boosts Biffle; Johnson leads Chase
October 3, 2010 - 11:00 pm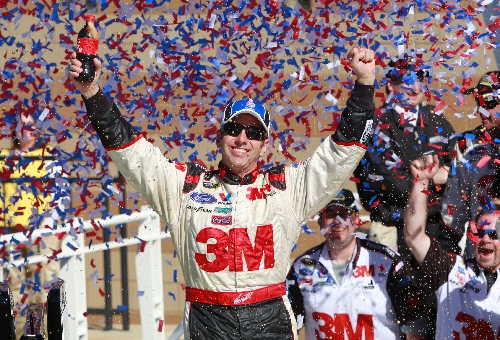 KANSAS CITY, Kan. — Greg Biffle is back in the title hunt, and Jimmie Johnson has resumed his normal spot atop the NASCAR leaderboard.
Kansas Speedway once again played a major role in the Chase for the Sprint Cup championship, which got a whole lot tighter after a fast-paced Sunday race dominated by the title contenders.
Biffle was the first of seven in the Chase to cross the finish line, pulling himself out of a deep hole with seven races remaining to determine the championship.
"Everybody asked us if we're out of the Chase, have we given up?" the Roush-Fenway Racing driver said. "The 16 team will never give up. Maybe we'll go do the same next week."
That had to be the widespread thinking as nine drivers left Kansas separated by 101 points. It's the closest the Chase field has been after three races since NASCAR switched to the format in 2004.
Meanwhile, Kyle Busch's championship bid suffered a major hit.
The Las Vegas racer had early contact with David Reutimann that caused Reutimann to spin, and when they crossed paths later on the track, Reutimann appeared to intentionally knock him into the wall.
Busch was running seventh at the time of the accident, fell to 22nd and demanded over his radio that NASCAR take action against Reutimann.
Crew chief Dave Rogers heightened the drama by telling Busch that Reutimann's team demanded he retaliate against Busch.
Busch, whose 21st-place finish was lowest of the Chase contenders, took time after the race to change out of his firesuit before speaking to reporters.
"Whatever. It's just really unfortunate," Busch said. "The guy was loose, said it on the radio, he slid up off the bottom and I got into him unintentionally and just spun him out. My fault, 100 percent. But then the retaliation?
"For a guy that's in the Chase, that's racing for something … he'll be here next year. He could have wrecked me in any of the first 26 races next year. That would have been fine."
Busch dropped from third to seventh in the standings and is 80 points behind Johnson.
Reutimann didn't admit that he intentionally wrecked Busch, but had no guilt for tangling with a championship contender.
"You guys can sugarcoat it all the time, but he wrecked me," Reutimann said. "You can tell me how bad he wants it, how hard he drives, how much he wants it above everybody else. That's all fine. I don't care if you're in the Chase or not. You need to think about who you're running over when you're running over them.
"If you're in the Chase, you have as much responsibility to drive with respect as I do, or anybody else."
There's a telling stat that could mean trouble for everyone besides Johnson and Denny Hamlin: Only once in Chase history has the eventual champion been ranked lower than second after Kansas. Who was that? Johnson, who rallied from eighth in points after Kansas in 2006 to win the first of his four consecutive titles.
Still, Johnson said winning a fifth consecutive championship isn't in the bag.
"It's early. I'm not worried about who is leading the championship right now," he said. "We have to get deeper into the Chase to be concerned about who the points leader is."
It's not Hamlin, who had his first off race of the Chase.
Like Johnson, he struggled mightily early in the race. But his adjustments were good enough for only a 12th-place finish, and Hamlin's 35-point lead before the race began turned into an eight-point deficit heading to California.
The Busch-Reutimann incident was the extent of the on-track drama. Everything else was relegated to decent racing in an event that sailed by: The race finished in a record
2 hours, 54 minutes, and the five cautions were the fewest in track history.