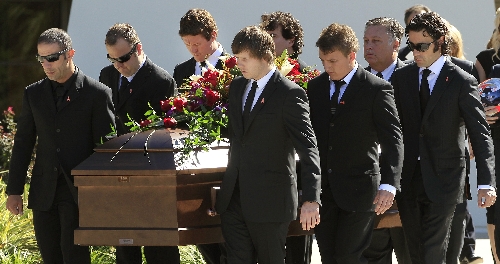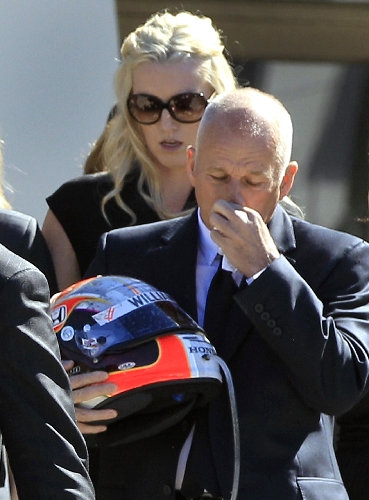 ST. PETERSBURG, Fla. — Of all the indelible moments from Dan Wheldon's public memorial service, the heart-wrenching letter from his wife cut deepest.
In a service that included fellow IndyCar drivers Dario Franchitti, Scott Dixon and Tony Kanaan serving as pallbearers, Wheldon's father carrying his racing helmet and country music star Wynonna Judd singing two gripping songs, Susie Wheldon's letter to Dan left few eyes dry in the First Presbyterian Church.
Wheldon, a two-time Indianapolis 500 winner, died Oct. 16 in IndyCar's season finale at Las Vegas Motor Speedway. He was remembered Saturday not only as a champion but a devoted husband, caring father, loyal friend and beloved son. And one more thing: a neat freak.
Hundreds said goodbye to the 33-year-old Englishman-turned-Floridian during a service that included a eulogy by the best man at his wedding, Judd's rendition of "Amazing Grace" alongside a church choir and letters by his wife and sister that offered a detailed portrait of the popular, fun-loving and tidy driver.
"My sweet Dan, my whole body is aching, down to the deepest part of my soul," Susie wrote in a letter read by family friend Michael Johnson. "I keep thinking this is a bad dream."
Susie wrote about how scared she is that she's going to forget things, how everything is moving so quickly and that she has to remember to breathe.
"My heart is scattered in a million pieces," she wrote. "I just want to wake up and hear your reassuring voice."
Dixon read another touching letter, this one from Wheldon's younger sister, Holly.
"I know a lot of sisters would describe their brothers as amazing," Holly wrote. "But mine was truly one of a kind."
Holly recalled having the "same compulsive disorder" as Dan and remembered spending late nights cleaning the floor and drinking tea together.
"My brother was born to race," she wrote. "Dan without racing is like a cup of tea without milk, and Dan loved tea."
Holly wrote about the great times they had on trips to the United States as kids and promised to "protect your family like you protected me."
Wheldon left behind two young sons, 2-year-old Sebastian and 7-month-old Oliver, who attended the service. Close friends and family left the church and rode to the cemetery. Mourners filled the church, then watched Franchitti, Dixon, Kanaan and Wheldon's three brothers load the casket. Some waved goodbye as the caravan drove away.
Team owners Chip Ganassi and Roger Penske attended the service, along with just about every IndyCar driver as well as some from other racing series.
"The past week's been a tough one," driver Graham Rahal said. "When it's someone like Dan, it really puts it all in perspective. He was a guy that was certainly friendly with everybody on the circuit and everybody close."
Drivers Will Power and Pippa Mann, both hurt in the 15-car crash that cast a shadow across the sport, were still dealing with injuries Saturday. Power was hobbling from a back injury; Mann's right arm was bandaged. She had surgery on her burned right pinkie.
Many of them were planning to attend another service in Indianapolis today.
"It's almost indescribable," driver Ryan Hunter-Reay said. "This is something I never really experienced in my life. I had a good conversation with Dan on Saturday night about everything that was going to come up. In 2012, we were going to be teammates (at Andretti Autosport).
"I just really looked up to him in many ways. He's a champion of our sport, he's everything you would want to be on and off the track. Good has to come of this; it has to. We'll all go on racing in his name. It's heartbreaking to see Susie and their two sons and the family."