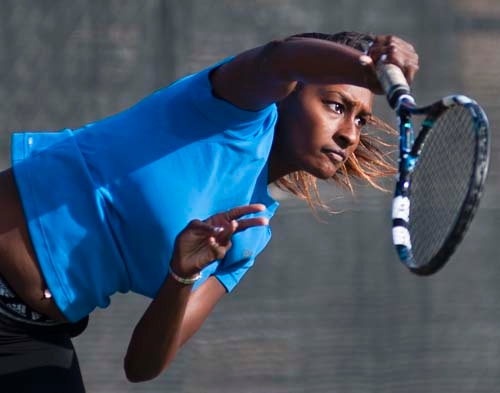 If everything had gone according to plan, Asia Muhammad would have tried to make a run at the Australian Open.
She never made it to Melbourne. Instead, Muhammad found herself working out at Lorenzi Park, trying to keep her fledgling professional tennis career together.
And while she's thousands of miles from where she wants to be physically — competing in Grand Slams — Muhammad is millions of miles from where she needs to be mentally.
She has struggled on the International Tennis Federation tour, tennis' Triple-A level, where her singles ranking is No. 385. She is recovering from two bulging disks and a muscle tear in her lower back that ended her 2011 season in October. They were the latest in a series of injuries to beset Muhammad since she turned pro at age 16.
"It's been very frustrating," said Muhammad, 20. "It's like every time I get hurt, I have to start from square one."
Her inability to build rhythm to her play and boost her confidence has prevented Muhammad from realizing the lofty hopes the local tennis community had for her when she was a junior playing out of the Andre Agassi Boys & Girls Club. Many believed she had the game to skyrocket to the WTA Tour and compete against Venus and Serena Williams, Kim Clijsters, Maria Sharapova, Caroline Wozniacki and the world's other top women players.
Instead, Muhammad is preparing for her ITF season opener Feb. 6 in Midland, Mich. She continues to work with her longtime coach, Tim Blenkiron, but has added a strength and conditioning coach, Jared Glover, to try to keep her fit throughout the season.
"I'm very excited to be back," Muhammad said. "I'm pain-free, and I'm trying to stay positive. I have a personal trainer for the first time, and I think it's going to really help me stay fit and be stronger.
"I'm tall and skinny, and I have to get stronger because I'm playing against women. It's a little annoying seeing the girls I was right there with now ahead of me. But I can't worry about that. I have to worry about my game. I have an awkward game, so it's going to take a little longer to come around."
Blenkiron said Muhammad has made progress. It's just a matter of her doing things well the majority of the time.
"She's still trying to find what she's looking for — that consistency in performance," Blenkiron said. "She's still learning how to handle her emotions and gut it out when things are tough and find a way to win."
Muhammad's father, Ron Holmes, said he and his daughter often talk about staying relaxed on the court.
"She puts so much pressure on herself, she breaks down," Holmes said. "She's had a lot of success in doubles. We just have to find a way to transfer that success when she plays singles."
Muhammad won three doubles tournaments last year, two with Alexandra Mueller and one with Alexa Glatsch. She lost in another final and reached the semifinals twice, and is ranked No. 182.
"I think I'm more relaxed when I'm playing doubles," she said. "I say to myself, 'It's just doubles,' and I don't seem to put the same kind of pressure on myself as I do when I'm playing singles."
With her career being played in relative obscurity, Muhammad is no longer the best-known member of the family. Her younger brother Shabazz Muhammad, a senior at Bishop Gorman, is the nation's top basketball recruit. He has more than 15,000 followers on Twitter, and his every move is scrutinized by bloggers and recruiting websites.
"It has probably been a blessing for Asia," Holmes said. "It has given her some room to breathe not having the spotlight on her."
Muhammad attends her brother's games and sees how others deal with pressure situations.
"I'm learning a lot seeing how other people react when they miss a free throw or they lose a game," she said. "I see how mentally tough my brother is and how he handles situations on the court."
Said Holmes: "I don't think Shabazz is as good in his sport as Asia is in hers. But the difference is, 'Bazz is mentally tougher. He's a beast. That's what Asia lacks."
Muhammad can take solace that she's playing at a time when the women's game has evolved into one of power instead of finesse. Time is on her side to mature, physically and emotionally.
"I look at Samantha Stosur, who won the (U.S.) Open at 27," Muhammad said. "I'm only 20. A lot of girls don't get better until they get older. So I'm not discouraged."
Contact reporter Steve Carp at scarp@reviewjournal.com or 702-387-2913. Follow him on Twitter: @stevecarprj.