Muhammad has tennis mindset on upswing for Party Rock Open
September 25, 2012 - 1:01 am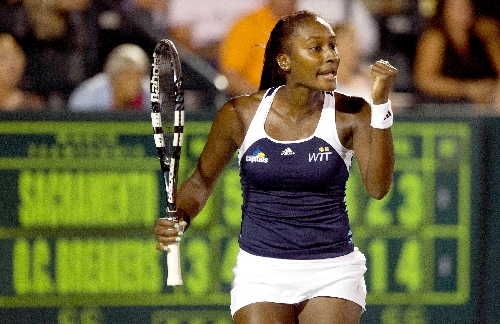 It took longer than she had hoped. But it appears Asia Muhammad might finally have the right mindset to play her best tennis.
The 21-year-old Las Vegan approaches tennis differently these days. She's maintaining an aggressive posture and is leaving whatever emotional baggage she carried with her to the court back in the dressing room or the hotel.
"I'm heading the right way with my thinking," Muhammad said Monday at Darling Tennis Center, where she will play in this week's Party Rock Open. "I feel I'm playing with a purpose. I'm so over putting pressure on myself. I'm just focusing on the things I can control."
For the first time since turning pro six years ago, Muhammad has been able to stay healthy, thanks to her work with strength and conditioning coach Jared Glover. That has allowed her to perform to her capabilities, which, in turn, has helped her confidence grow.
But Muhammad's decision to play World Team Tennis this summer might be as big a contributing factor. She was a member of the Sacramento Capitals, who made it to the WTT Championship before losing to the Washington Kastles.
"It's so nerve-racking," Muhammad said of WTT. "Every point counts because the games are so short. But the great thing was because of the format, I had to focus on every ball, and I didn't have time to be nervous or tentative."
She also found herself feeding off the positive vibes of Wayne Bryan, the Capitals' coach. Bryan, whose sons Mike and Bob are the world's top doubles team, constantly encouraged Muhammad, and she flourished in that environment.
"Wayne Bryan's so positive," she said. "We could be playing like crap and he'd find something good to say. I loved playing for him."
Muhammad took the momentum from WTT back to the USTA Pro Circuit. Last week in Albuquerque, N.M., she won the doubles title and made it to the quarterfinals in singles at the ColemanVision Championships.
"I feel I made a pretty big jump in a week," said Muhammad, who will play doubles with Gabriela Dabrowski today at approximately 12:30 p.m. on Court 11. She will likely play her first singles match at 6 p.m. Wednesday on the stadium court in the featured match. "I need to keep it going."
Her father, Ron Holmes, said he sees the difference.
"Playing Team Tennis may have been the best thing she ever did," he said. "She's executing better, and she has less anxiety and she's happier off the court."
Muhammad, ranked No. 474 in singles by the WTA Tour and No. 168 in doubles, will head to Europe in a couple of weeks in an attempt to boost her ranking and allow her to qualify for some WTA tournaments in 2013. She'd love to earn a spot in the Australian Open come January, and she believes with her game coming around, getting a spot in Melbourne is not that big a reach.
"I feel like I'm playing with a purpose now," she said. "I'm healthy for the first time in a long time, and I can start playing these tournaments."
She hopes she can have a big week at home. But Muhammad has learned not to let the lofty expectations of her Las Vegas fans impact her focus.
"I love playing at home and I love the support, but a $50,000 tournament will not define my career," she said. "I just want to play well and give my best effort. If someone plays better and beats me, I can live with that."
Contact reporter Steve Carp at scarp@reviewjournal.com or 702-387-2913. Follow him on Twitter: @stevecarprj.