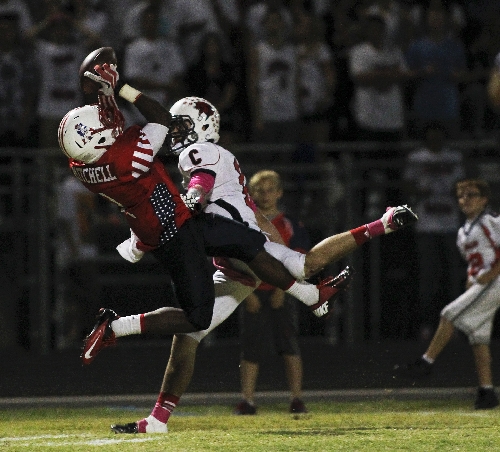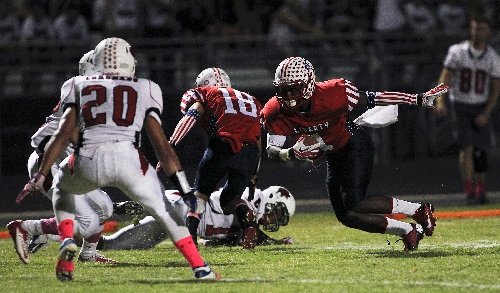 Liberty's Kai Nacua did a little bit of everything on Friday night.
And when the senior launched himself toward the pylon from just inside the 5-yard line, he made sure his team finished with a homecoming victory.
Nacua's dive completed an 11-yard touchdown run with 9:38 to play that broke a 29-29 tie, and the No. 2 Patriots held on for a 35-29 win over visiting Coronado.
"It was a lead option," Nacua said. "And I saw the outside open, and I just started running at it. They tripped me up a little, and I saw the pylon and just dove into it."
The touchdown run capped an outstanding all-around game for Nacua. The Brigham Young-bound senior completed 14 of 22 passes for 223 yards, rushed for the touchdown, intercepted a pass on defense and recorded a tackle for loss.
"That's why he's a Division I football player," Liberty coach Rich Muraco said. "He makes plays. He stands out. He can do everything."
That included being named homecoming king at halftime.
"That was a cool experience," Nacua said.
Tenth-ranked Coronado (3-2, 0-1 Southeast League) stayed with Liberty (4-1, 1-0) all night thanks to a series of big plays.
The Cougars got an 87-yard kickoff return for a touchdown from Cody Mucino, and quarterback Kevin Lucero threw three TD passes.
The first came on fourth-and-15 in the first quarter when Lucero found Kjell Henness open on a seam route for a 23-yard score that tied the game at 14.
He also had a pair of long TD passes to Brock Taubel. The first one came on a receiver screen as Taubel took the short pass and streaked down the right sideline for a 96-yard touchdown that put Coronado up 21-14 with 6:27 to go in the first half.
Then in the third quarter, Lucero rolled to his right and fired a long pass down the right sideline just before taking a big hit, and Taubel hauled it in for an 82-yard score.
Derrick Keller converted the 2-point conversion on the play to tie the game at 29 with 7:10 to go in the third quarter.
"That's been our problem this year," Muraco said. "We play great defense and then it seems like one or two plays a game we have a mental block and teams capitalize and we've given up some big plays."
Coronado got the ball back with 5:11 to play and started to put together a drive, moving the ball to its own 43. But Jaylen Mitchell intercepted a deep pass from Lucero with 2:36 to play to seal the game.
"Even though I was hurt, I put up both my arms," said Nacua, who injured his left arm late in the game. "That's what we needed. That's why Jay's here. He's here to make plays that can determine games."
Mitchell also had a 1-yard TD run in the first half and caught five passes for 67 yards.
Niko Kapeli added 112 rushing yards on 21 carries, including a 2-yard scoring plunge. He took a screen pass from Tylern Newman and scored from 12 yards out with four seconds to go in the first half to put the Patriots up 29-21 at the break.
Liberty got field goals of 22 and 36 yards from Austin Fitzgerald in the first quarter. The Patriots also recovered an onside kick in the quarter, and led 14-7 before Coronado had run an offensive play.
Lucero completed 17 of 27 passes for 295 yards. Taubel hauled in three catches for 183 yards for the Cougars.
Contact prep sports editor Damon Seiters at dseiters@reviewjournal.com or 702-380-4587.
In-depth high school sports coverage