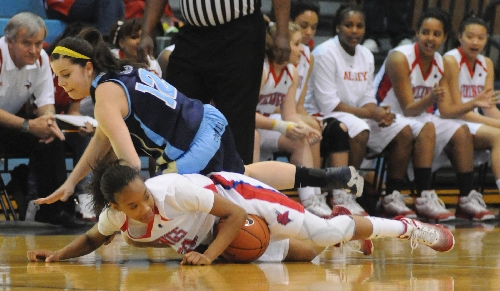 Foothill's Christina Nash had visualized and practiced the scenario countless times before stepping to the foul line with 11.9 seconds to play Thursday.
All that preparation paid off.
Nash, a junior guard, calmly hit both ends of a one-and-one to lift the host Falcons to a 39-38 victory over Valley in the Sunrise Region girls semifinals.
The victory lifted the Falcons (17-10) into the region final for the first time, and they'll play Liberty (25-2) at 5 p.m. today.
Foothill trailed 38-37 when Nash went to the line, but she was confident in her routine.
"I do it every day," she said. "I didn't worry about the pressure. I didn't even think about it."
Nash's shots capped a wild finish and foiled a frantic rally by the Vikings (23-6).
Foothill appeared in control when Cheryl Harless nailed a 14-foot jumper to give her team a 32-27 lead with 3:50 to play.
But Valley needed barely a half-minute to move ahead 33-32, fueled by Shayna Porter's 3-pointer from the top and Christina Davis' 14-footer.
The teams swapped the lead, with Julie Harless' layup putting Foothill briefly ahead before Porter's steal led to two free throws by Kennedy Wharton for a 36-35 Valley lead.
After Valley hit another free throw with under a minute to go, Foothill's Breanna Fraser tied it at 37 on a 10-foot jumper with 20.7 seconds left.
Porter's free throw seconds later put Valley back ahead, and Foothill coach Mike Collins called timeout to set up a play. Porter fouled Nash moments later, and Collins knew his team was back in control.
"When they fouled her I couldn't believe it," Collins said. "I just sat there and smiled."
Collins credited his players for not caving under pressure.
"They did a great job of keeping it close and letting the crowd take over," he said. "They kept their heads and were able to execute in the end."
Cheryl Harless finished with 13 points (11 in the first half) and had 13 rebounds. Julie Harless supplied six points and eight rebounds.
Davis compiled 13 points and five rebounds to lead the Vikings, and Porter added nine points and four steals.
■ Liberty 78, Canyon Springs 42 — Jade Washington had 19 points and three steals to help the Patriots cruise past the Pioneers (15-8).
Liberty used a 9-0 run to pull away to a 40-23 halftime lead and pushed the margin to 59-34 with a 10-2 spurt midway through the third quarter.
"We knew if we could get some stops, that would give us some opportunities to score," Patriots coach Quintin Lester said. "If we could put some stops together, we could put together some runs."
Canyon Springs stayed close early, trailing 21-19 with 5:48 left in the first half.
"Once we started rebounding, things got better," said Lester, whose team had a 65-40 advantage on the boards.
Chanel Nacua helped the Patriots with a career-high 14 points and five rebounds. Alena Evans added 10 points and three steals.
Diamond Broadus compiled 14 points and five rebounds to lead the Pioneers, and Cherise Beynon contributed nine points and five rebounds.
In-depth high school sports coverage