Navigating the language barrier no minor miracle for 51s players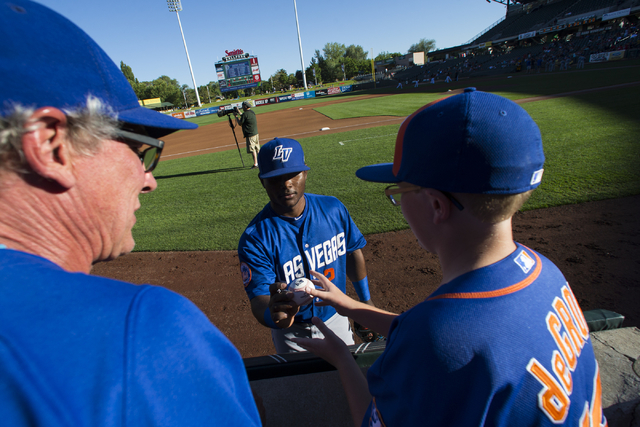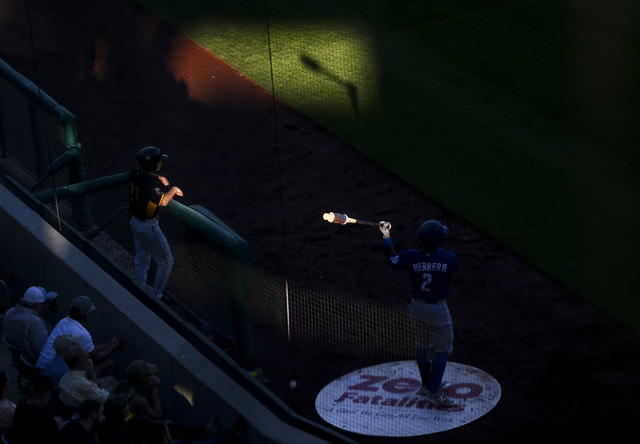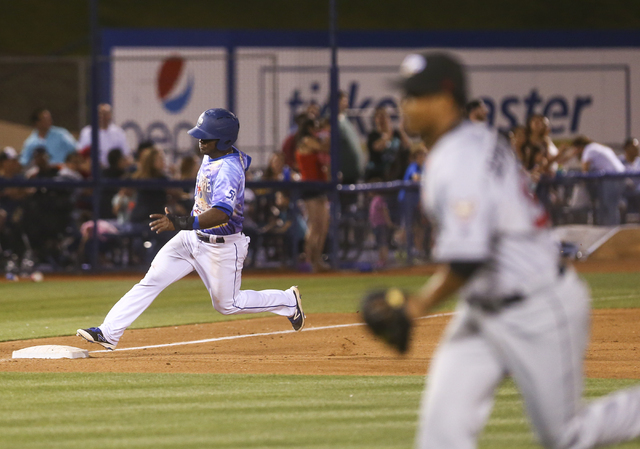 Shortly after a teenaged Dilson Herrera arrived in the United States for his first spring training, he became a frequent customer at a Florida Applebee's.
Herrera, the Las Vegas 51s second baseman who hails from Colombia, spoke limited English when he started in the Pittsburgh Pirates organization, so he headed to Applebee's not necessarily by choice, but by necessity.
"I learned the words chicken wings with ranch and fries, and for the first month, I was ordering that every day," Herrera said.
Learning English is one of the first challenges young players encounter when moving to the U.S., but the Mets have programs in place to help ease the process.
Starting this season, all Major League Baseball teams have full-time Spanish translators, and though players in the minors are not afforded that same luxury, most are conversant by the time they reach Triple-A after spending years in the U.S.
Herrera said everyone on the current 51s roster could speak English, though he said some might not like it because they are afraid to make errors.
Herrera himself doesn't harbor that same feeling.
"I've got to speak," he said. "Everybody knows that's not my language so if I say something wrong, they help me or teach me."
Herrera started learning with a teacher from Colombia who spoke only English in the class. He said it took him three years to learn and said that even though his speaking is not perfect, he understands everything.
His experiences adapting to a new language, especially in everyday life, are not uncommon among baseball players coming to the U.S. as teenagers with little prior English education.
Teammate Roger Bernadina has a similar story, though instead of Applebee's, he found himself a frequent customer at McDonald's, ordering the No. 2 — a quarter pounder — with no onions and a Coke.
STARTING EARLY
At the lower levels of the minors, there's a lot of support to aide players as they deal with language barriers on and off the field.
For many, that starts even before the minors.
Las Vegas starter Gabriel Ynoa spent a year in the Mets' Dominican academy, and he said through an interpreter that he took classes for two hours a day four days a week while there.
At the Mets' academy, the organization offers a program to help players continue their education and complete their high school diploma. Another component of their education program is their English lessons.
Ronny Reyes, the manager of Port St. Lucie operations, said in recent years, Mets general manager Sandy Alderson wanted to take the organization's English program to a new level, so they partnered with a local university to do so.
Reyes assists in international player development and both the organization's education and assimilation program.
As part of the program, players work with English majors and masters students from the University of South Florida to learn English at the complex in the Dominican Republic.
The English lessons continue once players reach the Mets' complex in Port St. Lucie, Florida, though they change in scope.
Ynoa said the lessons moved from shorter conversations when they were in the academy to covering topics such as world news and current events to round out their education.
"We like to focus on learning the culture," Reyes said. "Idioms of being here in the U.S. are very different from their own cultures. We typically focus on that with our young guys."
Topics taught at the Dominican academy and in Port St. Lucie home in mainly on real life issues, like sex, alcohol, banking, insurance, renting a house and other things players might encounter off the field.
As far as English classes, Reyes said they do regular testing with players. As players move up the ranks, they'll graduate from classes, but the organization still might send exercises and articles to read.
Though he's done with classes, Ynoa said he still does his own research to learn about the American culture and has a Rosetta Stone English CD. "When you're by yourself out on the street or going out, talking to a lady, you've got to learn to speak English," Ynoa said through an interpreter.
NOT JUST TWO LANGUAGES
When Bernadina arrived for his first spring training, Spanish was his third language at the time. English was his fourth.
The outfielder was born in Curacao and considers Papiamentu his first language and Dutch his second.
But when he first arrived, he was grouped with Spanish-speaking players. Two of his roommates were from Puerto Rico, one from Colombia.
Bernadina said it took him between four to five years to be able to have a conversation in English, partially because he was surrounded by Spanish speakers and partly because he would go back to Holland in the offseasons and lose a bit of what he had learned.
But since his teenage years when scouts started following him, he made learning the language a priority because he knew he wanted to play professional baseball.
It's the same premium the Mets — and other teams around the country — have placed on learning the language.
"We require them and the way we present it to the players is if you're missing class or if you're late to class, that's like being late or missing stretch," Reyes said. "We think the same of either event. If you're not going to our English classes or you're late, you're going to be punished just the same."
CLASSROOM LEARNING
Reyes works in conjunction with the organization's English coordinator in hiring teachers, formulating curriculum and scheduling lessons.
During spring training, he said classes are typically two to three times a week, focusing in on baseball English and "real life learning."
When 51s manager Wally Backman was doing baserunning drills with a group of younger players on the minor league side at spring training, he had someone alongside him translating.
Once players fan out to their affiliates, Reyes said players typically would take classes four days a week during a 10-day homestand for at least an hour.
At times, the 51s have had players taking lessons when the parent club has requested it.
However, they don't have anybody in classes this year.
"Usually by the time a guy gets to Triple-A, he's been around, been in American professional baseball enough where they learn enough to get by," 51s president Don Logan said.
At the lower levels, with younger players, the support is much more of a necessity.
Reyes said the Mets typically have at least one bilingual staff member on each team, with Triple-A being the only affiliate where that's not the case. "Our Latin American players, if you look historically, they're going to go through our player development system for a few years before they're getting to this level, so they've had that much instruction and they're prepared to be able to handle this," Reyes said. "I think this is a level where (we're) throwing them in the deep end. Let's see how they conduct themselves."
FINDING THEIR WAY
Herrera has come along way since that Florida Applebee's.
This April, before the 51s kicked off their season, the 22-year-old was called upon to be a translator for teammate Rafael Montero to the media.
Around the clubhouse, though, there's no need for a translator.
Catcher Johnny Monell, who grew up in New York and is fully bilingual, helps his teammates when they need it, be it with translating memos or other things in day-to-day life like ordering food.
"They know English but to (the media) they might not feel comfortable talking in English as opposed to dealing with someone that they're comfortable with on a daily basis," Monell said.
And Monell, though he's bilingual, shies away from being a translator with the media for fear of misinterpreting his teammates.
"I really don't like dealing with the media as far as helping a player and me mistakenly misinterpreting his words and (putting) a quote out there that's not what he said or something getting misconstrued because I didn't translate it right," Monell said. "I don't want that to be put on (my) shoulders."
While players say they think it would be helpful to have a translator at Triple-A, there doesn't seem to be any real push for it yet, rather more of a focus on making sure a player is learning the language.
"You've got to adapt or die basically," Ynoa said through an interpreter. "You've just got to adjust, get accustomed to it, know your surroundings (and) where you are at all times. You've just got to be aware."
Betsy Helfand can be reached at bhelfand@reviewjournal.com. Follow on Twitter: @BetsyHelfand.