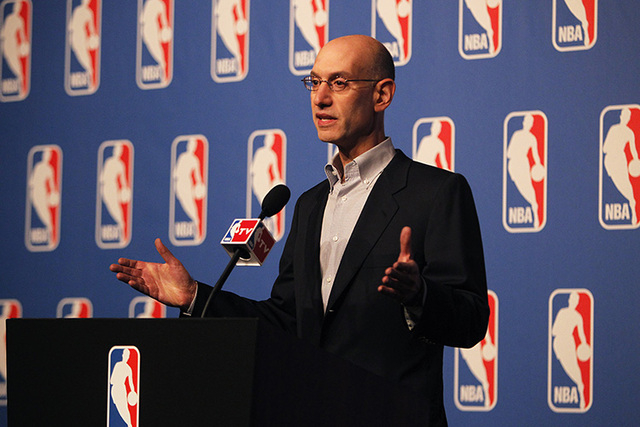 While Donald and Shelly Sterling battle in a Los Angeles courtroom, the NBA waits patiently to see if it can transfer ownership to Seattle businessman Steve Ballmer, who has agreed to purchase the Los Angeles Clippers for $2 billion.
The league's board of governors met for four hours Tuesday at Wynn Las Vegas, and commissioner Adam Silver said he remains confident the court will rule in Shelly Sterling's favor and allow the sale of the team to Ballmer to be completed. The trial is in recess and will resume next week.
"We're in essence on hold," Silver said. "Based on what I understand, Shelly has done all the right things, and my sense is the judge is going to move quickly to rule when the case reconvenes."
Silver also said the league is prepared to deal with Donald Sterling if the judgment goes his way.
"If the judge rules against her, we'll reactivate our proceedings against Donald," Silver said. "We're doing everything in our power to move Donald out as an owner in the NBA."
Had the court case been settled, Tuesday would have been a historic day for the NBA, as the transfer of the Clippers would have been made official. The league's finance committee still took the opportunity to meet with Ballmer.
Still, it was a fairly mundane report from Silver. He reiterated how pleased he was with the NBA Summer League's success in Las Vegas, and added that having seen the plans for the MGM-AEG arena project that he was encouraged by what is being done. Silver indicated that the new arena could play host to an NBA end-of-season awards show and maybe a midseason tournament.
But he also reiterated there are no plans for expansion, though he did say that having a state-of-the-art arena would be in Las Vegas' favor should the opportunity for expansion present itself.
Like all NBA fans, Silver said he was captivated by the free-agency period, which saw LeBron James return to Cleveland, Carmelo Anthony remain in New York and Pau Gasol move from Los Angeles to Chicago.
"LeBron is a very special player in our league, and I was very moved by his statement when I read his first-person account (in Sports Illustrated)," Silver said. "I thought it says a lot about who he is, who he's become over the last four years.
"I've gotten to know LeBron pretty well over the years, and so I think from that standpoint, I'm really more like a fan. This seemed to be a great moment for the league."
Contact reporter Steve Carp at scarp@reviewjournal.com or 702-387-2913. Follow him on Twitter: @stevecarprj.