NBA referee pursues excellence, not perfection
January 28, 2013 - 2:01 am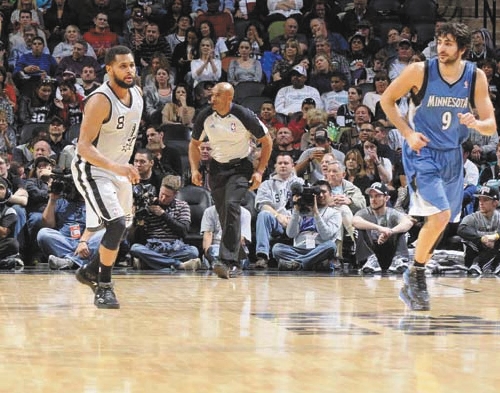 There's no job description per se, but if you wanted to get hired as an NBA referee, it might go something like this:
"Wanted – Good interpersonal skills, an ability to handle criticism, be in great physical condition and be perfect in administering and enforcing the rules."
Tre Maddox qualifies, though he admits he's no perfectionist. The North Las Vegas resident is in his second full season working as a referee at the game's highest level, and he knows the job is about trying to attain the impossible every night. But it doesn't stop him from trying.
"I have a motto that I live by, which is, 'I don't referee to be perfect; I referee to be excellent.' " Maddox, 45, said from Philadelphia, where he will work tonight's game between the 76ers and Memphis Grizzlies. "Basically, it means that we're all human, that we are going to make mistakes. Obviously, you try to be the best you can be every night. You try to be consistent in your performance."
One of two referees who call Southern Nevada home (16-year veteran Rodney Mott has lived in Las Vegas for years), Maddox has lived in North Las Vegas since 2001. In addition to his officiating job, Maddox owns III X Clean, a commercial cleaning company based in Henderson.
A third referee, former Durango High School basketball star Deldre Carr, has some NBA experience and is refereeing full-time in the NBA Development League.
Maddox got his first taste of the NBA during the 2009 preseason. The referees had been locked out by the league, and Maddox, who had two years of D-League experience as well as some Division I college work on his resume, found himself in Honolulu with Carr working a Los Angeles Clippers-Denver Nuggets game.
Shortly after, the league and the referees reached an agreement on a new contract and Maddox went back to the D-League. But in 2010, he got to work his first regular-season NBA game, and it was a doozy – double overtime in Salt Lake City with the Utah Jazz beating the Clippers, 109-107.
He was brought on full-time last year by the NBA, and Maddox is now a member of a very select club.
There are only 62 full-time NBA officials. They are charged with enforcing the rules and keeping the peace among some of the most gifted and competitive athletes in the world while maintaining the integrity of a sport, which is under constant scrutiny, particularly after the Tim Donaghy scandal a few years ago.
"Your people skills definitely get put to the test," Maddox said. "You have to be able to communicate with the players and the coaches.
"I try to get along with everyone. I think I have a calm demeanor. But if a situation calls for it, I take care of it. The longer you let something go, the longer it's going to fester and manifest itself."
Maddox got into officiating through his stepfather, who refereed basketball in Minneapolis to pick up a few extra bucks.
When he moved to Las Vegas, he contacted Marc Ratner, the head of the Southern Nevada Officials Association, and began working freshman and junior varsity high school games. He quickly moved up to calling varsity high school and worked two Nevada 4A state championship games. Maddox was still officiating high school games as late as 2007.
"Marc had a lot of confidence in me back then, and that really helped," Maddox said. "He was very supportive, and without his help, I'm probably not where I am today. He gave me a chance to learn and grow as an official."
Ratner said: "You could tell Tre was special by the way he carried himself, his strong knowledge of the game and the way he worked with the players and the coaches. I could see he was a cut above."
Maddox also cites Mott as someone who has helped him get to where he is, along with Greg Willard, who was part of the officiating crew in Maddox's 2010 regular-season debut in Salt Lake City.
"Rodney has been a mentor to me," Maddox said. "He's helped give me perspective in what we do."
As for Willard, who is on a leave of absence as he battles pancreatic cancer, Maddox said: "Long before I thought about the NBA, I met Greg at a college clinic, and he was so genuine, so friendly. He gave me his card and told me to call him any time.
"When I would call and pick his brain, he was always available and willing to talk and point things out. So when he was on the floor with me for my first game, that made it extra special."
Like all NBA referees, Mott wears a purple bracelet with the name and No. 57 of Willard, who was diagnosed with cancer in June while working the Western Conference finals.
"He's in my thoughts every night, and a little piece of him is with me on the floor when I'm working," Maddox said.
For Maddox, the toughest part of his job is the travel. And while NBA referees have flown first class for years and stay in five-star hotels, it's still a grind. They're responsible for their own travel, but Maddox said so far, he has made it to every game he has been assigned to work.
"You're constantly on the go," said Maddox, who is not married but has a 17-year-old daughter who lives in Minneapolis. "It's not like you can go into a city and just go sightseeing. You're there to do a job."
A typical game day for Maddox would be to get up, hit the gym at the hotel for 30 minutes of cardio work, get some breakfast, then meet with his fellow officials working that night's game. They'll go over the rosters, try to identify any potential problems with players or coaches they might need to address and be aware of any recent history between the two teams that might require extra attention.
After lunch, it's a nap, then off to the arena, typically 90 minutes before tip-off (NBA rules require them to arrive no later than 75 minutes before the game). He then gets himself stretched out and goes through a final check from the morning meeting.
After the game, there is a review of that night's work, which can last up to 45 minutes. Then it's on to the next stop.
Just like for the players and coaches, it's a results-driven league, and those referees who fail to produce don't last very long.
"We're going to make mistakes," he said. "But it's about learning from your mistakes. It's all about getting better. Short term, my goal is to get my contract renewed every year."
Contact reporter Steve Carp at scarp@reviewjournal.com or 702-387-2913. Follow him on Twitter: @stevecarprj.