Nelson to sightsee only following win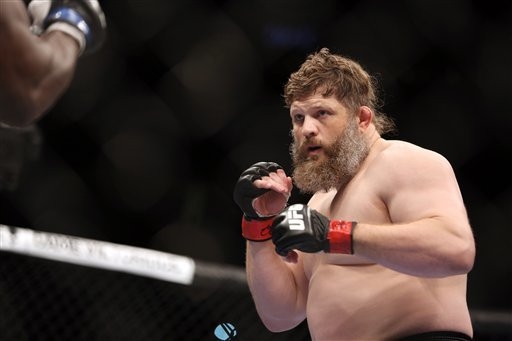 Ultimate Fighting Championship heavyweight Roy Nelson hopes to do some sightseeing the day after he fights in Abu Dhabi.
That would mean he emerged from his fight victorious.
The Las Vegan will take on Antonio Rodrigo Nogueira in the main event of UFC Fight Night 39 on Friday.
He has a full day to spend in the Middle Eastern country after the fight and before he flies home. How he treats that time has a lot to do with the outcome.
"It all depends if I win or lose. If you win, it's like, 'Yeah, I'll check this place out a little bit,' " Nelson said. "But if you lose, it's like, 'Oh man, I have to get home and figure this out and get back to training.'  "
Nelson did visit two weeks ago for a day of media appearances. He said it reminded him quite a bit of his hometown.
"It's a desert. It's basically Vegas without the sin," he said. "Lots of restaurants, Chanel and Gucci stores and all of those places. They've got freaking indoor snow skiing."
Nelson still says Las Vegas is his favorite place to fight. He cited a bout on the beaches of Costa Rica as the most bizarre venue.
As for the actual fight, it would be easy just looking at Nelson's physique to assume that he wouldn't be overly thrilled with the fight being scheduled for five rounds instead of three as a main event.
Don't be so quick to jump to that conclusion, though.
"It just means I have 25 minutes to find a way to knock him out instead of 15," Nelson said.
The entire nine-fight card, which also fetures a featherweight bout between Clay Guida and Tatsuya Kawajiri, airs live on the UFC's online platform, Fight Pass, beginning at 8:50 a.m.
■ CARANO SCHEDULES MEETING — There's still no definitive word on whether Gina Carano will return to professional MMA.
Carano, who last fought in 2009 before embarking on a Hollywood career, discussed the situation on "The Arsenio Hall Show" as she promoted the release of her new movie, "In The Blood."
She said she plans to meet with UFC president Dana White this week.
"I love (fighting)," Carano said. "It's something I can do that makes everything else disappear. I dream about it. I just didn't know if I was ever going to get an opportunity to make a comeback.
"So I'm either going to do it now, or I'm going to retire and say, 'OK, I'm never going to do it.' So now is the moment, I feel."
Carano is 31. Her last fight was the only loss of her career, a first-round knockout defeat against Cris "Cyborg" Justino. Carano competed for Strikeforce and Elite XC as the UFC did not yet have a women's division.
There have been rumors swirling that she would return for one fight against UFC women's champion Ronda Rousey.
■ SHIELDS CUT — Former Strikeforce champion and one-time UFC welterweight title challenger Jake Shields has been released by the UFC.
Shields lost a unanimous decision to then-champion Georges St. Pierre in 2011 and went 3-2 with one no contest due to a failed drug test since that time.
He lost a unanimous decision to Hector Lombard in March.
■ BURKMAN STATUS SETTLED — World Series of Fighting welterweight contender Josh Burkman took to Twitter to air his grievances about his contract status with the organization and ask for his release on Thursday night.
By Friday, Burkman had been promised a future title shot and seemed content in the organization.
Burkman will fight the winner of the upcoming welterweight title fight between Rousimar Palhares and Jon Fitch, which will happen this summer.
■ HOLM HURT — Former professional boxing champion Holly Holm improved to 7-0 in MMA and captured the Legacy Fighting Championships with a fifth-round knockout of Juliana Werner on a card in Albuquerque, N.M., on Friday night.
But she didn't emerge unscathed. Holm suffered a broken arm when she blocked a kick.
She has often been mentioned as a potential opponent for UFC women's champion Ronda Rousey should she reach a deal with the organization, but the injury may set the timetable back.
Contact reporter Adam Hill at ahill@reviewjournal.com or 702-224-5509. Follow him on Twitter: @adamhilllvrj.