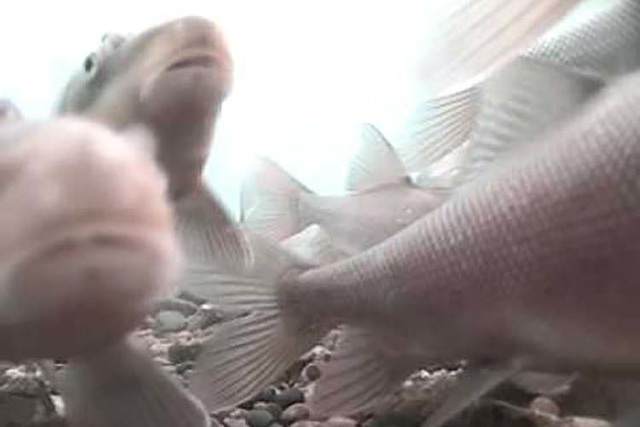 LAKE MEAD — Striper fishing still is good from the boat, but shore fishing has been hit or miss. Those willing to brave an early-morning chill are doing well with live shad as bait. Other productive baits are anchovies and silver-colored lures. Warm-water fish such as black bass are fishable around Callville Bay and Echo Bay on the north end of Lake Mead.
LAKE MOHAVE — Striper fishing has been hit or miss, though some anglers have found honey holes giving up fish pushing the double-digit range in pounds. Fishing has been better from the boat than from shore. Look for the fish in deeper water. Smallmouth bass are providing action in coves between Cottonwood Cove and the Telephone Cove area. Catfish have been found in grass beds.
LAUGHLIN — Anglers are catching rainbow trout on the north end of Big Bend State Recreation Area using night crawlers, orange PowerBait and their favorite Rooster Tails. Some anglers still are catching the odd catfish while fishing for striped bass. Anchovies are catching the fish.
LAS VEGAS URBAN PONDS — Stocked rainbows will take PowerBait, night crawlers, small lures and a variety of fly patterns. Use light line, such as 4-pound test, and small hooks. If you want to catch-and-release, the Nevada Department of Wildlife asks that you avoid using treble hooks and handle the fish as little as possible. The NDOW has planted rainbow trout twice this season at Floyd Lamb, Sunset and Veterans Memorial parks. Lorenzi Park received a double load the first week of stocking. The hatchery expects to stock most ponds weekly throughout the winter.
KIRCH WILDLIFE MANAGEMENT AREA — The reservoirs all have a thin layer of ice but are unsafe to walk on.
EAGLE VALLEY RESERVOIR — Thin ice continues to cover most of the lake, with a little open water appearing throughout the afternoons. The ice is unsafe to walk on. Some anglers have been breaking up the ice around the dock to access the fish and are finding success using PowerBait and night crawlers.
ECHO CANYON RESERVOIR — Action has been slow. The reservoir is covered with thin ice, and open water is scarce.