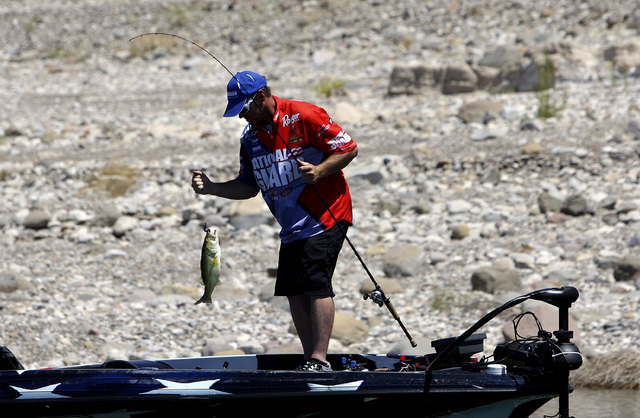 ■ LAKE MEAD — Cold fronts blowing through the area have disrupted some of the quality fishing. Cooler waters in the shallows pushed many bass off the beds, and stripers moved to deeper water. When the largemouth and smallmouth bass return to their beds, more eggs will be laid. When warmer temperatures resume, anglers should find more fish on nests.
■ LAKE MOHAVE — Reports from the lake have been few, perhaps because windy conditions and cooler temperatures have kept anglers off the water. Bass at depths from 12 to 25 feet have been hitting on night crawlers and various plastics. At Willow Beach, one angler caught a striped bass weighing just over 5 pounds while fishing for catfish from shore. He was using anchovies.
■ LAUGHLIN — Striped bass action is picking up along Casino Row and in the areas near the Nature Center and Big Bend State Park. Trout imitations can entice many stripers, but anchovies also can bring in catfish.
■ URBAN PONDS — At this time of year anglers find increased action for warm-water species. Bluegill and largemouth bass will take night crawlers or mealworms. The larger bass usually will hit crankbaits and other lures worked near structure, such as logs, rocks or shadow pools.
■ KIRCH WILDLIFE MANAGEMENT AREA — There was no report because of a personnel change at the management area. This is usually a great time to hit the four main reservoirs. Trout action should remain good through late May, and largemouth bass and crappie fishing should soon pick up at Cold Springs and Haymeadow reservoirs.
■ EAGLE VALLEY RESERVOIR — The past week was productive in Lincoln County waters, as anglers found action for rainbow, tiger and brown trout. The Nevada Department of Wildlife planted an additional 5,000 rainbows April 2, and the fish have been active since. Brown trout action has been best in the deeper potions of the reservoir. One angler caught and released a 3-pound bass last weekend.
■ ECHO CANYON RESERVOIR — The fishing was good last week, but for one angler, it was particularly fantastic. He caught and released a 6.3-pound largemouth bass from the upper narrows section of the lake while throwing a small Rapala. Crappies also have made their presence known. Anglers have reeled in many hand-sized fish with flies and small lures.