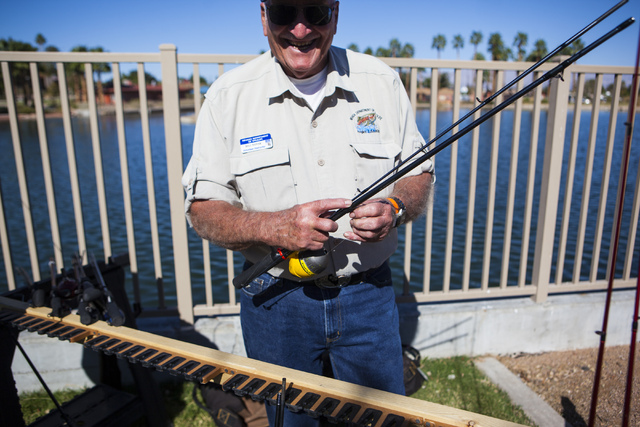 LAKE MEAD — Warm-water fish species such as crappie and black bass are active in the Overton Arm. Water elevation still is up in the lake, so a few more fishing spots are open than in the past. Anglers are catching striped bass in the 1- to 3- pound range outside Government Wash and along the east side of Boulder Basin. Fishing has been best early in the morning and late in the day.
LAKE MOHAVE — Large striped bass are bending rods near Willow Beach. Anglers are pulling in stripers near Katherine Landing as well, though they are smaller than those caught at Willow. The fish are taking anchovies, swimbaits and poppers. Black bass action slowed over the weekend. Anglers are finding lots of vacated beds. Drop shots are catching and crankbaits are fooling fish still hanging out near beds.
LAUGHLIN — Anglers are catching striped bass up and down the river. Some are catching the fish from boats along Casino Row while drifting anchovies. Anglers on the north end of Big Bend are finding good action for catfish and stripers in the marshy areas.
LAS VEGAS URBAN PONDS — Action has picked up this week with the arrival of much warmer air temperatures. Bluegill and bass are finishing their annual spring spawn and are starting to take worms and small lures. The Nevada Department of Wildlife is scheduled to begin its seasonal channel catfish plants next week.
KIRCH WILDLIFE MANAGEMENT AREA — Despite afternoon winds, anglers have found good action for rainbow trout at most of the reservoirs. With the arrival of warmer temperatures, vegetation along the shoreline is beginning to thicken. Anglers should be prepared to fish around the weeds. Anglers using float tubers and other small watercraft should be mindful of seasonal winds that can come up quickly on area reservoirs.
EAGLE VALLEY RESERVOIR — Action has been good for rainbow and tiger trout following the recent fish plants. Anglers have been catching the fish with rainbow sparkle PowerBait and night crawlers. Fly-fishers are fooling the fish with small, black or brown Woolly Buggers with sparkle in them. The campgrounds are open, with all facilities available.
ECHO CANYON RESERVOIR — The water is high, and rainbow trout are keeping anglers busy. The fish are taking a wide variety of baits. Bass and crappie action remains sluggish but should pick up as temperatures grow warmer. The campgrounds all are open.
UPCOMING FISHING EVENT — The NDOW will host a free catch-and-release fishing pond for children 12 and younger at the Clark County Fair on Thursday through Sunday in Logandale. Other features at the agency's fair exhibit include an archery range and displays of live reptiles and native fish.