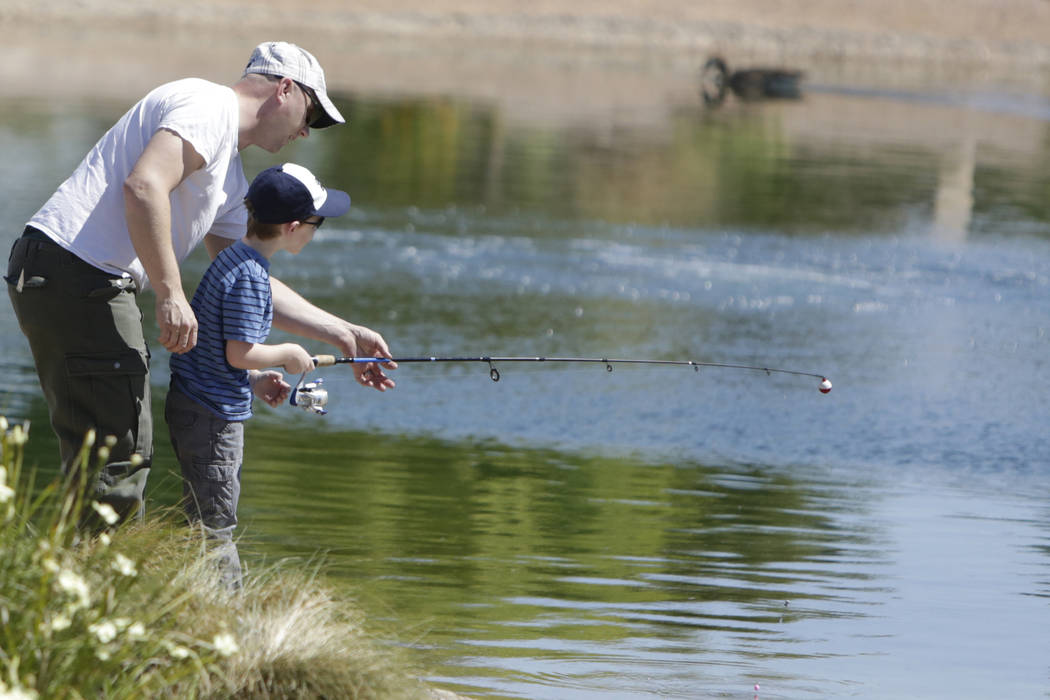 Nevada fishing report
■ Lake Mead — Fishing for striped bass throughout Boulder Basin has been great the past few weeks. Anglers are having success for black bass and catfish in the Overton Arm. Gizzard and threadfin shad make great bait and can be found in active schools. Anglers have gotten bait buckets stocked at Las Vegas Bay and outside Echo Bay.
■ Lake Mohave — Lots of big striped bass are being caught on the north and south ends of Mohave from boats and shore using anchovies. Black bass are active in cove areas under brush or hanging by underwater shelves. Rainbow trout have been stocked in weeks past, and, with waters still cool, they are in the areas south of Willow Beach.
■ Laughlin — Rainbow trout are catchable below the dam with night crawlers. The river limit is five trout. Fly-fishermen are doing well angling for trout using caddisfly patterns. Striped bass in the 1- to 3-pound range are being caught above Big Bend State Recreation Area. Anglers are using anchovies. The casino area has been good for striped Bass And Trout.
■ Las Vegas Urban Ponds — Trout still are hitting on baits and small lures at Boulder City Pond but mostly have finished up at the other ponds. Bluegill and bass are taking mealworms and night crawlers at most of the ponds. Catfish are to be stocked into the ponds next week.
■ Kirch Wildlife Management Area — Action was good this past week on all the reservoirs. Crappie and bass action has started to pick up with the warming temperatures. Dacey is artificial lures only, and those caught using baits will be cited. Special regulations are in place for black bass on all the reservoirs until June 30.
■ Eagle Valley Reservoir — Fishing this past week was good for most anglers on the lake. Crappie, which are new to the reservoir, have started biting and taking small jigs, mealworms and night crawlers. Bass also have started hitting as well but are catch-and-release only until the end of June. Trout have been taking the usual baits, such as Powerbait in orange, green or rainbow and night crawlers with a bit of marshmallow.
■ Echo Canyon Reservoir — Action continued to be good this past week for trout, bass and crappie. Bait anglers using night crawlers or Powerbait are doing well off the dam. The water level still is good, slowly dropping as the daytime temperatures rise, but the aquatic vegetation has not become a problem.
■ Events — Free fishing day in Nevada will be June 10. Spring Valley State Park in Lincoln County will hold its annual fishing derby. Contact Ranger Ben Johnson at 775-962-5102 for more information. Councilman Steve Ross will host his annual fishing derby at Floyd Lamb Park starting at 7:30 a.m., and the Nevada Department of Wildlife will hold a fishing derby at Boulder City Pond starting at 8 a.m. Contact Ivy Santee at 702-486-5127, extension 3503, for more information.