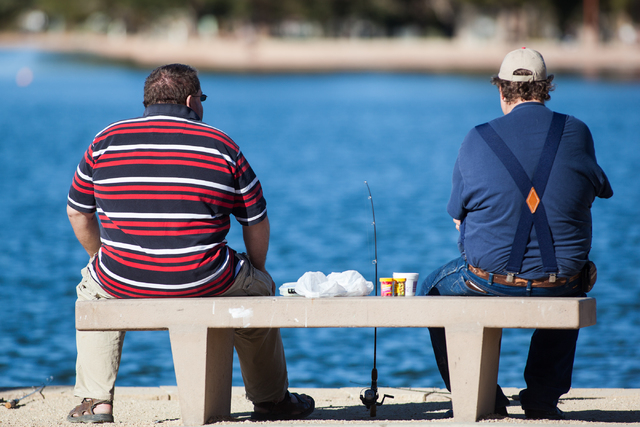 LAKE MEAD — Following the frequent rains, fish have been hanging deeper and despite seeing fish or having them appear on fish finders, the fish have been less inclined to bite. Some attribute this to the turbidity of the water or moon phases, both of which should improve with no rain forecast for the weekend and the new moon on Monday. Catch reports are all over the place with the fish taking lures generally intended for other targeted species. Despite inconsistencies with their usual fishing practices, anglers are finding success. Lures and jigs seemed to be the trick this week with biting the best during the early morning.
LAKE MOHAVE — Anglers fishing out of Cottonwood Cove reported decent fishing for the various species in the area. One angler caught multiple largemouth bass using artificial crawdad lures fishing across from Cottonwood Cove on the Arizona side in about 40 feet of water casting toward shore. Another heading south caught several smallmouth with drop shots in about 15-20 feet of water. Catfish hanging in the backs of coves have surprised anglers by taking lures intended for bass. Many of these were around four pounds.
LAUGHLIN — The bite is on with catfish and striped bass producing well for anglers along this stretch of the River. The shelves near the dam have anglers landing small mouth bass using plastics and night crawlers. Anchovies are still a good bet with one angler bringing in a striper nearing 14 pounds in the area of Community Park. While most of the stripers caught averaged around two pounds, there are some big fish cruising through so set your drag, have good line and a tight knot to be able to land that lunker.
URBAN PONDS — Anglers are still reporting good fishing at Floyd Lamb Park and Veteran's Memorial following the monthly stocking of catfish. Mealworms have been working well for multiple species in the waters, including the catfish, bluegill and bass. Anglers fishing at Veteran's Memorial also report hotdogs as a hot bait for catfish and smaller pieces for the bluegill also. At Lorenzi Park, anglers are still enjoying bringing in bluegill and holdover catfish despite lower water levels.
KIRCH WILDLIFE MANAGEMENT AREA — The catch rates for bass has still been high on Haymeadow, Cold Springs and Adams-McGill Reservoirs. Dark plastics have been working well. Trout have been hit or miss for these areas but should improve as the weather cools. Dacey has been slower with anglers having fair success using flies fished just beneath the surface. All areas on the reservoirs are now open to fishing.
EAGLE VALLEY RESERVOIR — Anglers are having success on the water for largemouth bass and rainbow trout. Nightcrawlers and green PowerBait with glitter fished about 1 foot to 18 inches off the bottom have brought in many rainbow trout. Bass are also taking nightcrawlers as well as imitations in dark colors.
ECHO CANYON RESERVOIR —Not many anglers have been hitting the water this past week with lower water levels and weeds being a deterrent. Despite this, anglers are still having fair success using PowerBait of the rainbow coloration and nightcrawlers. With forecasted rain for the area, fishing should improve.
UPCOMING CLASSES — Nevada Department of Wildlife will hold a beginner fly-tying workshop from 6 to 8 p.m. Wednesday at the NDOW office on 4747 Vegas Drive. Learn to tie your own fishing flies. All equipment and materials provided. Registration is required as space is limited. Register online at www.ndow.org/Fish/Classes . For more information contact Tammie Frost at 702-486-5127, ext. 3850.