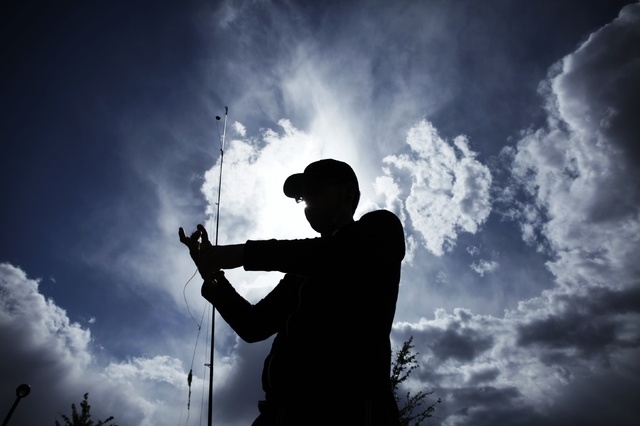 LAKE MEAD — The increase in water level has left some anglers working to figure out the new rhythm of stripers and baitfish throughout the lake. Those who are able to net shad in the Vegas Wash are finding stripers to be less particular on the size of the shad used as bait. Striped bass have been found deeper than expected but anglers are happy with the quality of fish they are bringing in.
LAKE MOHAVE — Reports have been light from anglers on the lake but with the milder temperatures it is a good time to get out on the water to test your luck. Striped bass have been active at Willow Beach. Many fish have been coming in at around 12 pounds. Lures work well but employees at Willow Beach Marina report selling plenty of anchovies, mackerel and night crawlers for bait.
LAUGHLIN — Cold weather kept many anglers off the water, but with warmer days returning so too is fishing opportunity. This time of year look for trout concealed in shaded areas around docks or in holes with overhanging vegetation. Night crawlers and PowerBait may entice many of these out of hiding, but lures such as Panther Martins or Rooster Tails can keep the angler busy while waiting for a bite. Stripers should be cruising the river in search of food. Anchovies are a popular bait but lures such as the Bomber Long A or a pencil popper can be productive.
URBAN PONDS — Fishing conditions have been good this past week for planted rainbows in all the ponds. PowerBait and worms have been the baits of choice at all the parks.
KIRCH WILDLIFE MANAGEMENT AREA — Little pressure was seen on the area during the past week. There is thin ice on most of the reservoirs though there is still some open water. Conditions can change quickly with overnight freezes. NDOW recommends checking weather conditions before traveling to the area and using extreme caution when it comes to the ice.
EAGLE VALLEY RESERVOIR — The ice is 3 to 4 inches thick over much of the reservoir. Some intrepid anglers braved the ice near the fishing dock and pulled in a few rainbows using mealworms. Some fish measured 14-15 inches. Night crawlers and PowerBait also are effective baits for stocked rainbows. Park rangers recommend calling for current ice conditions before stepping out on the lake. For information on ice conditions, or about the Ice-hole and Frisbee Golf tournaments scheduled for Jan. 17 & 18, contact the park office at 775-962-5102.
ECHO CANYON RESERVOIR — Thin ice conditions has kept anglers off the lake this past week. Park rangers suggest calling for current ice conditions before attempting to fish through the ice. 775-962-5103.