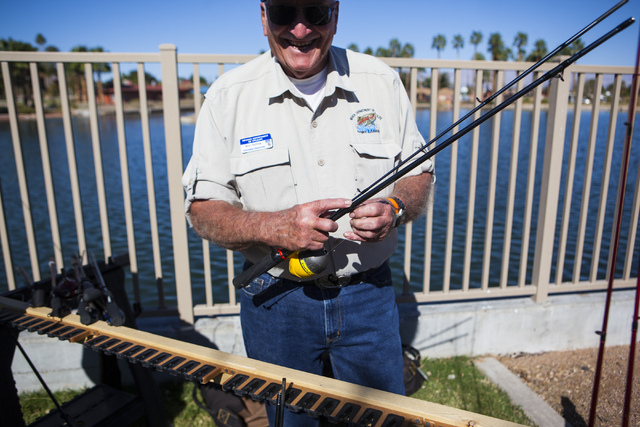 LAKE MEAD — Striped bass are providing good fishing throughout the lake. Anglers are catching fish from the Boulder Basin to South Cove with anchovies fished near the bottom and the occasional top-water bait. There have been reports of striper boils along the north shore from Vegas Bay to Callville. Zara Spooks, Jumpin' Minnows, Pencil Poppers and shad imitations will fool the fish. Jigs and bluegill imitation are catching black bass out of Echo Bay.
LAKE MOHAVE — Largemouth and smallmouth bass are becoming more active, biting on blue, green and pumpkin-colored soft baits with flakes. Stripers ranging from 1 to 9 pounds are biting on anchovies outside of Willow Beach Marina and above Davis Dam. Anglers have been successful from shore and boats near Willow Beach. Catfish are taking baits south of Cottonwood Cove where the lake opens up by 9 Mile Cove.
LAUGHLIN — Catfish action is hit or miss on the river. Some folks are catching catfish in the marshy areas with anchovies fished from shore. Fishing has been best in the early mornings and late evenings. Midday temperatures push fish into deeper water. Anglers are catching 1- to 3-pound stripers on anchovies from below the dam through Casino Row, along the shore and off the boat.
LAS VEGAS URBAN PONDS — The Nevada Department of Wildlife stocked channel catfish in the urban ponds last week. The average weight of the fish is 1 pound, but one little girl using a mealworm pulled in a fish weighing about 4 pounds. Bluegill action has picked up this week.
KIRCH WILDLIFE MANAGEMENT AREA — Aquatic vegetation has been getting thicker along the reservoir shorelines, making fishing off the dams difficult. Action has been good for all species, with fishing for bass and crappie much improved. There are special regulations on the bass until the end of June. Be sure to consult the regulations.
EAGLE VALLEY RESERVOIR — Action for trout, bass and crappie has been good in recent days. The fish are taking a variety of baits and lures, which means that people are catching fish but aren't sharing their secrets. Traditionally, lures and flies in dark colors work well, along with PowerBait in orange, green or rainbow colorations.
ECHO CANYON RESERVOIR — The water level has been dropping steadily over the past two weeks, making shore fishing treacherous. Largemouth bass and crappie have been hitting well on lures and flies. Trout action has slowed over the past week, with early mornings being the best time to catch the fish. Seasonal aquatic vegetation growth is starting to make shore fishing a challenge is some areas.
UPCOMING EVENTS — Saturday is Free Fishing Day in Nevada. Three events are scheduled in Southern Nevada that day and open to the public at no cost: at Echo Canyon State Park near Pioche from 8 a.m. to noon, with registration at the lake (Contact Ben Johnson at 775-962-5102 for more information); at Veterans Memorial Park in Boulder City from 8 to 11 a.m., with registration beginning at 7:30 a.m.; and at Floyd Lamb Park in Las Vegas, starting at 7:30 a.m. Contact Ivy Santee at 702-486-5127, extension 3503, or visit ndow.org for more information.