Nevada fishing report, Oct. 10, 2018
October 10, 2018 - 3:09 pm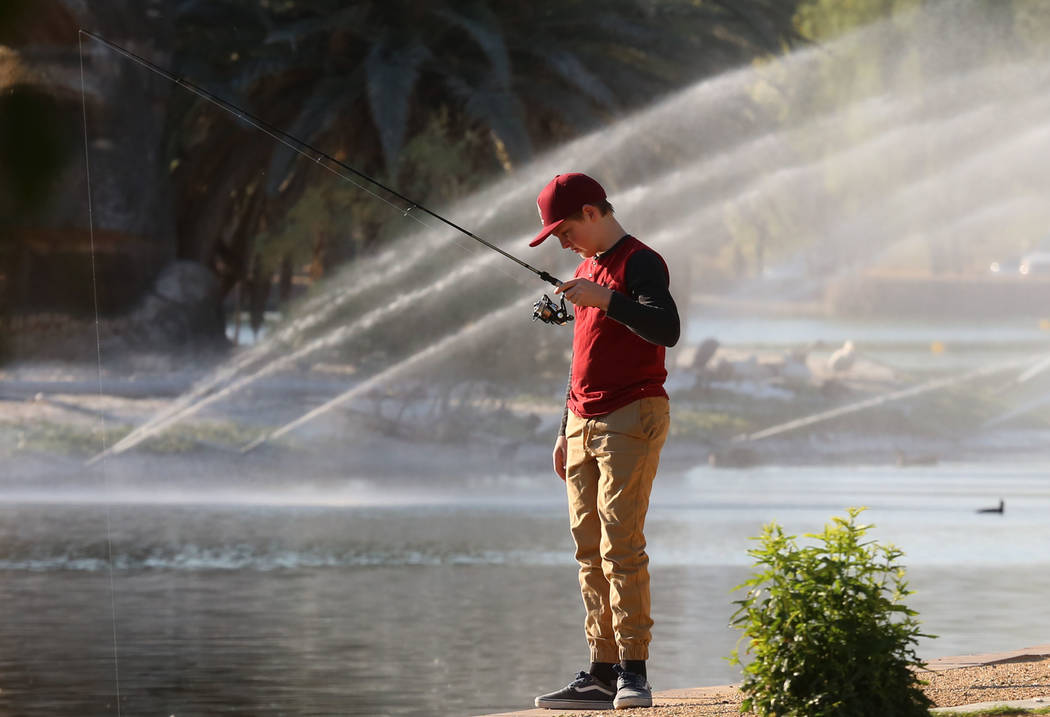 * LAKE MEAD — Cooler weather is here to stay, and that has anglers finding moderate success for stripers, catfish and smallmouth bass. Afternoons have been better than the morning hours. Jigging and trolling have been effective means of catching striped bass. Drop shots have been pulling smallmouth bass from around cliff walls, rocky points or areas with submerged weed beds. Catfish are active at night in the backs of coves and are hitting on various baits, such as hot dogs and chicken livers.
* LAKE MOHAVE — Fishing reports have been light, but conditions are right for tight lines. Anglers are finding success in the backs of coves. Catfish can be found cruising the shallows at night and will take night crawlers, stink baits or chicken livers. Striped bass have been a little more elusive, but fishing with anchovies in the late afternoon has been effective. Rainbow trout are biting on PowerBait and Woolly Buggers below Willow Beach.
* LAUGHLIN — Fishing remains fair for striped bass and catfish in the areas of Big Bend, Community Park and Casino Row. According to Rusty at Riviera Marina, Casino Row produced a 9-pound striper, and the Community Park area gave up a 17-pounder. Anchovies have garnered the best response. Some of the best fishing is stocked rainbow trout. Most of the fish are being caught below the stocking points at Rotary Park and Davis Camp, but the trout are beginning to disperse along the river. Night crawlers or PowerBait are good choices. Hardware options include Li'l Jakes, Rooster Tails, Panther Martins and Mepp's spinners.
* LAS VEGAS URBAN PONDS — Action for warm water fish has begun to slow down, especially with periodic storm fronts and cooler temperatures arriving in the valley. Bluegill are still hitting on mealworms and chunks of night crawlers. Catfish are taking chicken gizzards, hot dogs and night crawlers.
* KIRCH WILDLIFE MANAGEMENT AREA — Trout fishing has been good between rainstorms. Water levels remain low, but should start rising now that fall and wet weather have arrived. The fish have been taking a variety of baits and lures, such as Powerbait or Power Eggs in orange or rainbow colorations. Hardware options include Kastmasters or Panther Martins.
* EAGLE VALLEY RESERVOIR — Trout action has been very good this past week, with the fish taking night crawlers with bits of mini-marshmallow, and PowerBait in rainbow, orange or green colorations. Scattered thunderstorms around the park have slowed anglers, as well as the action for crappie and bass.
* ECHO CANYON RESERVOIR — Though water levels are low, trout action has been improving. Bait fishers have been doing well off the dam using PowerBait in rainbow sparkle, orange or green colorations. Small spinning lures and spoons also are catching fish.
* UPCOMING EVENT — Fly Tying Tuesdays continue this Tuesday at the Las Vegas NDOW office. The free class starts at 6 p.m. and is open to those 8 and older who want to learn how to create fishing flies. For more information, and to register, visit: https://register-ed.com/programs/nevada/210-angler-education.