Nevada fishing report, Oct. 24, 2018
October 24, 2018 - 3:13 pm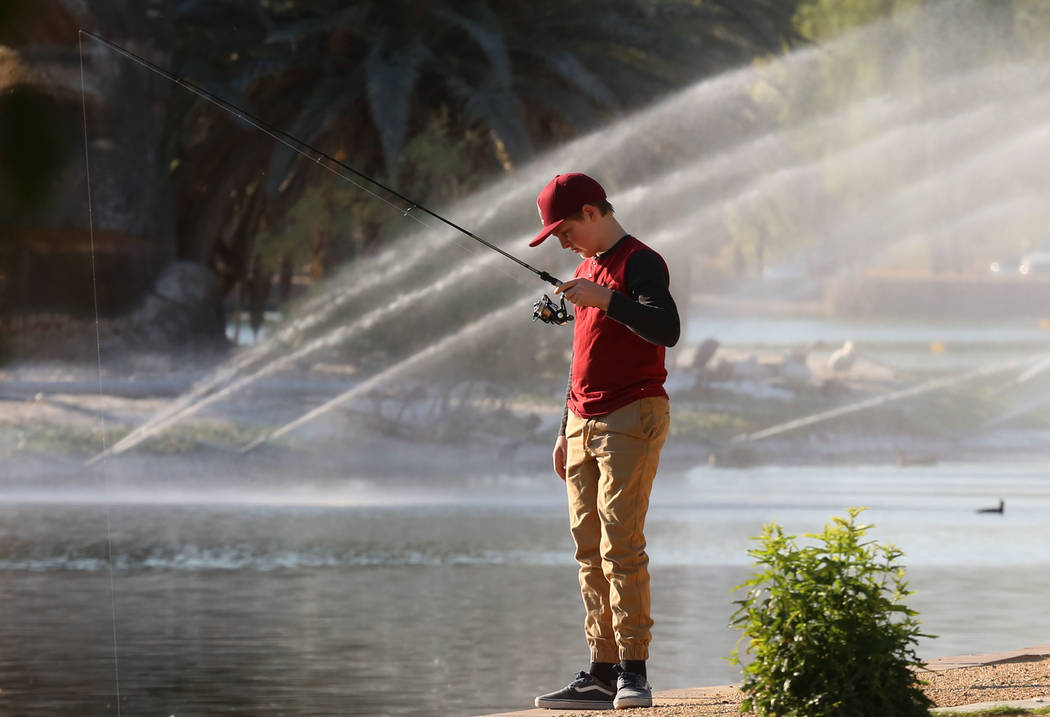 * LAKE MEAD — Water temperatures are hovering near 65, and that has all the warm water species biting. Black bass are biting out of Callville Bay on silver-colored crankbaits. Outside of Government Wash, anglers are catching striped bass with trout imitation swimbaits. Government Wash has been good for threadfin and gizzard shad. Catfish have been active and biting on anchovies fished off of shelves from shore in the evening.
* LAKE MOHAVE — With the return of warm temperatures, catfish and black bass are active and biting. Look for largemouth and smallmouth bass in the back of coves around Cottonwood Basin. They are hitting crawdads and plastic worms. Colors vary depending on water clarity. Willow Beach has been sluggish, but 3-pound stripers are taking anchovies.
* LAUGHLIN — Anglers are catching stocked rainbow trout in the 12-inch class. The fish are taking PowerBait and spinners from below Davis Dam to the Big Bend of the Colorado State Recreation Area. Stripers weighing from 1 to 3 pounds are picking up anchovies fished off the bottom, but stripers pushing 5 to 8 pounds are hitting top-water lures and jerkbaits.
* LAS VEGAS URBAN PONDS — The last catfish plant of the season was scheduled for this week at Floyd Lamb, Lorenzi, Sunset, Boulder City and Hafen Park ponds. Action for bluegill and bass has slowed down due to cooling water temperatures, while catfish action has been sporadic for anglers using night crawlers or hot dogs.
* KIRCH WILDLIFE MANAGEMENT AREA — Water levels remain low, with aquatic vegetation making fishing from the shoreline difficult. The vegetation should begin to die off as overnight lows continue to drop. Be prepared with long sleeves and mosquito repellent, especially in the late afternoon and evening hours. No additional reports were received this week.
* EAGLE VALLEY RESERVOIR — Action for rainbow, brown and tiger trout has been good, with the fish taking a variety of baits, lures and flies. Overnight temperatures have been dropping into the teens and are effectively shutting down the bass and crappie action.
* ECHO CANYON RESERVOIR — Trout action has been good, with fish taking a variety of baits and lures. Among them are PowerBait in orange, green or rainbow, as well as night crawlers. Small spinning lures, such as Mepp's and Rooster Tails, have been catching fish near the dam.
* UPCOMING EVENT — The Nevada Department of Wildlife will hold a free family fishing clinic from 9 a.m. to noon Nov. 17 at Floyd Lamb Park. Basic instruction will run from 9 a.m. to 10 a.m. with fishing to follow. The class will cover the basics of fishing at the park, along with casting skills, fish identification, bait selection, knots and rigging. Loaner rods, tackle and bait will be provided free of charge. For more information and to register for the event, go to https://register-ed.com/programs/nevada/210-angler-education.