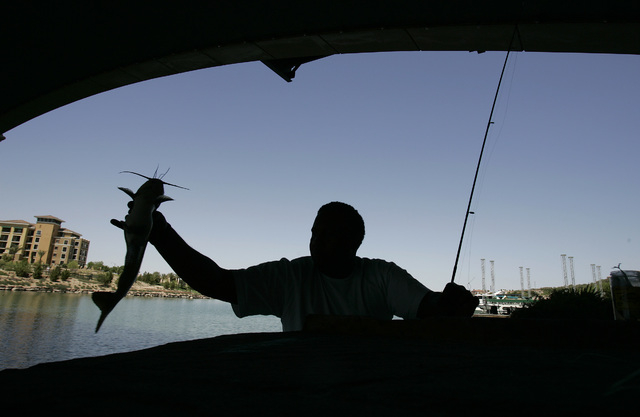 LAKE MEAD — It has been a good week for fishing. Most stripers are being caught on lures with the best luck coming from working jigs. Sunrise has been the best time for bites. With the new moon Wednesday, night fishing should be hot, especially when fishing under a light. Boulder Basin, specifically the Boulder Beach area, has been producing several catfish in the 3- to 4-pound range. Anticipation for the improved fall fishing is mounting as conditions align. Storms coming in through the weekend will lower the temperatures, which will gradually bring the fish shallower.
LAKE MOHAVE — Fishing at Willow Beach has been good over the past week. A few stripers in the double digits have been brought in with the biggest weighing in at 21 pounds. Various swimbaits have been used to entice these striped bass. Action for black bass species is slowing down but the bluegill and redear sunfish are as feisty as ever. Nightcrawler pieces have been the top bait while working the backs of coves.
LAUGHLIN — Fishing has slowed a bit over the week. While the striped bass and catfish are out there, they have proven a little more challenging to get on the hook. It has been recommended by local anglers to use bait saver thread to help cut anchovies stay on the hook. Most of the striped bass being caught through this area are in the 1- to 3-pound range. A few of the lunker catfish brought in are pushing over 9 pounds.
URBAN PONDS — Bluegill and small bass continue to take night crawlers and mealworms at most of the ponds. Catfish are scheduled to be planted this week at all the parks.
KIRCH WILDLIFE MANAGEMENT AREA — Fishing for bass, trout, and crappie on Haymeadow and Coldsprings has been slow this week. The water temperatures are around 64 degrees at the boat launches. Aquatic vegetation is making launching and navigating boats difficult at Haymeadow and Coldsprings. Fishing the upper end of Adams Reservoir was slow this last week. The vegetation on Adams is getting thick and maneuverability may be difficult for boats. Anglers are having good success for trout and bass at Dacey Reservoir. Bass are biting black plastic worms rigged Texas style and trout are hitting small black spinners. One dad and his daughter did very well for trout using dry flies. Dacey is artificial lure only and the use of power bait on Dacey is prohibited.
EAGLE VALLEY RESERVOIR —This past week a 4-plus pound largemouth was caught by a young man. Those determined to catch trout did well using the usual orange or rainbow powerbait mostly off the dam and fishing dock. NDOW will be holding an Intro to Fly Fishing at 7 p.m. Friday, Sept. 26, in the campground and the annual One-Fly, Fly-fishing tournament will be held at 8 a.m. Saturday, Sept. 27. For more information contact Ranger Ben Johnson at 775-962-5102.
ECHO CANYON RESERVOIR — This past week the success rates for crappie, largemouth and trout all picked up with anglers taking fish with a variety of lures or dunking powerbait. Nighttime temps are starting to approach freezing so come prepared for chilly nights.