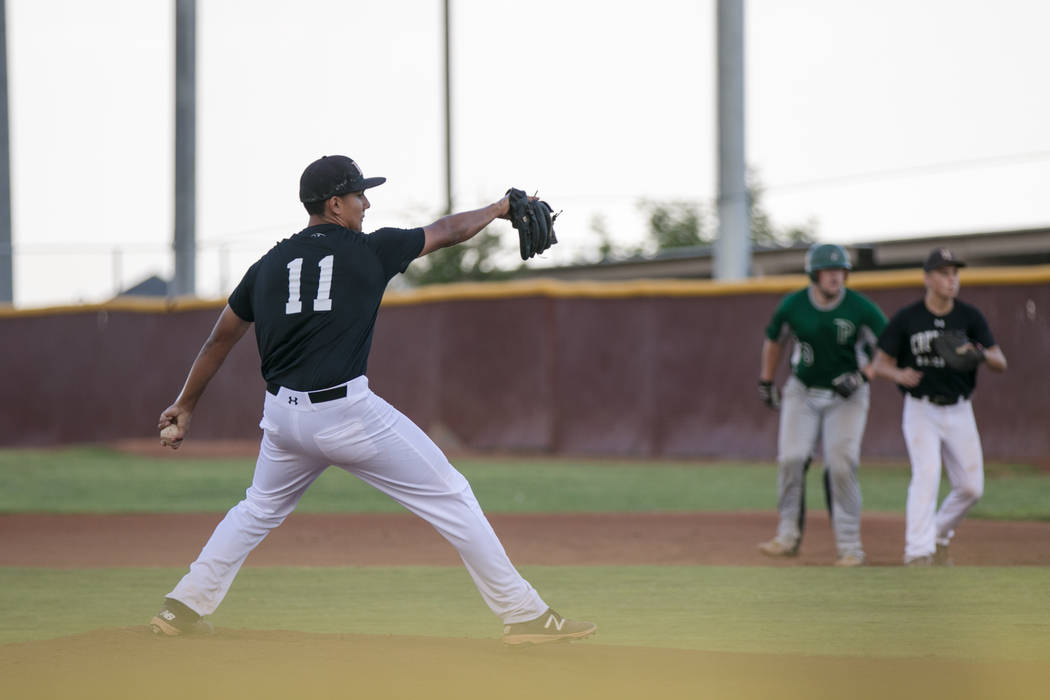 It's fair to say not much was expected of Faith Lutheran's baseball team this summer. After stumbling through a poor spring season, the Crusaders saw the Connie Mack 18U summer season as a chance to rebound and gain momentum for next season.
Rebound they did. The Crusaders won six of their first seven games, 11 of their first 13 and finished 12-4, rolling into the state tournament that begins Monday.
"After going 7-21 in the regular season in the spring, it's nice," coach David Anderson said. "We have basically the same roster we had in the spring, but we're really young."
The Crusaders' youth movement has fueled their success. They graduated just three seniors, so they were young last year, but they won't be relying on fourth-year players in 2018. Sophomore shortstop Paulshawn Pasqualotto is raking at the cleanup spot, sophomore pitcher Michael Rice has seen his velocity tick upward, and junior first baseman Jacob Ortega has "annihilated the ball," according to Anderson.
Part of summer ball includes using wooden bats, as opposed to the springtime metal. Wood bats have a smaller sweet spot on the barrel, giving hitters less margin for error and squaring a ball up.
"In a metal bat, you just hit it and it will go," Ortega said. "A wood bat, you have to be more precise with it. It's definitely harder, but it helps you focus."
"Focus" was the word Anderson used, too. And that focus has done wonders for Pasqualotto. He claimed Faith Lutheran's shortstop job as a freshman last year, and hit a respectable .257 with a team-leading 11 walks. He was in the No. 2 spot, and has hit the ball so well this summer he was moved to cleanup.
"He has found all kinds of pop," Anderson said of his 170-pound shortstop. "He's athletic enough, but he just needed the focus."
Then there's the bullpen. A weak spot on the Crusaders last year, Rice and fellow pitcher Nicholas Johnson may be easing fears the coaching staff had. The pair tossed just 16 2/3 innings last year to an unsightly 12.96 ERA, but they look like different pitchers now. Johnson is solidifying himself as a future closer, and Rice has improved on a spring where he struck out seven in 7 1/3 innings, in part because of heightened velocity and a wipeout slider.
"He's definitely figured out how to throw the ball," Anderson said of Rice, who has increased his fastball velocity from the low 80s to the 83-86-mph range. "This summertime he's really matured."
A strong summer does not necessarily portend success once the games matter in the spring, but the Crusaders see themselves as a different ballclub.
"We're encouraged by the growth we've seen from a subpar spring to a stellar summer," Anderson said.
Contact Justin Emerson at jemerson@reviewjournal.com or (702) 387-2944. Follow @J15Emerson on Twitter.
Faith Luthern standouts
Paulshawn Pasqualotto, sophomore shortstop
Jacob Ortega, junior first baseman
Michael Rice, sophomore pitcher
Sagan Gronauer, junior outfielder