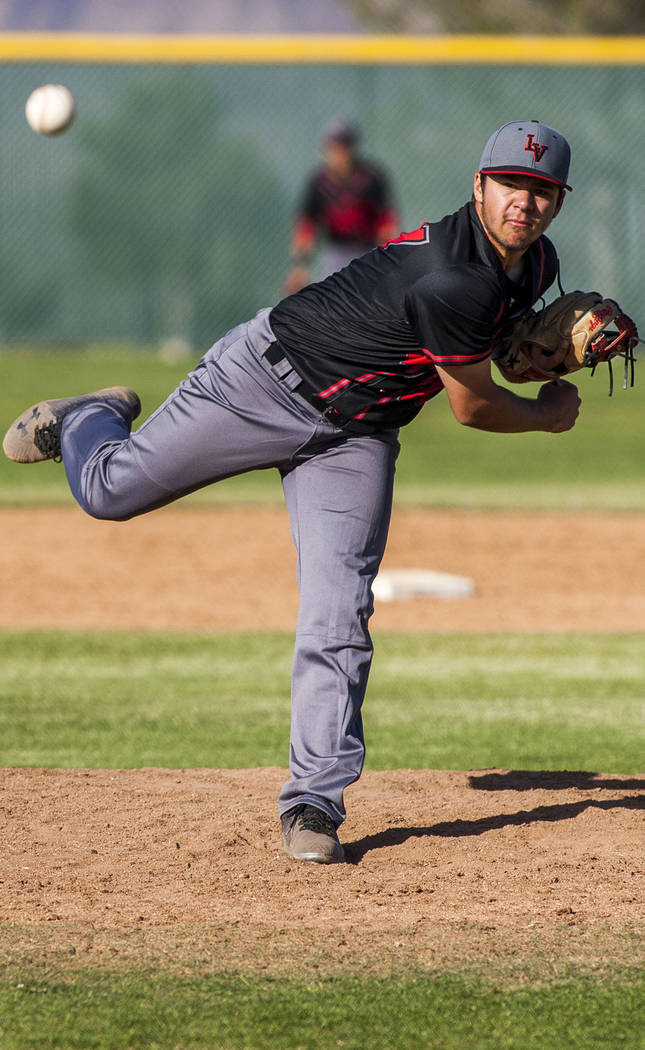 Las Vegas High starting pitcher Brandon Smith was spectacular against Foothill on Wednesday afternoon.
Foothill starter Andrew Hauck was even better.
Hauck out-dueled Smith by striking out 11 over six scoreless innings in a 1-0 home win over the Wildcats. The senior lefty and College of Southern Nevada signee also scored the lone run — unearned — in the first inning after reaching on an error.
He allowed two hits, walked two and earned quite a bit of praise from Falcons coach Matt Iglitz.
"When Andrew takes the ball, we expect good performances," Iglitz said. "But what we've got in the last few weeks has been just flat out dominant."
No kidding.
Hauck was 3-0 with a 1.59 ERA and 41 strikeouts in 22 innings before facing Las Vegas on Wednesday, and started the game by striking out the side.
He took advantage of a misplayed popup in the bottom of the first inning, scored on Chayse Parenteau's RBI ground-out and overpowered Wildcats' hitters for five more innings before ceding the mound to closer Kelton Lachelt.
"I'm always confident," Hauck said. "Scoreboard is definitely a factor, but every time I pitch I'm just throwing, (trying to get) a zero every inning."
Smith worked through jams in the second and fourth innings, and completed the game with four hits, three strikeouts and a walk to give Las Vegas a chance to win.
The Wildcats loaded the bases in the seventh inning, but Lachelt preserved the victory by inducing a game-ending flyout to right fielder Gage Streit.
"This game was a playoff time atmosphere," Hauck said. "It's going to show later on in the playoffs."
Contact reporter Sam Gordon at sgordon@reviewjournal.com. Follow @BySamGordon on Twitter.
Wednesday's highlights
Baseball
— Austin Wells hit a three-run homer in the bottom of the sixth inning to propel Bishop Gorman to a 9-7 home win over Riverton (Utah) in the Desert Classic.
— Brennan Lyman was 3-for-3 with a triple, a homer, two runs and two RBIs as Shadow Ridge coasted to an 11-1 road victory over Cimarron-Memorial.
— Izzy Gutierrez threw six innings, struck out nine and didn't allow an earned run as the Diamondbacks cruised to a 9-1 home win over Bellflower (Calif.) in the Desert Classic.
Softball
— Durango's Trinity Valentine fired a complete-game one-hitter with 14 strikeouts, and went 3-for-4 with a double, a home run, and two RBIs in a 9-1 home win over Spring Valley.
— Ashley Ward of Coronado pitched a one-hit shutout and went 4-for-4 with a triple and two RBIs in a 10-0 five-inning home win over Eldorado.
— Mia Voges hit for the cycle to help Shadow Ridge rout host Cimarron-Memorial, 15-1 in four innings.