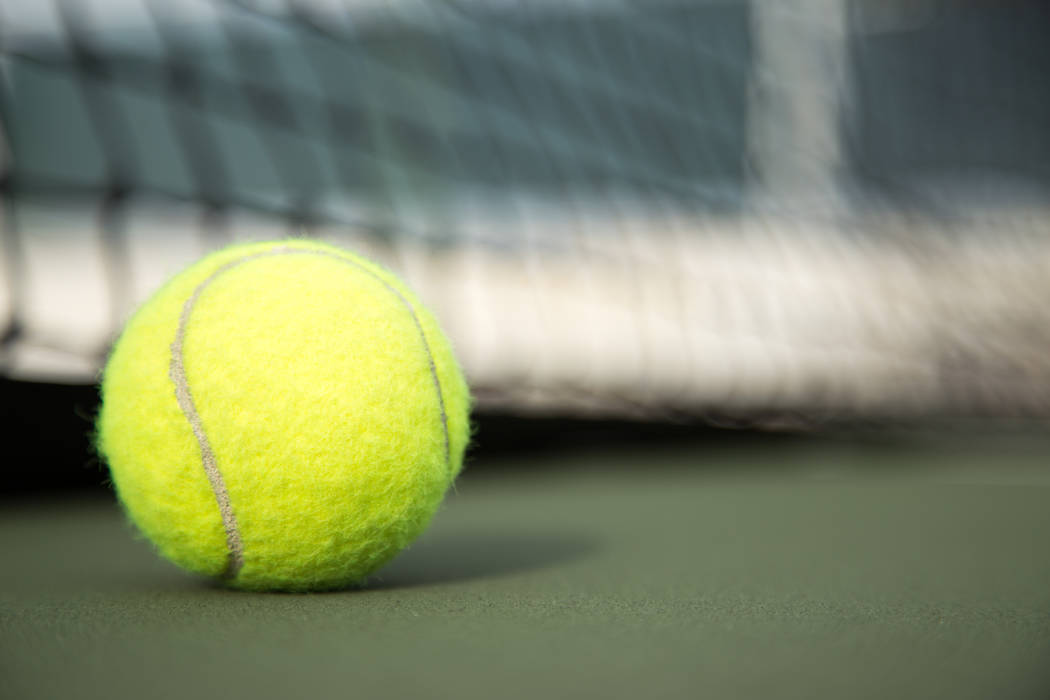 Faith Lutheran freshman Kenny Dobrev was trailing Palo Verde's Michael Andre 6-0, 4-0 when he exclaimed loudly mid-match: "C'mon Kenny! Get a point!"
Wasn't happening.
Not against Andre, a junior, and seasoned tennis player who has been competing on a national level for 10 years.
Andre went on to defeat Dobrev 6-0, 6-0 to capture the Mountain Region boys singles title Friday at Bishop Gorman.
Using his a powerful first serve and an overwhelming forehand, Andre dominated Dobrev, who on many occasions simply could return the top seed's serves.
"It's only his first year playing high school tennis, but he's in the region final, he's got three more years to go after this," said Andre, who lost just four games the entire region tournament. "He's obviously a young guy, I don't think he has as much experience as I do on the court. But he kept his head together, kept a good attitude, took it on the chin like a champ."
Andre is competing in high school for the first time, as he didn't play tennis his freshman or sophomore years. He played quarterback for Liberty's freshman football team before transferring to Palo Verde. He worked on his game with his private coach during his sophomore year and competed at high-level tournaments nationwide.
"My goal at the start of the season was to come in and win a ring for my team and win a ring for myself," Andre said. "We're moving closer to that. State is coming up so we have to perform again there."
Boch-Collins cruises in Desert singles
Calm, cool and collected.
Clark junior Audrey Boch-Collins said that's her process every time she steps on the court.
That, and making life miserable for her opponent.
The strategy was in full effect Friday in the Desert Region girls singles final, as Boch-Collins used a cerebral effort rather than a hard approach to defeat Bishop Gorman senior Angelique Friedrich on Friedrich's home court, 6-2, 6-1.
"With me, over the tournaments I've played, the goal is to frustrate your opponent as much as possible," said Boch-Collins, who will try to win her third straight state singles title next week in Reno. "Your opponents like to have rhythm, get into a good groove. But it's like, slice and make it miserable for them."
Boch-Collins, who can use her overpowering forehand at any time, mixed her shots against Friedrich, either with high floating shots to the baseline, or piercing shots just over the net.
Her disruptive flow baited Friedrich into self-inflicted mistakes throughout the match.
"She's just so annoying to play," Friedrich said with a laugh. "She gets everything back, and she's super athletic so she hustles everything down and she takes my pace and she can change it."
More preps: Follow all of our Nevada Preps coverage online at nevadapreps.com and @NevadaPreps on Twitter.
Contact reporter W.G. Ramirez at lvcheetah@cox.net. Follow @WillieGRamirez on Twitter.
Other Tennis Region Champions:
Desert Boys Singles: Andre Millett, Green Valley
Desert Boys Doubles: Max Wolfson and Oliver Filipovic, Bishop Gorman
Desert Girls Doubles: Blythe Buntrock and Kennedy Buntrock, Coronado
Mountain Boys Doubles: Axel Bottielli and Jack Kostrinsky, Palo Verde
Mountain Girls Singles: Mira Filiberti, Faith Lutheran
Mountain Girls Doubles: Kaya Richardson and Roxanne Okano, Palo Verde
Class 3A Southern Boys Singles: Connor Mikkelson, Boulder City
Class 3A Southern Girls Singles: Olivia Mikkelson, Boulder City
Class 3A Southern Boys Doubles: Boen Huxford and Preston Jorgensen, Boulder City
Class 3A Southern Girls Doubles: Grace Nemec and Peyton Barsel, The Meadows