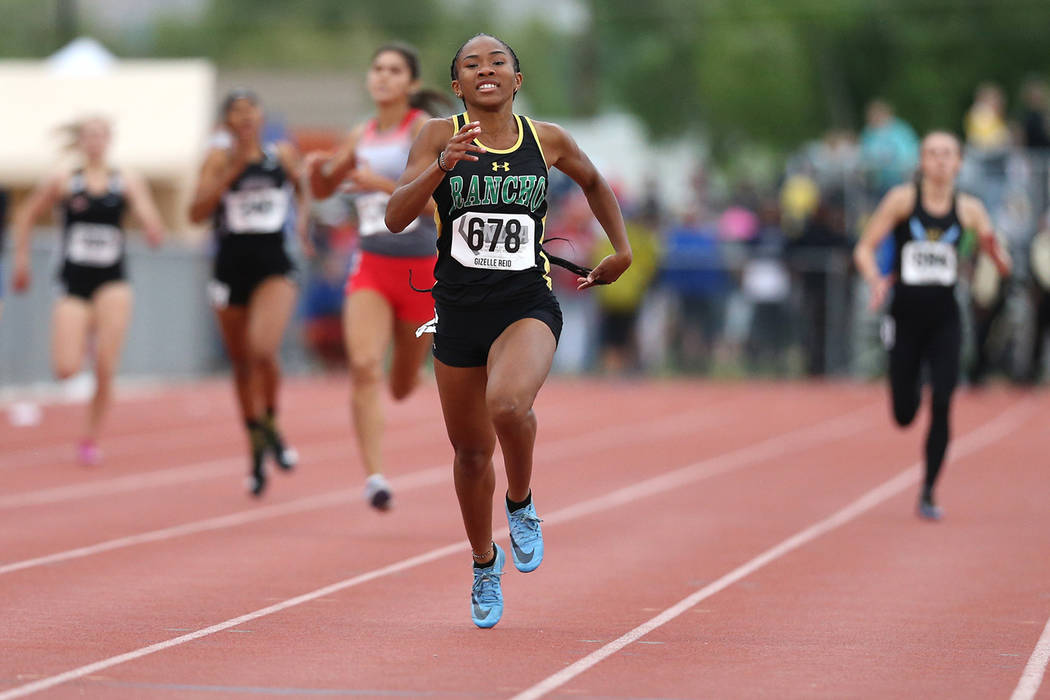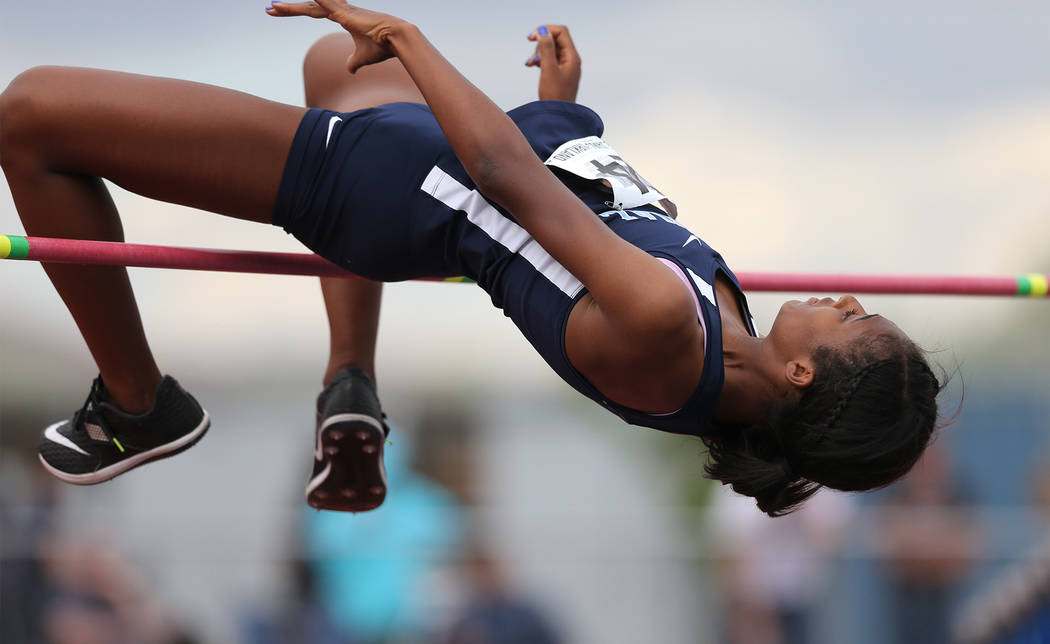 CARSON CITY — Rancho's 800-meter relay combination of Skylar Savage, Aniya Smith, Amir'a Edmond and Jordan Lee hadn't run together until Friday.
Wouldn't know it.
The Rams' foursome completed the race in 1 minute, 39.64 seconds to win the Class 4A girls state track and field championship for the second consecutive year and set a stadium record Friday at Carson High School.
"This is the last time I'm probably ever going to run with this group, with these girls," said the senior Lee, who anchored the relay for the first time. "I'm really glad we got out here and set a new record."
Rancho had posted a Nevada record time of 1:37.21 earlier this season, but sprinters coach Fredrick Morrison opted to replace top runners Gizelle Reid and Teleda Williams with Savage and Smith.
The two built a sizable lead, and regulars Edmond and Lee pulled away on the final lap to win by about 30 meters.
"They kind of surprised me. I didn't predict that time," Morrison said. "I guess they were ready. I'm proud."
Reid and Williams sat out the relay to focus on their individual events. Reid won the 400-meter dash in 54.75 seconds, and Williams won the 200 in a state-meet record time of 23.85 seconds.
"We prepare different," Morrison said. "Everybody steps up when it counts."
Gorman senior wins twice
Bishop Gorman senior sprinter Jalen Nailor won two state championships Friday.
One was close. One wasn't.
Nailor ran the 100-meter dash in 10.70 seconds — one hundredth of a second faster than Bonanza's Joey Fox — to win the Class 4A boys state championship.
He then teamed with JoJuan Claiborne, Jordan Lee and Kyu Kelly to win the 400 relay in a stadium-record time of 41.46 seconds.
"We just were ready all along," Nailor said. "By the time I handed it off, I was still running around the track because I knew we were flying. I was hyped."
Nailor will run the 200-meter dash and 800 relay Saturday for the Gaels, who lead after the first day.
"It was great to see them get on this big stage and bring it all together," Gorman sprinters coach Sheva Branch said. "All the training has already been put in place."
Contact reporter Sam Gordon at sgordon@reviewjournal.com. Follow @BySamGordon on Twitter.
State track and field
Team leaders after Friday
Class 4A
Boys: Bishop Gorman
Girls: Centennial
Class 3A
Boys: Mojave
Girls: Lowry
Class 2A
Boys: Battle Mountain
Girls: White Pine
Class 1A
Boys: Spring Mountain
Girls: Wells