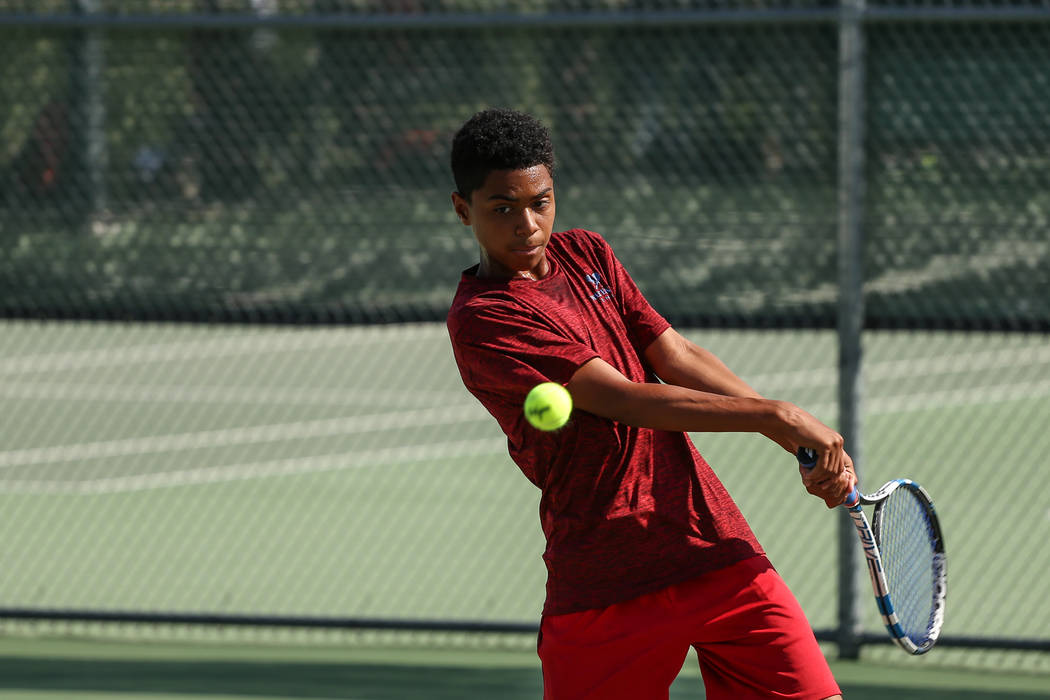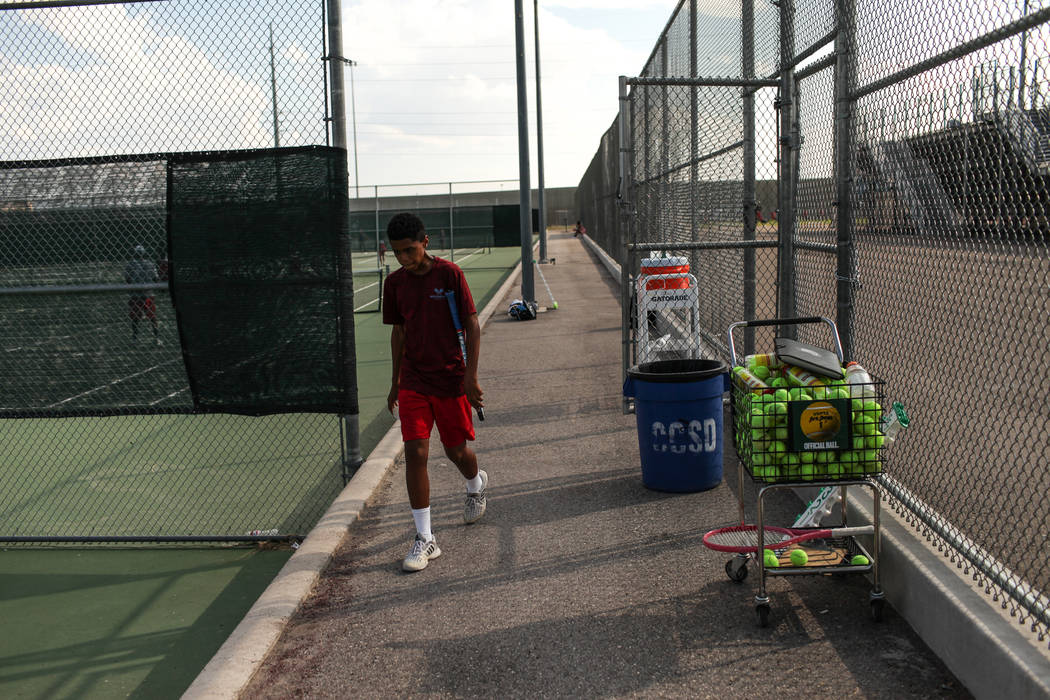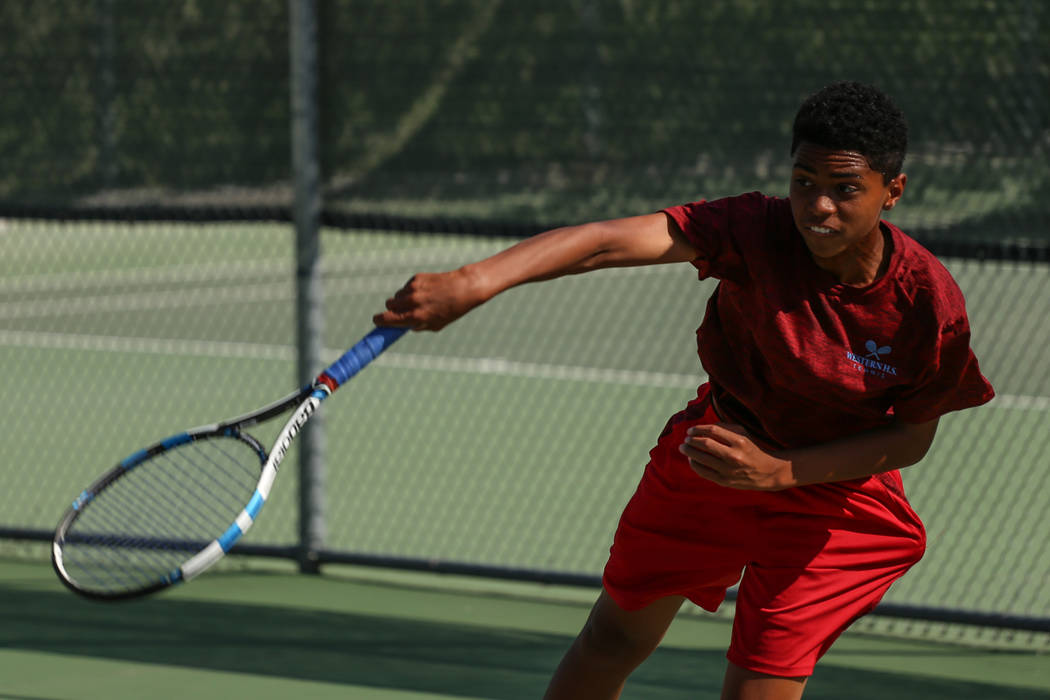 Just over U.S. Highway 95 on North Decatur Boulevard, the sun beams onto the Western High School campus with no remorse.
During a Tuesday afternoon practice, Warriors boys and girls tennis players set their rackets on the ground and work together to mitigate the desert heat. With only a step stool, a pair of pliers and a newfound sense of pride for their program, they each take turns clamping a large shade and wind structure to a chain-linked fence.
"Budget cuts," second-year coach Derek Thomas said. "So we got to do it ourselves."
Western doesn't have the resources, and the school is not a tennis powerhouse.
But Rua Elmore is doing his best to change its complexion. As a freshman last season, he annihilated Class 3A competition en route to a 29-1 record — the loss coming in the state final — and is back for more this season, though he doesn't need to be.
"I came back here to complete what I didn't do last year," said Elmore, alluding to the loss in the state final. "It's not that I expect to win, but that is the goal. And I believe I'm prepared to execute."
As Western fights off low participation numbers, the home-schooled Elmore has become the face of the tennis program the past two years. This, while juggling a four-hour tennis academy each morning — five days a week — and loads of schoolwork.
But unlike many of his peers who play national level competition, Elmore doesn't sit out of high school competition. Hoping to one day earn a Division I scholarship, he chooses to play for the school he's zoned for. It's a passion that rubs off on his teammates.
"I love tennis," said Elmore, whose dad is a local tennis instructor and whose older brother plays at Villanova. "You couldn't really do this as much as I do and then have to do schoolwork (if you weren't all in). … It just monopolizes the entirety of your day. It's not so much work as it is something I love to do."
With a dynamic forehand and strong all-around game, the 5-foot-6-inch, 120-pound standout is off to another strong start this year. He's 16-0 and isn't headed for a sophomore slump despite being on everyone's radar.
"We're starting to get a lot more kids and people to come out and watch our matches because of what he's doing," Thomas said. "They heard about him, and it's grown. … It's growing little by little. He's helping us build the program."
While Thomas works to improve the aesthetics, which includes getting team benches installed on the court, Elmore is doing his part to create a competitive atmosphere for a team that rarely makes headlines, let alone gets the requisite six players for team competition.
Because it has only two players, the Western boys have forfeited every match this year. The girls, on the other hand, sent out a full squad last week for the first time this season.
Thomas believes the growing interest and competitiveness in practice has come from the exposure brought on by Elmore.
"You see the work he puts in, so you're like, 'I know what it's like.' It raises our level," Thomas said. "When you watch him play, you're pretty much amazed. I equate it to — he's kind of, for (Class 3A) tennis, what Gorman football is or what Centennial's girls basketball is. For tennis, in this area, he's like that type of person for our sport."
Elmore downplayed his importance to the program, and insisted he's just like everyone else.
"I don't really feel the pressure," Elmore said. "It's definitely there, and there is some level of expectation. They just want me to do well. … But, honestly, it's not a big deal. I try not to let it bother me. It doesn't really sway me too much."
Contact reporter Ashton Ferguson at aferguson@reviewjournal.com or 702-383-0430. Follow @af_ferguson on Twitter.