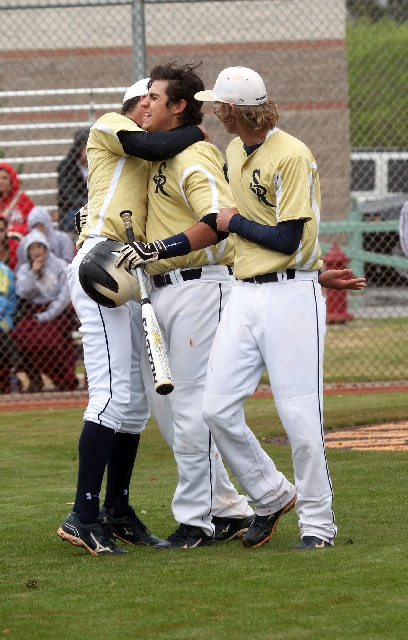 Logan Hold had already raised his fist and started to walk off the mound to celebrate a Shadow Ridge victory when an error extended the game and brought the tying run to the plate.
But Hold just shrugged it off and struck out Kaid Urban, his 13th strikeout of the day, to secure a 4-2 home victory over Arbor View.
"Just outstanding," Shadow Ridge coach Frank Tousa said of Hold's performance. "He showed his senior leadership and didn't let tense situations get to him, especially with the error in the top of the seventh."
With two outs and a runner at second, Nate Stepna lifted a towering fly ball to center field. Alec Pittsenbarger charged it, but the ball went off his glove, then off his foot and all the way into foul territory beyond the right-field line, allowing a run to score and Stepna to reach third.
"That's baseball," Hold said. "You've got to play all 21 outs. He's probably one of the best center fielders in the city, so that's not going to happen very often, but he boots the ball and that's why we got four runs. You've got to come back and keep your composure and just pitch and do your job."
Hold did his job all day. He wasn't rattled by a rain delay of about 30 minutes, and he pitched out of a jam in the sixth when another error and a chopper off the plate that went for an infield single helped the Aggies load the bases with one out.
Hold struck out Tyler Peterson and got Brandon LaPointe to fly out to Pittsenbarger in center to preserve the 4-1 lead.
The Mustangs (20-1, 3-0 Northwest League) jumped on top early when Ben Fitzhugh drove a 2-2 pitch over the center-field fence to lead off the bottom of the second.
"That's probably the biggest play of this game," Hold said. "Our confidence freaking skyrocketed after that. That was a huge confidence-builder, it got us all up, and from there on, it was just like we were going to win; we expected to win."
The Mustangs got RBI doubles from Travis Caskie and Fitzhugh in the third to extend the lead, but Tousa agreed it all started with Fitzhugh's shot off Arbor View ace Evan McMahan.
"It was huge for our kids to believe they could compete with McMahan on the mound," Tousa said.
Shadow Ridge added a run in the fourth on a two-out RBI double by Pittsenbarger. That was more than enough for Hold, who allowed six hits and walked two, improving to 6-0.
"Last year he had no run support whatsoever," Tousa said. "This year we get a few runs for him, and he takes that and runs with it."
Pittsenbarger was 2-for-4 with a triple, and Fitzhugh went 2-for-3 for the Mustangs.
Urban was 2-for-4 for Arbor View (21-3, 2-1).
Contact prep sports editor Damon Seiters at dseiters@reviewjournal.com or 702-380-4587. Follow @DamonSeiters on Twitter.
MONDAY'S HIGHLIGHTS
BASEBALL
Palo Verde's Cole Schumacher hit a walk-off grand slam with two outs in the bottom of the seventh inning of the Panthers' 8-4 home win over Durango.
Silverado's David Kuzma was 3-for-4 with two RBIs and tossed a six-inning two-hitter with eight strikeouts as the Skyhawks topped host Valley, 11-1.
SOFTBALL
Cheyenne's Taylor Cole was 3-for-4 with a triple, a double, a run and seven RBIs in the Desert Shields' 8-2 home win over Faith Lutheran.
Green Valley's Samantha Loving tossed a five-inning no-hitter with eight strikeouts and one walk in the Gators' 16-0 win over visiting Canyon Springs.
Silverado's Riana Splinter went 3-for-4 with two home runs, including a grand slam, and six RBIs as the Skyhawks routed host Valley, 18-1 in five innings.
Rancho's Brandy Marlett spun a five-inning one-hitter with eight strikeouts to lift the Rams over visiting Las Vegas, 10-0.