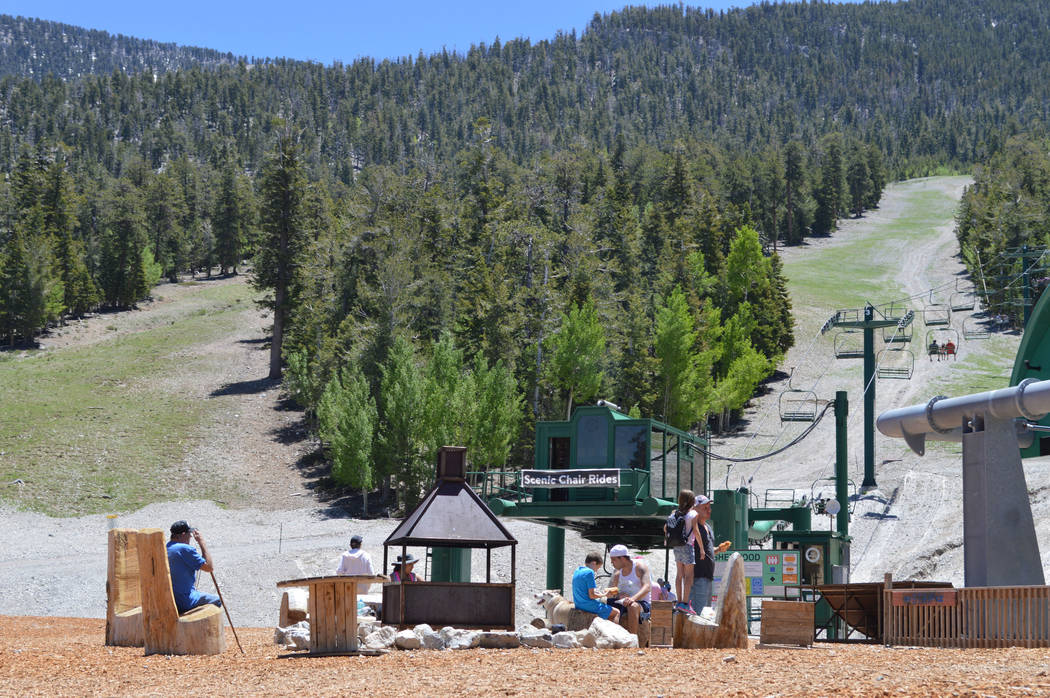 Winter is coming, and that means Lee Canyon will soon have to break out the skis.
The Spring Mountain resort has only one weekend left in its summer season, which comes to a close Monday. It will soon take time off to get ready for its more popular winter season, but Lee Canyon Marketing Director Jim Seely said there was an increase in traffic this summer to go along with a few new attractions.
"Every year we've grown. This year was no exception," Seely said. "Every year it's great. It's tens of thousands of people."
For its fifth summer season, one of Lee Canyon's big additions was the Onewheel, a self-balancing electric skateboard that boasts just one wheel in the middle. The resort took people out on 90-minute sessions, later shortened to 30 minutes, to test drive the objects and wheel around an obstacle course.
The board, which started as an idea on the crowd-funding website Kickstarter in 2014, has been described as "snowboarding on terrain."
"We loved being an early adopter," Seely said. "We're excited to see that stores in Las Vegas are popping up starting to sell Onewheels."
Seely estimated that the resort had more than 100 people to test drive a Onewheel this summer, and the boards will be making a return appearance next year. They were one of two new attractions from Lee Canyon, the other being an archery range for those ages 8 and older.
"(Archery) surprised a couple of us with how much that took off," Seely said.
The Onewheels and archery range will be available for one more weekend before the resort begins preparing for the arrival of skiers and snowboarders. Lee Canyon is already thinking ahead, offering a sale on winter season passes through November 4.
"We added some new events this summer and they were great," Seely said. "(Now) we're excited for winter."
Cycling
Clif Bar CrossVegas, the largest cross-country cycling race and festival in America, will be held on Wednesday, Sept. 20 at Desert Breeze Park in Las Vegas.
Local racers and competitors from 13 different countries are expected to race in the event.
General admission tickets are $15, while VIP tickets are $100 and include dinner, beverages and better viewing. Tickets can be purchased at the race's Eventbrite page.
Recreation notebook appears Wednesdays. Contact Ben Gotz at bgotz@reviewjournal.com. Follow@BenSGotz on Twitter.