New Foot Locker ad pokes fun at sports legends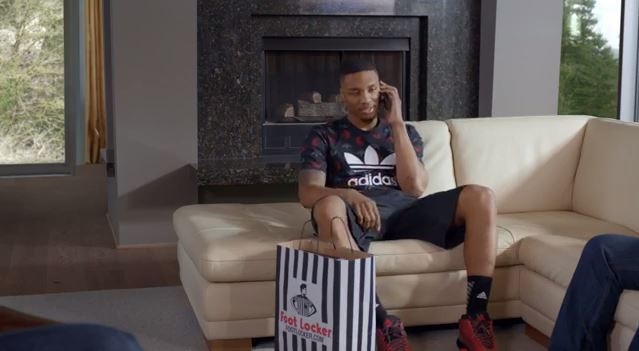 A new Foot Locker and Adidas ad that features Portland Trail Blazers point guard Damian Lillard pokes a little fun at some former NFL and NBA players.
Returning home from a trip to Foot Locker, Lilliard is speaking to someone on the phone and says, "Look good, play good, right? The last thing I want to be is one of those guys that never won a ring."
Cut to LaDainian Tomlinson and Barry Sanders – NFL runningbacks with storied careers, but no championships – with stunned faces sitting on the couch across from him.
"Barry, LT, I meant one of those basketball players that never won a ring," Lilliard says trying to recover.
Enter a stink eye look from former NBA player Chris Webber, who was one of the best power forwards during his playing days, but too never won a championship.
"No, Chris, I meant one of those legends who lost in the finals over and over," Lilliard says as Karl Malone enters the room with a platter full of hamburgers, then walks away from the group with his head hung low.
Malone went to the NBA Finals twice in his Hall of Fame career with the Utah Jazz, but lost to Michael Jordan and the Chicago Bulls both times.
Contact Kira Terry at kterry@reviewjournal.com. Find her on Twitter: @kiraterry