New race gives runners a chance to explore Valley of Fire
Updated March 28, 2017 - 8:47 pm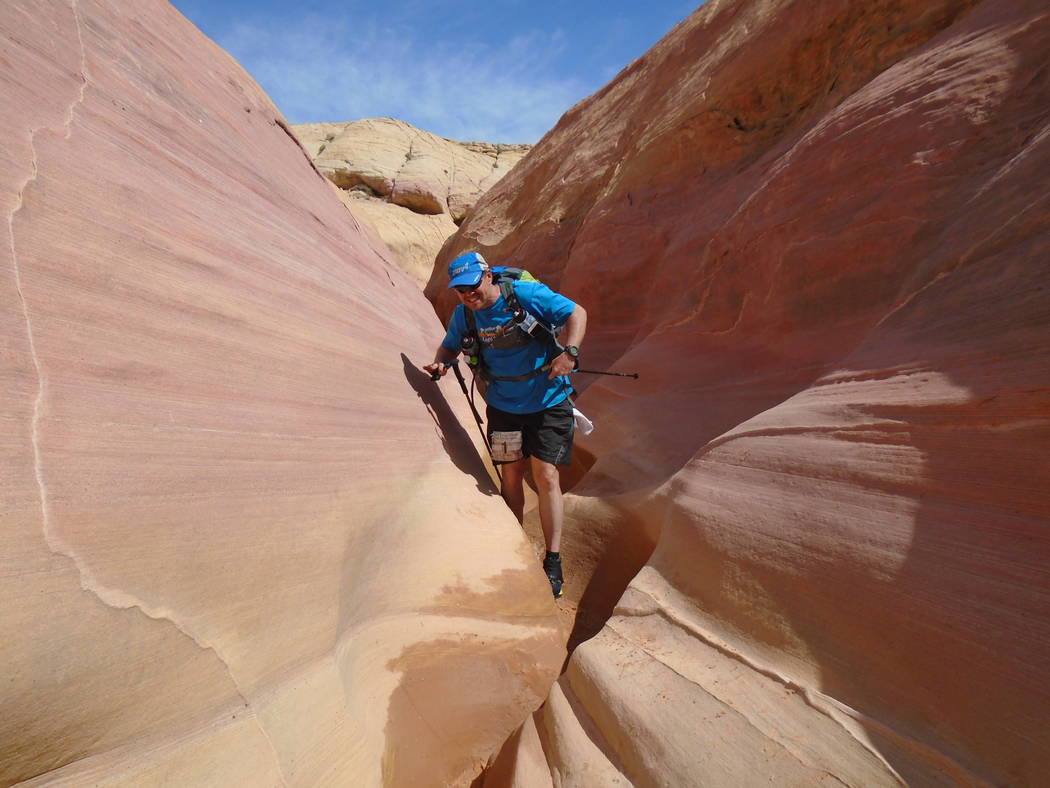 The idea came to her years ago, but this weekend, Joyce Forier will finally see it come to fruition.
Forier wanted to create a "appetizer" of the Vegas Valley Voyage, a 150-mile overland stage race, that was a little more attainable, so she came up with the Rally in the Valley of Fire, of which she is the organizer and race director.
The new race is a three-day running festival for some with two nights of camping, though it includes shorter options.
Other options include a single-day half marathon Friday, Saturday or Sunday, or an 8.25-mile race or 5k on Sunday.
The three-day festival includes entrance to Valley of Fire State Park for three days and overnight camping Friday and Saturday in the park as well as meals from Friday morning to Sunday afternoon, among other things.
Each day's route offers different views within Valley of Fire, and those signed up for the festival can choose their distance for Sunday's race.
Forier said the entire race will have about 125 participants, with 15 or fewer participating in the camping portion.
"It's definitely much more of a boutique race," Forier said.
Online registration is closed, but on-site cash only registration is still available. The three-day festival is $550, while the half marathons are $120, the 8.25-mile race is $110 and the 5k is $55.
"We only opened registration back in December, so we didn't have a tremendous amount of lead time as far as getting the word out and getting on people's racing calendars," Forier said. "I think it's a great start, and I'm just aiming for them to have an absolute fantastic time and to kind of grow the event a little bit next year."
LEE CANYON CLOSING SUNDAY
Las Vegans looking for some final ski runs at Lee Canyon have until Sunday.
Closing weekend, dubbed Feel Good Weekend, will be Friday to Sunday, and a portion of every lift ticket sold will go to High Fives Foundation.
Friday will feature live music and giveaways, and Saturday is island-themed and people are encouraged to dress the part. Sunday's final day will feature a pond skim contest and more music and giveaways.
"Lee Canyon has had a great winter season, and we'll be celebrating with snow goers all weekend long to give old man winter a proper send-off," Lee Canyon marketing director Jim Seely said. "Closing is always bittersweet, but we look forward to an epic summer season."
Contact Betsy Helfand at bhelfand@reviewjournal.com. Follow @BetsyHelfand on Twitter.
CALENDAR
Friday-Sunday: Rally in the Valley of Fire, 13.1M, 8.25M, 5K, run, Valley of Fire
Saturday: April Phools Reverse Tri, sprint triathlon, Henderson
Saturday: Catch the Leprechaun Run, 5K run, Las Vegas
Saturday: Rockin Rabbit Run, 13.1M, 5K run, Boulder City