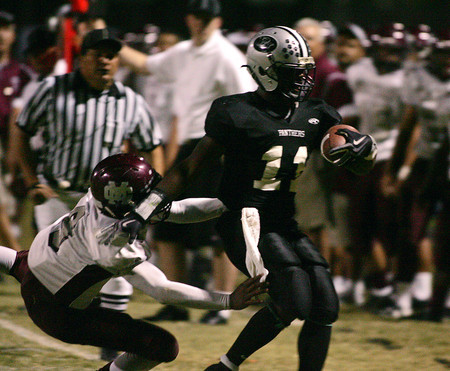 Sometimes it's difficult to stand out when you're the new kid on a veteran team.
But Palo Verde junior Brandon Wright certainly made his presence felt Thursday night.
The Centennial transfer scored three touchdowns to lead the top-ranked Panthers to a 20-7 home victory over No. 3 Cimarron-Memorial.
Wright had two touchdown runs, both on fourth down, and caught a 41-yard touchdown pass from Sean Mears to power Palo Verde (4-0, 2-0 Northwest League).
"Everyone thinks this is a Mickey Mouse offense, but the timing on it's so huge, and he's starting to click with it," Palo Verde coach Darwin Rost said of Wright's adjustment to the team's double-wing offense. "When to pop it, when to cut it back, and he's really starting to see it.
"He's a really good back. I just like how quick his feet are."
Wright broke a 7-7 tie with 1:09 to go in the third quarter when he took the ball around the left side and raced 5 yards for a touchdown on fourth-and-1.
Wright added an 18-yard touchdown run on fourth-and-2 with 19 seconds to play to seal the win for the Panthers.
"I was happy, but I've got to give all the credit to the linemen," Wright said. "If your line ain't blocking, you can't do anything, basically."
Wright rushed for 69 yards on 12 carries, but his most impressive play came on a rare downfield pass by Palo Verde.
Mears lofted a pass into the end zone, and Wright came down with a terrific catch between two defenders for the first score of the game, with 34 seconds to go in the first half.
"He threw a real nice ball," Wright said. "It was right there, and all I had to do is go up and get it. I wanted it more than they did, and I just had to go up and get it."
Cimarron (2-1, 2-1) tied the score on its first possession of the second half, set up by a 47-yard punt return by James Poole.
Poole caught the bouncing ball at full speed and returned the ball to the Palo Verde 17. Two plays later, Stephen Nixon sprinted up the middle for a 13-yard touchdown run, and Alex Ramos kicked the extra point to tie the score with 7:02 left in the quarter.
Palo Verde drove 65 yards on the ensuing possession, capped by Wright's 5-yard touchdown run, to take the lead, and the Panthers got an interception from Lance Harkey on the ensuing possession to swing the momentum for good.
It was Harkey's second interception of the game.
The Panthers forced three turnovers and held the Spartans to 170 yards of offense.
"The kids played real physical," Rost said. "They've got a lot of speed in that backfield. The kids did a good job of staying home and reading their keys."
Cimarron nearly struck first, but a key penalty derailed the drive. The Spartans got to the Palo Verde 6, but a holding penalty in the backfield moved the ball back to the 19, and Ramos missed a 36-yard field-goal attempt.
Tyrone Blake led Palo Verde with 93 yards on 20 carries. Wright had three catches for 50 yards.
"This is probably the biggest win we're going to have until the playoffs," Wright said. "I know that (Cimarron's) got the people to beat us. I know that we just won, and that's the greatest feeling."
Contact prep sports editor Damon Seiters at dseiters@reviewjournal.com or 702-380-4587.
In-depth high school sports coverage
THURSDAY'S SCORES
Legacy 32, Arbor View 7
Centennial 28, Shadow Ridge 19
Cheyenne 38, Faith Lutheran 21
Palo Verde 20, Cimarron-Memorial 7
Bishop Gorman 62, Sierra Vista 6
Desert Oasis 42, Bonanza 34
Durango 43, Clark 26
Spring Valley 35, Western 6
Mojave 14, Pahrump Valley 7
Liberty 21, Canyon Springs 13
Green Valley 45, Chaparral 20
Silverado 29, Desert Pines 22
Basic 28, Eldorado 7
Foothill 37, Rancho 0
Coronado 27, Valley 26
The Meadows 48, Calvary Chapel 34
Henderson International 56, Beatty 18
Del Sol 33, Las Vegas 28