Las Vegan Dalton Kincaid goes to Bills in 1st round of NFL draft
Updated April 27, 2023 - 9:34 pm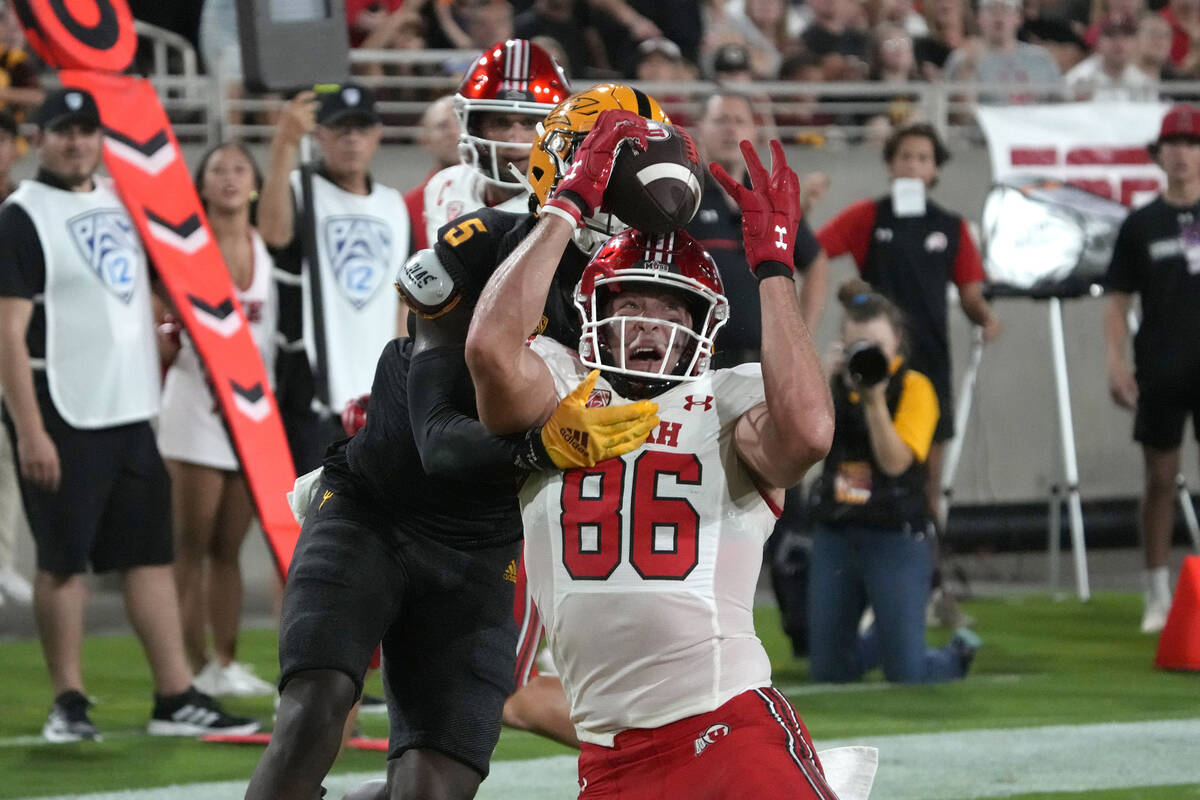 Former Faith Lutheran High star Dalton Kincaid didn't receive a football scholarship to the University of San Diego.
He will get paid to play football next season.
Kincaid, a senior tight end who finished his collegiate career at Utah, was selected in the first round of the NFL draft Thursday, going to the Buffalo Bills, who traded up two spots to No. 25 to take him.
Formerly a wide receiver at San Diego, the 23-year-old transferred in 2020 and spent the past two seasons for the Utes, for whom he totaled 1,400 receiving yards and 16 touchdowns in 2021 and 2022.
At 6 feet, 4 inches and 244 pounds, Kincaid is among the best pass catchers in the draft class.
"He's a tough matchup for a safety because of his size. He's a tough matchup for a linebacker because of his speed and athleticism," Utes coach Kyle Wittingham told the Review-Journal.
"He can run every route in the route tree. He does it all. As a receiving tight end, he does it all."
Kincaid first attended Coronado High, where he focused on basketball before transferring to Faith Lutheran as an upperclassman. He played receiver for the Crusaders in his senior season of 2017, earning All-State honors with 37 receptions for 745 yards and eight touchdowns.
He remained an unranked recruit and committed to San Diego, where he earned All-America honors.
During the onset of the COVID-19 pandemic in 2020, Kincaid decided to transfer and triggered Utah's interest shortly thereafter because of his "huge potential," Whittingham said.
"He's got soft hands. He's got quickness. He has size. Run after the catch ability and great at the 50-50 balls. We didn't see anything we didn't like," Whittingham said. "We brought him in, and he lived up to every expectation we had."
Kincaid redshirted in 2020, catching 36 passes for 510 yards and eight touchdowns the following season. He contemplated entering the 2022 NFL draft, but elected to return for his senior season — and catch 70 passes for 890 yards and eight touchdowns.
"We think he's going to be a guy that makes an impact right away in the National Football League," Wittingham said.
Kincaid should sign a fully guaranteed four-year, $13.4 million contract, including a $6.7 million signing bonus, according to Spotrac.
Contact Sam Gordon at sgordon@reviewjournal.com. Follow @BySamGordon on Twitter.