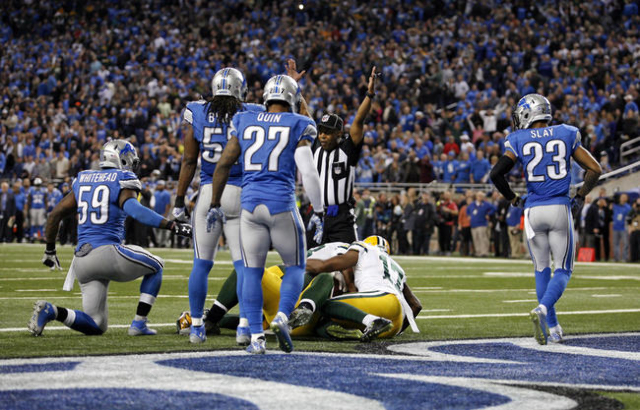 The NFL's top official defended the face-mask call against the Detroit Lions that gave the Green Bay Packers an untimed down for Aaron Rodgers' Hail Mary touchdown pass.
Rodgers gunned a 61-yard pass to tight end Richard Rodgers on the final play to give thePackers a shocking 27-23 win over the Detroit Lions on Thursday night at Ford Field.
Before the stunning outcome, the Packers needed a big break just to have a final chance. Aaron Rodgers threw a desperation pass on the previous play. After a couple of laterals, the ball wound up in the quarterback's hands again with no one behind him. But as Rodgers tried to run forward, Lions defensive end Devin Taylor touched his face mask, drawing a flag. That gave thePackers another play with time expired.
At full speed, it looked like a clear call as Taylor's hand connected with Rodgers' face mask. Upon slow-motion review, Taylor's finger hit the face mask but it may be debatable whether he grasped or pulled the face mask.
The face-mask call gave the Packers one last untimed play — along with 15 extra yards — that resulted in Rodgers' Hail Mary touchdown pass.
In a tweet issued immediately after the game, NFL vice president of officiating Dean Blandino defended the face-mask foul by saying an official "is going to make that call almost every time."
In an appearance on NFL Network after the game, Blandino suggested that, even if replay review were available to overturn the ruling on the field, it may not have been reversed.
"It's a close play, but even looking at the replay, the hand is up near the mask, the finger looks like it gets caught in the mask and the head gets turned," Blandino said. "So I'm not convinced it wasn't a face mask even looking at the replay, but live at full speed the referee is going to see that hand at the mask and the head turn and he's going to make that call every time."
Blandino was asked whether the call, which by rule is not subject to replay review, could have gone either way.
"You know, it's one that it's really close and so we made the call," Blandino said. "I think when you watch the play live I was just like everybody else. You thought, 'That's a face mask,' and then you see the replay and it's a lot closer than it initially seemed. But again, hand up near the mask, finger caught in the bottom bar and the head does turn."
Taylor said after the game that he didn't believe he grabbed Rodgers' face mask.
"It's whatever the refs call," Taylor said. "I can't control whatever they decide. I can just play ball, keep going. I didn't believe I touched it."
Aaron Rodgers thought the correct judgment call was made on the play.
"It was a face mask," he said. "I was looking for the flag afterwards. I don't really flop any calls. That was a legit face mask."
Article 14 of the NFL rulebook states: "No player shall grasp and control, twist, turn, push, or pull the face mask of an opponent in any direction. If a player grasps an opponent's face mask, he must immediately release it. If he does not immediately release it and controls his opponent, it is a foul."
Like Sports News on Facebook: