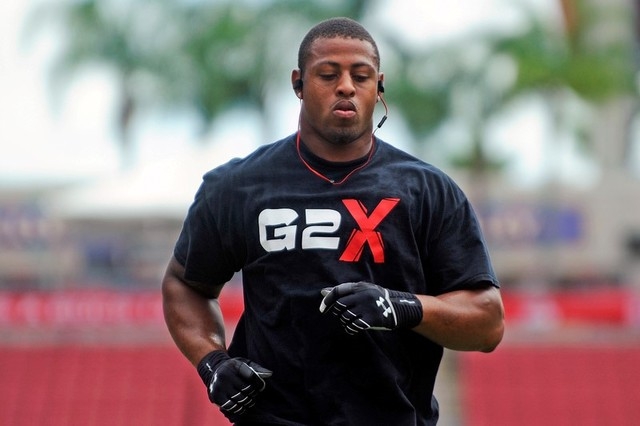 The NFL will be allowed to view seven photographs from Greg Hardy's domestic violence case to help determine whether the former Carolina Panthers defensive end violated the league's personal conduct policy.
The Mecklenburg County District Attorney's office in Charlotte, N.C., said Wednesday it will allow the NFL to see seven photos in the prosecutor's file from Hardy's first trial.
The NFL had acquired the Charlotte-Mecklenburg Police Department's photos, but the league was missing seven photos that were submitted into evidence not taken by police.
A Mecklenburg County judge signed off on a protective order that will allow the NFL, the NFL Players Association, Hardy and Hardy's attorney to look at the photographs without the district attorney's office relinquishing custody of them, according to ESPN.com.
The NFL filed suit against the state of North Carolina and district attorney Andrew Murray in order to seek photos of injuries to Hardy's ex-girlfriend, Nicole Holder, guns in Hardy's Charlotte apartment and other evidence in a July 15 trial. A Mecklenburg County judge found Hardy guilty of assaulting and threatening to kill Holder.
The 26-year-old Hardy appealed the ruling by the judge and a jury trial set for Feb. 9 did not occur because Holder did not appear to testify after reportedly receiving a financial settlement from Hardy. The case was dismissed.
The court agreement to see the photos allows the NFL to continue with its investigation without compromising the DA's file.
"We reached a mutually beneficial agreement where we got the documents we wanted in order to proceed with the disciplinary action," said Charlotte attorney Monroe Whitesides Jr., who filed the complaint on behalf of the NFL.
The league's suit will be dropped within two days after the district attorney makes the seven photos available for review.
"We appreciate the District Attorney's office agreeing to make the information available to us and we look forward to the opportunity to review the photographs," NFL spokesperson Brian McCarthy said.
On March 18, the Dallas Cowboys signed the free agent Hardy to an $11.3 million deal that was structured in a way that he will not get paid $578,125 for each game missed in 2015.
Hardy played only one game last season but received $13.1 million from Carolina. He was placed on the inactive roster in Week 2 and then put on the commissioner's exempt list before Week 3.
Hardy, who had 15 sacks with the Panthers in 2013 during his Pro Bowl season, remains on the commissioner's exempt list and could face an NFL suspension of as many as six games.
RELATED:
Dallas mayor rips Cowboys for signing defensive end Greg Hardy