First live Pro Bowl skills telecast a challenge for ESPN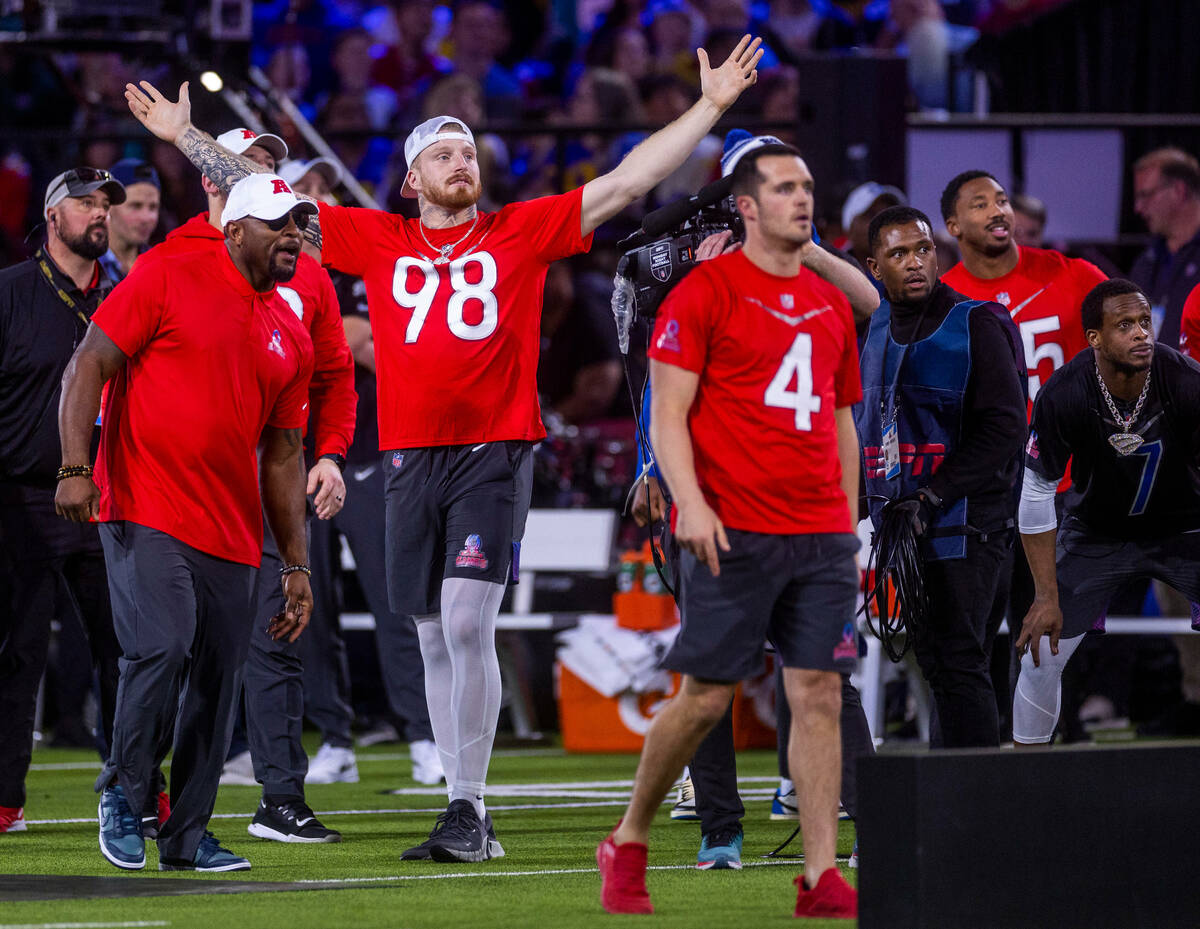 The 2023 NFL Pro Bowl Games not only took on a new name and format, it marked the first year the annual skills showdown was broadcast live on ESPN.
It has been around for years, but always aired on a tape delay. With the changes to the Pro Bowl format, the NFL thought the time was right to introduce the live element to the event, according to Matt Shapiro, NFL vice president, event strategy and integration.
"We knew that being live brings a level of excitement and intensity that you can't entirely replicate when you're in a taped show," Shapiro said. "That had been something that we wanted to achieve and we went for it this year."
The big difference between taping the skills event and hosting it live is timing. Sticking to the strict broadcast schedule meant less downtime between events and little room for error on the production side.
"There were a couple of pre-taped elements in the show, things that were out at iconic Las Vegas places." Shapiro said. "But overall it was all about making sure we were doing all the little things to make sure that we were consistently ready to move to the next challenge and hit the time we needed to."
Jimmy Platt, director of the Pro Bowl Games skills competition for ESPN, agreed, saying live events provide for a greater energy over pre-tapped airings.
"You get a better feel for the broadcast and I think that came through (Thursday night)," Platt said.
The players are the wild card in such live tapings, as there is no real rehearsal to prepare them for the event.
"It's hard to gauge how long it's going to take," Platt said. "We spent two days of extensive blocking and rehearsal for what we could, outside of using the players for that … It becomes like a game or an event (for broadcasters), you react and document how it plays itself out."
A small army of staffers from the NFL and ESPN were in Las Vegas for more than a week preparing for the Pro Bowl, which included the skill competition at the Raiders' practice facility in Henderson.
Platt estimated there were around 125 people on the ground between the production, technical and operations crews making the live event possible.
Crews took the Raiders' indoor practice field and transformed it into a made-for-television arena. There was special lighting rigged above the field, with different objects laid out for the various events, making the facility feel completely different from its usual form.
"This facility is beautiful and it's really a turnkey place to come in," Shapiro said. "We were able to come in here and get right to work. We were able to transform this place into what feels like a big TV studio."
Platt also serves as director for Monday Night Football and said executing the Pro Bowl live is nothing like an NFL game.
"A game production is significantly different than a scripted skills site venture where it's much more entertainment based and working with a lot of different entities. You have the lighting company. You have staging. You have all these different skills apparatuses that have to be moved into position when you're in a commercial break."
Although tickets were not advertised for sale for the skills challenge, invited guests, largely made up of various local community groups, filled the stands lining both sides of the field.
"They (crowd) got a behind the scenes look at what we had going on here," Shapiro said. "We had some players' friends and families and some other select fans from Las Vegas that were able to join us."
With live TV everything doesn't always go as planned, but there were no major hiccups during Thursday's events.
"There's always little things," Shapiro said. "But the good news is the fans who were watching it and the players who were part of it had a great time."
Contact Mick Akers at makers@reviewjournal.com or 702-387-2920. Follow @mickakers on Twitter.